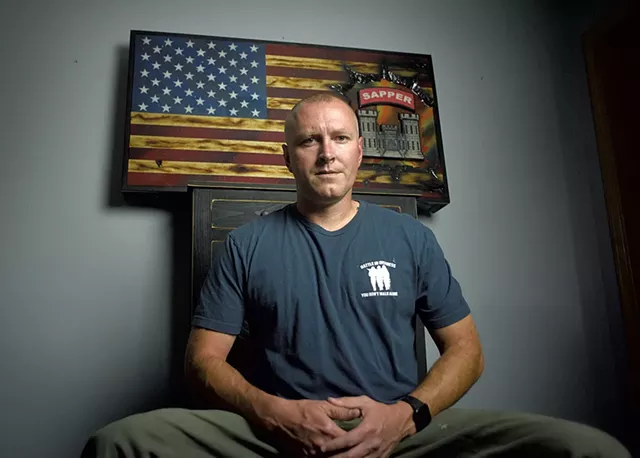 File: Luke Awtry
Dan Caddy
This "backstory" is a part of a collection of articles that describes some of the obstacles that Seven Days reporters faced while pursuing Vermont news, events and people in 2019.

---
In journalism, as in filmmaking, sometimes the best lines end up on the cutting-room floor. This year, a source said something that, although astounding, I couldn't use: "He shot me with a shotgun and blew my leg off ... It was the best thing that ever happened to me."
First, some background: In October, I profiled Dan Caddy, a Vermont Army National Guard soldier who, in 2012, created a Facebook page to pay tribute to the drill sergeants who helped make him the man he is today. Called Awesome Shit My Drill Sergeant Said, the page went viral, attracting comments from military personnel worldwide, who shared hilarious, off-color quotes from their own drill sergeants.
Caddy said he created the page for "shits and grins," but within months it dropped a dead-serious mission in his lap: rescuing a distraught soldier intent on killing himself. For more than eight hours one night, Caddy worked with an informal online network of active and former military personnel to locate the suicidal soldier and get him help.
When the story of that nightlong ordeal made national news, Awesome Shit My Drill Sergeant Said inadvertently became a de facto suicide hotline. Virtually every night, Caddy, who had no prior training in counseling or crisis management, began hearing from distressed veterans who were thinking of ending it all.
They included Randy Tucker, 41, whom I interviewed by phone from his home in South Dakota. Tucker recounted his mental health struggles, near suicide and eventual rescue by Caddy and his colleagues.
In the interview, Tucker shared details of his life after his rescue, which, though compelling, didn't fit within the scope of my article. They included his ex-girlfriend being murdered and his own descent into alcoholism, opioid addiction and homelessness. Then, after Tucker missed a phone call from his family informing him that his mother was on her deathbed, his family disowned him. Distraught, Tucker broke into his father's house, stole his handgun and planned to kill himself.
Ultimately, he fled and was subsequently arrested for burglary of a firearm. After serving eight months in prison, Tucker spent another six in a drug treatment program. Upon getting sober, Tucker said, he went to make amends to his family and knocked on his older brother's door, assuming he'd be greeted with open arms.
"Instead, he believed I was the same old Randy," Tucker recalled. "He thought I might still be on drugs, so he shot me with a shotgun and blew my leg off."
How could that be a good thing? It connected him with "awesome people" at the Zilis Sacred Mountain Retreat Center, in Deadwood, S.D., which treats active and former military, police officers, and other first responders suffering from posttraumatic stress disorder, Tucker explained. Getting shot, he said, helped him go from "foggy and groggy" to living a healthy lifestyle.
His account of the January 6, 2018, shooting was independently confirmed by the Saint Lucie County Sheriff's Department, in Fort Pierce, Fla. Tucker explained why he decided to share his story publicly and be identified by name: "I know there are guys out there, just like me, and I hope I can hit one of them in the heart."