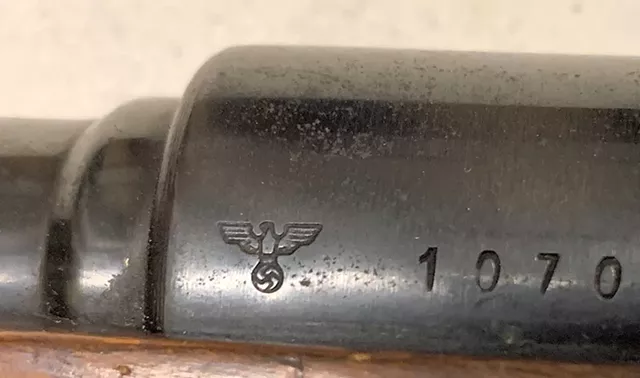 File Photos: Paul Heintz
The Nazi Reichsadler emblem
This "backstory" is a part of a collection of articles that describes some of the obstacles that Seven Days reporters faced while pursuing Vermont news, events and people in 2019.

---
How do reporters come up with story ideas? More often than not, I learn about my next story while reporting the one before it. In the course of an interview, a source might mention something that's off-topic but really interesting. I'll file it away in a list I keep and return to it soon.

That happened this summer as I was reporting a story about the use of "extreme risk protection orders" in Vermont in the year since Gov. Phil Scott signed a package of gun-control bills into law. In the course of my reporting, I learned that Commissioner Chris Cole of the Department of Buildings and General Services was working on a system to dispose of seized and abandoned firearms in state custody.
When I called Cole, I was surprised to learn that the state was already auctioning off the guns. I was intrigued when he mentioned that they were being kept in "an undisclosed location," about which he would say nothing more. And I knew I had a story when he casually mentioned that among those seized guns were two World War II-era rifles with Nazi insignia.
Excuse me. Did you say Nazi?
Clearly I betrayed a bit too much excitement at the notion that the state might be selling off swastika-adorned guns. Cole, likely realizing that he'd stepped in it, did his best to hedge. "Well, they're definitely German military."
Spoiler alert: They were Nazi guns.
I realized this nugget was too good to fritter away as a minor detail in an unrelated story, so I put it on my list and returned to it later. Cole, however, didn't seem thrilled about revisiting the subject. I asked him a couple of times whether he would let me tour the "undisclosed location," and he finally relented. But to get there, he joked, I would have to be blindfolded.
Yep, I had a story.