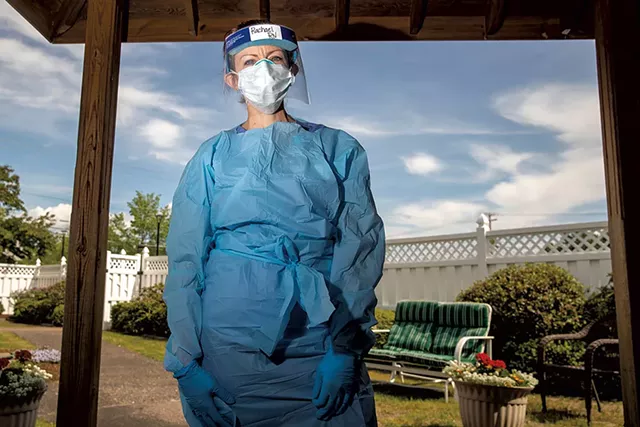 File: James Buck
Rachael Beauchemin
This "backstory" is a part of a collection of articles that describes some of the obstacles that Seven Days reporters faced while pursuing Vermont news, events and people in 2020.

---
By the middle of April 2020, nursing homes' special vulnerability to the coronavirus was apparent. The numbers out of Birchwood Terrace Rehab and Healthcare were shocking nonetheless. Nearly 50 residents and two dozen staffers had tested positive since an outbreak was discovered on March 30. My colleague Colin Flanders and I wanted to report on what it was like inside the Burlington nursing home.
We scoured social media accounts and contacted anyone connected to the facility. Word spread that we were poking around. Soon a caregiver inside the building emailed to offer help, under the alias "fucked over frontliner."
The details we began to hear sounded horrific. Sick employees were working, and infected patients commingled with others because Birchwood didn't have enough healthy staff to maintain all three of its units. The tragedy looked like it was also a scandal.
Colin and I were veering toward writing a story that said as much. But when we confronted the home's executive director, Alecia DiMario, and the Vermont Department of Health with our findings, we realized that such a depiction would have been incomplete.
We'd expected to hear canned statements defending the home's decisions, or nonanswers given under the guise of privacy concerns for residents and staff. That's what spokespeople often do when asked critical questions.
DiMario took a different approach. She not only answered questions about the decisions the home had made and the staff's efforts but also connected us with nurses and managers to interview. We came to appreciate just how long and hard the staff had been working in an environment that had become dangerous and emotionally draining. Many had also scrambled to find temporary shelter and childcare so they wouldn't infect their families. The details we'd been hearing weren't so ugly because Birchwood had given up. They were ugly because the home was a war zone.
So we kept digging. We compiled death certificates and tracked down family members for almost all of the 21 residents who had died from COVID-19. Before long, we had spoken to more than 30 people.
COVID-19 protocols prevented us from stepping foot inside the facility. Yet each phone call revealed an important detail or a heart-wrenching anecdote. Taken together, our sources' accounts enabled us to tell a fuller story of the virus' siege — and of the frontline workers who kept showing up to fight it.
We're reminded of Birchwood each time we learn of a new outbreak at another Vermont home. One widow's voice, in particular, is seared into Colin's memory. When he uttered her husband's name, she broke down in tears. She wanted to talk, she managed to say over the phone, but was "just not ready."