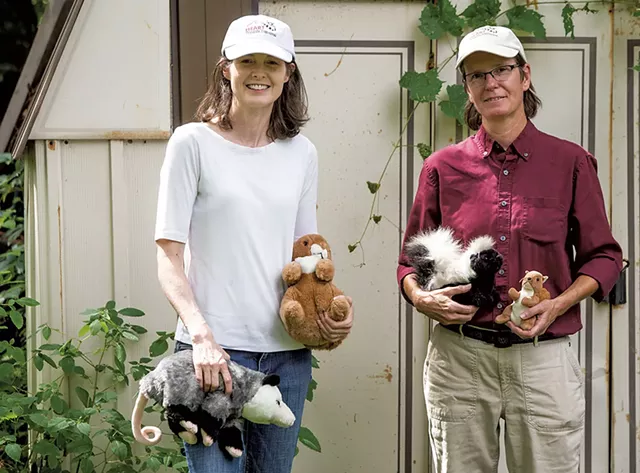 File: Luke Awtry
Patty Tashiro and JoAnn Nichols
This "backstory" is a part of a collection of articles that describes some of the obstacles that Seven Days reporters faced while pursuing Vermont news, events and people in 2019.

---
Seven Days reporters are fortunate to work with photographers who are not only talented but enthusiastic — artists who are often as excited to shoot a subject as we are to tell their tales. Luke Awtry is one such photog who always seems invested in the story. That's especially apparent when he tags along during reporting, as he did for a story I was doing about HEART Wildlife Removal for our annual Animal Issue.
HEART is an acronym for Humane Eviction and Removal Team. The company, founded by animal expert JoAnn Nichols and her business partner Patty Tashiro, specializes in the humane removal of critters from homes and yards. Looking for an angle on the story, I had invited the duo over to my rented home in South Burlington for a consultation about the legion of squirrels that, emboldened in the years since my dog Buckley died, had taken over my yard.
When we pitched Luke on shooting the story, he was all in on the prospect of a suburban squirrel safari. He even posted about the assignment on Facebook. So of course, on the morning that he, Nichols and Tashiro arrived, my squirrels vanished.
As we roamed the front, side and back yards, Nichols gestured to likely points of critter ingress around the house and suggested easy fixes — cut back tree branches that act as bridges to the roof, place screens over exhaust vents, etc. Luke followed along, shooting pictures here and there, and asking questions when they occurred to him. (Side note: As a reporter, I love it when photographers ask subjects questions, because they often see things I might not. I think it's because they quite literally look at the world through a different lens than a writer does.)
After a bit, Luke disappeared while the rest of us walked and talked about the ins and outs of humane animal control. I assumed he was looking for a good spot to shoot a portrait of Nichols and Tashiro, which he was. But he was also looking for something else: squirrels.
When Luke rejoined us, he pulled me aside.
"Dan," he said, solemnly. "I gotta be honest, man. I'm really not seeing any squirrels here. What's the deal?"
Luke is either a great actor or he was genuinely bummed out that my fabled tree rats were apparently just that: a fable. I did my best to assure him that the squirrels were real and that I was just as vexed by their disappearance. I'm not sure Luke bought it. The only squirrel he would shoot that morning was a large stuffed toy squirrel Nichols had brought with her — which, ironically, she uses to deter squirrels. Apparently it works.
Later that afternoon, Luke teased me by texting a photo of a squirrel squatting on his porch in Burlington. At the time I happened to be on my back patio, where, just 15 feet or so away, sat a big, fat squirrel. I crept as close to the critter as I could and snapped a picture with my phone and sent it to Luke — proof that my squirrels were real.
We'll get 'em next time, Luke.