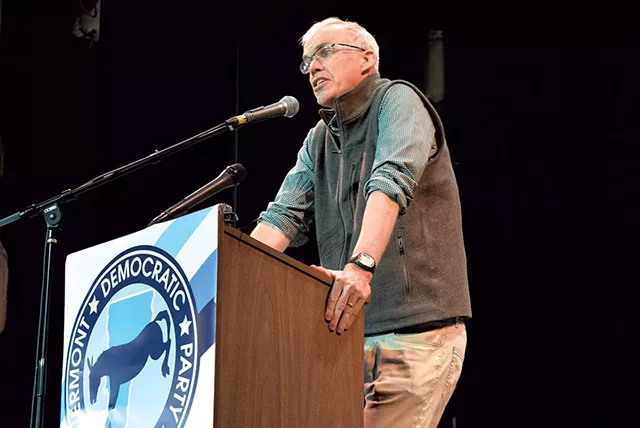 File: Terri Hallenbeck
Bill McKibben
["Environmentalist McKibben Dumps Dunne for Minter," July 31]
A week and a half before the August 9 primary election, an email showed up in my inbox.
"Matt Dunne Releases Renewable Energy Siting Policy" was the headline on a press release from one of three Democrats seeking their party's nomination for governor.
Interesting, I thought. I was in the middle of writing a story about their views on a variety of issues, including energy siting. I'd spoken to Dunne about it just days earlier. Would this new statement change anything?
I got as far as the first bullet point and knew it changed everything.
"As governor, Matt's policy on energy siting will be," it declared: "Large-scale ridgeline wind projects should only take place with the approval of the towns where the projects are located. As governor, I will ensure that no means no."
This might sound innocuous to the uninitiated, but renewable energy advocates had just fought tooth and nail against legislation that would have allowed towns veto power over projects. To them, the notion is out-of-bounds, off-limits. And Dunne, a candidate trying to cast himself as a climate-change-fighting liberal enviro, had gone there.
I was so stunned that I almost missed the next surprise in the press release. Fellow Democratic gubernatorial candidate Peter Galbraith, an avowed enemy of wind energy, was praising Dunne's stance. It was an almost-endorsement of his rival.
Dunne had made two mistakes: He misjudged how strongly some of his most prominent supporters felt about town votes on wind projects. And he locked arms with the ever-crafty Galbraith.
As Dunne desperately tried to soften his statement — insisting that he wouldn't actually give towns full veto power — Galbraith readily told anyone who would listen that that's exactly what Dunne was talking about.
I forwarded the press release to environmentalist Bill McKibben, who had encouraged Dunne to run for governor.
"Bill: Wondered what you think of Matt Dunne's wind policy," I wrote, deliberately staying neutral about its content.
The Ripton founder of 350.org responded two days later — with a 1,000-word essay. He was withdrawing his endorsement of Dunne.
It got worse.
"If at this point in this saga anyone still gives a flying fish who I'm voting for, that would be Sue Minter," McKibben said of Dunne's other Democratic rival. Two days later, the Vermont Conservation Voters dropped its neutral position in the race and also endorsed Minter.
Dunne never saw it coming. "People had a much stronger reaction than I expected," he told Seven Days. "The language around this is very, very tricky."
On August 9, Minter won the Democratic primary by a gaping 13 percentage points. She might have been headed for victory anyway, but that email on a Friday afternoon in late July made sure of it.