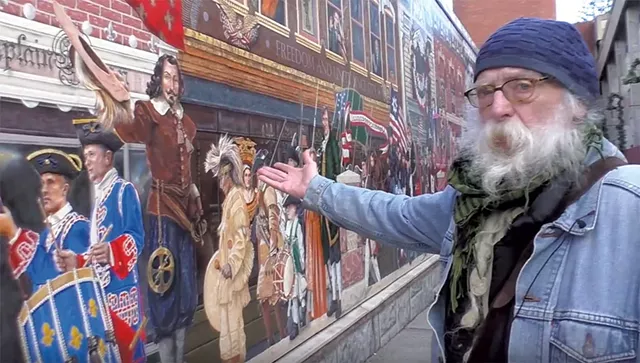 Courtesy Of Channel 17
Albert Petrarca by the "Everyone Loves a Parade!" mural
This "backstory" is a part of a collection of articles that describes some of the obstacles that Seven Days reporters faced while pursuing Vermont news, events and people in 2020.

---
I had just eaten my weight in chicken fajitas and was looking forward to a Saturday night with Netflix, hoping to find a selection to quell my anxiety about the pandemic raging outside my protective bubble. The state's case count was growing, and Seven Days' coverage that week had focused on Burlington Health & Rehabilitation Center, a long-term-care facility where a dozen patients had become infected. The Pearl Street facility was effectively the state's COVID-19 epicenter at the time.
Despite statements from the corporate owner and state health officials, the situation inside the building remained unclear.
At 9 p.m. that night, I got a text message. "Has Albert Petrarca reached out to you?" the source asked. "He is a resident at Burl H&R."
For the uninitiated, Petrarca is a Burlington activist who tirelessly campaigned against Burlington's "Everyone Loves a Parade!" mural, located just off Church Street. He believed its rendition of Vermont history gave short shrift to the state's original Indigenous residents. Petrarca called the mural racist and even vandalized it once with spray paint. The artwork has since been removed.
If anyone would rail against the Powers That Be, it was Petrarca. He had already told my source that conditions at the center were much worse than officials were letting on. "This discrepancy alarms me and raises a lot of flags," my source said in a text.
I emailed Petrarca and asked if we could talk in the morning. He responded immediately. "You can even call tonight," he wrote. "I think I have breaking news."
Saturday night, be damned! I had me a story.
I called my colleague, Derek Brouwer, who had done extensive reporting for our "Worse for Care" series on eldercare homes. He was already tracking the outbreak. By 10 p.m., we were on a conference call with Petrarca.
The 70-year-old retired nurse was in the home to recuperate from foot surgery. He told us that officials weren't being transparent; he'd only learned about the facility's first COVID-19 case from a friend who saw it on the news. He said he went two days without getting his temperature taken while officials were saying publicly that they were performing the checks twice a day. Some staffers on his floor weren't wearing protective gear, Petrarca said. After some additional reporting on Sunday, we had a solid story.
We published an article online that day, and my colleague turned our late-night interview into a longer-form story for the next print edition. These stories revealed the chaos, confusion and anxiety in the home.
And there was a happy ending, at least for Petrarca: The facility eventually evacuated him, COVID-19-free, to a local hotel.