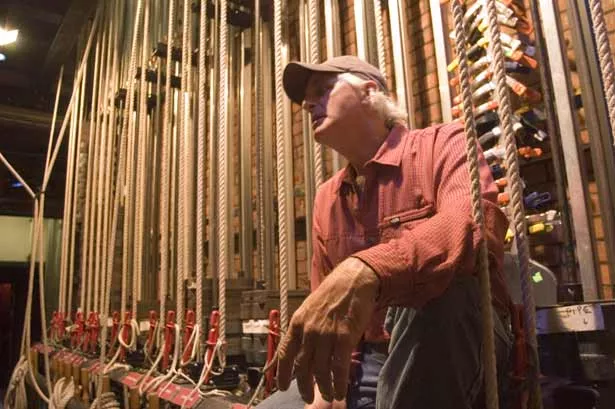 As an audience member at the Flynn, you've probably paid no attention to that man behind the curtain - Gary Lemieux, longtime production manager for Burlington's performing arts center. Since 1984, he's supervised just about everything that happens backstage, from the complicated set changes of a Broadway show to the lighting and sound for student matinees.
Now 60, Lemieux has helped the Flynn become more technologically sophisticated, and aided in the theater's acquisition of a $110,000 Steinway. The Burlington resident doesn't just push the right switches - he also pushes paper: Lemieux analyzes budgets, works with unions, and manages payroll for the 50-some crewmembers who put together the shows. On a quiet Saturday morning at the Flynn, Seven Days turned the spotlight on Lemieux.
SEVEN DAYS: What were you doing before you came to the Flynn?
GARY LEMIEUX: I was in the business, touring, doing production work. I worked as a roadie and came back here in '84, and the Flynn was just starting up full-time. Later, I went back on the road, but came back on in '92 and have been here ever since.
SD: Did you always know you wanted to be involved in the theater?
GL: I'm a master electrician by trade. So I actually got into the entertainment business while I was working at UVM. I met two students who were in the theater department . . . we hit it off and they sparked an interest in the theater, which I had really not been terribly interested in. We formed a lighting company, and that was the beginning.
SD: What was it that sparked your interest?
GL: Just live performance. You gotta have a love for it. It's the kind of business - you're never going to be rich, but there's enough reward. My job is multifaceted. I have to please the audience. I have to please the artist. I have to please the administration. We do more events on an annual basis than you'd find in major theater complexes all over the country. We have a very, very busy season as a regional theater. It would be a much less interesting community if it didn't have this theater.
SD: What were some of the groups you worked with on the road?
GL: Oh, let me see. Melissa Manchester. Todd Rundgren. REO Speedwagon, Johnny Cash. That was a Canadian-American tour up in the Great Lakes.
SD: Who was your favorite to work with?
GL: Touring? It's hard to say. I did a summer tour of state fairs with Charlie Daniels in '79 or '80. Country-rock - they appreciate their people, their crew. They don't pay as well, but it's less snooty; it doesn't come with all the expectations you have when you're out touring with REO Speedwagon. But I enjoyed Todd [Rundgren], too. We probably had the first laser ever to tour in the United States.
SD: What about your favorites here at the Flynn?
GL: Mandy Patinkin - that was a marvelous show. He singularly was one of the largest shows that we've ever mounted here at this building for one person. But there have been so many artists in and out . . . it's hard to pick a favorite. My dad, rest his soul, was a huge Johnny Cash fan, and I had the opportunity to bring him down and have him spend some time with Johnny Cash. That was a huge moment.
SD: Wow.
GL: Yeah. But some of the most exciting things happened early on. Probably to seal my love for the challenge of the theater was [this]: We did Maurice Béjart's Ballet of the 20th Century, which was 100-plus dancers, when we were an infant here. [Primarily a movie house since its construction in 1930, the Flynn became a center for live productions in 1981.] There used to be a pin rail, like you'd find on a sailing ship, and it was all ropes and sandbags. Originally the Flynn was going to be a vaudeville house, and then talkies came out, so they didn't develop much; there was just a place to hang a screen. In order to get from one side of the stage to another, you had to run down a spiral staircase, go across dirt floor, pallets and boards, and run up a spiral staircase on the other side.
SD: What are your hours?
GL: The worst-case scenario is, I would be here at 7 a.m. and then be here through the load-out and get out of here at 2:30 or 3 a.m., and then be back at 7 a.m. the next day. That'll happen five or six times this season.
SD: What's the most complicated show you've done?
GL: From a standpoint of rigging and the layers, I'd say shows like Rent, The Full Monty. Everything flies, and there are heavy mechanical pieces.
SD: What's it like to be back here during a big show?
GL: It's such a mixture of emotions. Knowing that, ultimately, I am where the buck stops. I'm responsible. I take that very seriously. It's thrilling. You'd like to sit back and take it all in, what you put together. There's anxiety.
SD: How many shows have you seen from the front?
GL: Relatively few. I don't believe that I've sat in a seat for an entire show since I've been here.
SD: What show would you want to see?
GL: Well, we had James Taylor, and I got to spend several days with him. That would be the type of show. I may sit in the audience for Arlo Guthrie. But this is where I feel more comfortable. I've been in this business for well over 30 years, and I'm not a big crowd guy. I'm a control freak. You have to be, in this business.
SD: What do you do in your off time, to relax?
GL: I ski; I hunt. I four-wheel. And in the summer, I have my own business I do part-time, a company called Encore Productions. Diversity. Moonlight in Vermont. [Laughs.] I do outdoor festivals, and electrical installations at the auditorium when it works out with my schedule here. Waterfront Park - I do all those events for the city. Jazz Fest, Brewers Fest, Maritime Festival, whatever.
SD: Do you have any sort of apprentice? You'll have some pretty big shoes to fill, eventually.
GL: There are some individuals. It takes a certain personality. Obviously you have to understand all the elements - electrics, carpentry, sound, basic stagecraft. That's a given. But you also have to understand the personalities involved and be a people person. And you're never not working. This job is 24 hours a day, seven days a week. That would be the biggest relief if I stepped down.