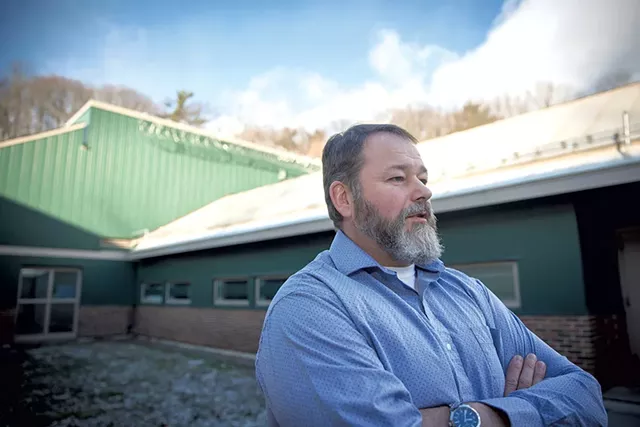 James Buck
Director Jay Simons outside the Woodside Juvenile Rehabilitation Center
The state's only locked facility for delinquent children and teens occupies a secluded clearing near the banks of the Winooski River. Down a steep road off Route 15 in Essex, the Woodside Juvenile Rehabilitation Center is out of sight and out of mind to most Vermonters — but a looming financial crisis threatens to change that.
Last October, federal officials told the state it could no longer fund the facility with Medicaid money, which had previously covered $4.4 million of Woodside's $5.4 million annual budget. Exacerbating the situation, the 30-year-old building is, in the words of juvenile defender Marshall Pahl, "sort of falling apart."
Woodside's woes are more than just a budget headache for state lawmakers. The facility's director, Jay Simons, describes his wards as "the most vulnerable of Vermont's children" — and also the most violent. Many have suffered severe physical, emotional and sexual trauma, according to Simons, while 85 percent have abused alcohol, heroin or other drugs.
Last Friday, he led a reporter and photographer through Woodside's grim living quarters. "It looks like an institution," Simons acknowledged upon exiting a resident's tiny cinder-block cell. "We try to make it look softer and homier, but it's very difficult."
Simon's charges, who range in age from 10 to 17, may have committed offenses as trivial as shoplifting and as serious as murder. They are sent to Woodside by a judge or the Department for Children and Families, which runs the facility, while awaiting trial or after they've been convicted. The average stay lasts 129 days, according to Simon, though one ward has been there for nearly 450.
Woodside's residents attend school inside the building from 8:30 a.m. to 4 p.m. At night, they sleep in barren cells behind locked doors painted a putrid green. Strips of fabric have been taped to narrow windows on the doors, providing a measure of privacy.
"It's sort of the facility of last resort," said Pahl, who represents the minors sent there.
In 2011, the state reclassified the detention center as a medical treatment facility. Officials told the legislature at the time that, in addition to being more humane, the new approach would allow the state to draw down federal Medicaid dollars, saving Vermont millions. Since then, DCF officials have steadfastly avoided the term "secure detention center" — instead referring to Woodside as a "cost-effective alternative to hospitalization."
The change wasn't in name only. Woodside now contracts with three psychiatrists and a psychologist. Many residents participate in cognitive behavioral therapy and treatment for mental health and substance abuse. A yoga instructor comes in weekly. Families can visit whenever they please — and Woodside offers therapy sessions for them, too.
Advocates who have been critical of Woodside praise the recent changes.
"I think DCF has made a lot of progress," Pahl said. "The staff inside the facility are really good."
According to A.J. Ruben, supervising attorney at Disability Rights Vermont, "Woodside has improved by magnitudes." But, Ruben added, he still doesn't consider it a medical facility.
Last October, the Centers for Medicare & Medicaid Services concluded the same, prompting the loss of Medicaid funds — a little more than half of which came out of federal coffers.
"We were surprised," DCF Commissioner Ken Schatz told members of Vermont's House Appropriations Committee last Thursday. Even more perplexing: Schatz doesn't know why CMS came to that conclusion. He said federal officials didn't even ask about Woodside's treatment program.
A CMS official told Seven Days on Tuesday that Medicaid doesn't cover "wards of the state," making Woodside ineligible by virtue of the population it serves.
James Buck
A resident's room at the Woodside Juvenile Rehabilitation Center
Schatz told the committee that he's seeking more information from the feds, and he's still hopeful officials will change their minds before the start of the next fiscal year. But that won't solve the immediate, $2.9 million shortfall DCF faces in this year's budget. To make it through the rest of 2017, the commissioner is asking the legislature for an immediate transfusion of $1.5 million; he plans to use other available funds to close the remaining gap.
According to Ruben, DCF should have seen the funding crisis coming. "When we found out a couple of years ago that they were using Medicaid money to provide services at Woodside, we told them we thought they were violating federal law," he said. "They were moving toward being more of a medical treatment facility, but they didn't really make it all the way."
Sen. Dick Sears (D-Bennington) says he's "very concerned" about the situation. But the chair of the Senate Judiciary Committee sees an even bigger challenge on the horizon: The Woodside complex needs a major overhaul. According to a feasibility report completed in December, that would cost between $12 million and $15.7 million.
In front of another legislative committee last week — House Corrections and Institutions — Schatz struggled to convey the need for a new building without crossing his new boss, Gov. Phil Scott. Schatz, who was first appointed by Democratic former governor Peter Shumlin, doesn't know yet whether Scott, a fiscally conservative Republican, will agree to fund a Woodside overhaul.
Rep. Butch Shaw (R-Florence) asked Schatz and Simons, "How critical is it for you to have a new, updated facility?"
Simons replied, "From a safety perspective it's, um, critical." But Schatz quickly softened that assessment, saying that DCF would address safety issues regardless of what happens.
"We really want to see a new facility for our youth," Schatz continued, "but I really want to be respectful of the competing demands the state has to deal with in terms of capital construction."
DCF officials may not call it a jail, but Woodside certainly feels like one. Visitors pass through four locked doors and a metal detector before entering the main facility. A staff member monitors all activity on three large video screens.
Simons, a Northeast Kingdom native, worked his way up from prison guard to superintendent of three different Vermont correctional facilities before landing at Woodside in 2011. The bearded, burly father of seven said during last Friday's tour that he appreciates the institution's commitment to rehabilitation. Simons uses psychology-inspired euphemisms such as "maladaptive behavior" and cites research about trauma's impact on the amygdala and other regions of the brain. But he can also be blunt.
Standing in a dreary bathroom, Simons surveyed the suicide risks, gesturing toward doorknobs, air vents and sinks. "I could hang from here," he remarked. "I could hang from here ... I could hang from here." Some residents have chipped away at the tile in the shower and used the shards to cut themselves, he said.
Fourteen youths were housed at Woodside that day, but, citing confidentiality constraints, Simons took care to make sure his visitors didn't encounter any of them.
Their rooms have a small window and a thin mattress on a built-in bed. Staff members, who work 59-hour shifts, don't have it any cushier. They take turns sleeping in a supply closet known as the "Batcave," which barely fits a twin bed.
Over tea in his office, Simons said that hiring nine new staff members —Woodside now employs 49 — has helped reduce the use of seclusion techniques from an average of 31 times a month to eight. Use of physical restraint has remained constant at eight instances per month, he said.
But the Woodside director maintains that the building itself is hampering rehabilitation work. In a memo to lawmakers last month, he concluded, "The current facility does not meet the needs of a residential treatment facility."
The cramped cells, cinder-block walls and lack of natural light aren't just depressing, Simons argues; they're counterproductive. The building doesn't have enough rooms to keep residents separated, so when one goes into crisis, it can prompt what Simons calls a "contagion effect." The layout often forces people to walk through private therapy and counseling sessions to reach other rooms. Woodside has no infirmary — just a cramped nurse's office.
"It's the worst, most prisonlike environment you can put kids in, and it's old and sort of falling apart," Pahl emphasized. "There's only so much you can do in a space that is contrary to the very nature of the concept of therapy and rehabilitation."
James Buck
A bathroom at the Woodside Juvenile Rehabilitation Center
If state officials approve a new facility, its size will be a subject of debate.
Woodside opened in 1986, when concern about juvenile crime was high. Five years earlier, mere miles away, two teens — Louie Hamlin and Jamie Savage — raped and tortured two 12-year-old girls walking home from school, and killed one of them. Because Savage was just 15 years old, he served less than two years in prison.
Today, juvenile crime is dropping both nationwide and in Vermont, where the population is also aging. "There are fewer delinquent kids," said Sears. "There are fewer kids."
The senior lawmaker knows a thing or two about the subject. Sears was born in a Massachusetts prison as a ward of the state and spent decades working with at-risk teens.
"I think that a lot of the programs we've built over the years to deal with delinquent behavior have started to work," he said.
The legislature has adopted an approach that favors rehabilitation in community-based settings over incarceration and institutionalization. That's good news, Sears said, but it's created an issue the legislature needs to address: The population at Woodside has dropped to 15 on average, which means only half of the facility's beds are used.
Pahl and Ruben want that number further reduced.
"There are kids there who don't really belong there," Pahl said, suggesting that some residents require more specialized care than what Woodside can offer. "The kids for whom it's really not successful are the kids with more profound mental health needs." The defense attorney objects to what Pahl calls "administrative incarceration" — an arrangement under which DCF can send juveniles in its custody to Woodside without a court order.
Sears suggests that the liberalizing of juvenile justice laws may actually increase the number of delinquents who need to be held in a place such as Woodside.
If Sears has his way this legislative session, lawmakers will provide more alternatives to incarceration for those under 21. That means fewer young adults would be sent to prison and more would be placed in DCF custody — a result that could increase demand for a locked facility.
Numbers aside, Sears asserted, "We need to think outside the box about how to treat this small group of kids."