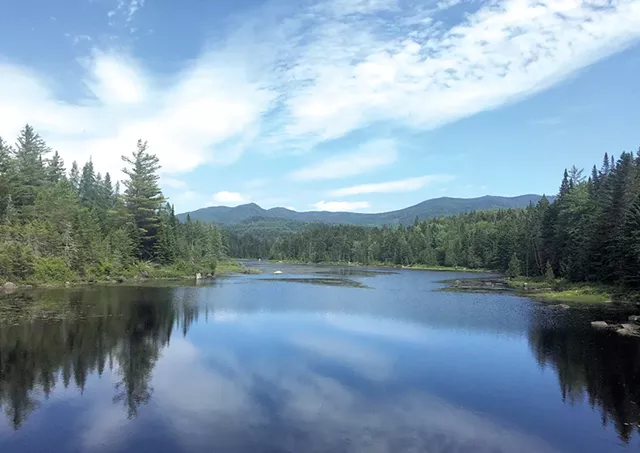 Alicia Freese
LaBier Flow in the Boreas Ponds tract
The biggest building in North Hudson, N.Y., is a shabby A-frame with plywood nailed over the windows and waist-high weeds growing outside — one of the last vestiges of a long-closed Western theme park, Frontier Town. The gas station across the road is the closest thing to a grocery store in the tiny Adirondack hamlet. The other main businesses are a husband-and-wife-owned buffalo farm, a wilderness lodge and an auction house with a discount store open just three days a week.
For nearly a year, this town of 250 has been at the center of a standoff between environmental groups and local leaders over the future of a serene lake with stunning mountain views. Locals hoping to attract more tourists have a powerful ally: New York Gov. Andrew Cuomo. At least a dozen environmental groups are pushing back, particularly against what they characterize as the governor's proposal to bring "glamping" — camping with "glamorous" amenities — to the backcountry.
"It's kind of like Custer's Last Stand," said North Hudson Town Supervisor Ron Moore — its a fierce, strategically important battle for both sides.
New York State owns nearly half of the 6 million acres that make up the Adirondack Park. Those 2.6 million acres are Adirondack Forest Preserve land, a special designation enshrined in the state's constitution protecting them from development.
In 2012, Cuomo announced that over the following five years his administration would buy 69,000 acres once owned by a paper company from the Nature Conservancy, making the single largest addition to the Forest Preserve in more than a century. In May 2016, the state purchased the final parcel, paying $14.5 million for a 21,000-acre tract called the Boreas Ponds after its crown jewel: a 345-acre body of water, which used to be three distinct ponds, with an unobstructed view of some of the Adirondacks' highest mountains. The land includes vast forests of sugar maple and beech, several mountains, seven ponds, and more than 1,800 acres of wetlands.
The dispute that Cuomo's widely lauded purchase set off is a classic Adirondacks conflict, pitting environmentalists against economic development proponents.
After New York adds land to the Forest Preserve, a regulatory board called the Adirondack Park Agency decides how to classify it — which determines what kind of activity can take place on the property. The APA began holding public hearings on Boreas Ponds last September. Ten months later, it still hasn't made a decision.
Although several groups want the entire tract classified as wilderness, most stakeholders accept that the 22,000 acres will be divided in some fashion between wilderness — the most restrictive classification, defined in the Adirondack Park State Land Master Plan as "untrammeled by man" and "having a primeval character" — and wild forest, which generally allows for "a wide variety of outdoor recreation" while "retaining an essentially wild character."
The disagreement is most contentious over the land surrounding the lake.
Moore said he and his counterparts in the four other nearby towns — Indian Lake, Long Lake, Minerva and Newcomb — are seeking "as much recreational opportunity as possible, to try to bring people into the area."
They want to allow vehicles to park within a few hundred yards of the Boreas Ponds, pointing out that a seven-mile logging road already leads to the lake. "Not many views such as this are accessible to people, and here we have this road infrastructure that would allow for that," said Moore.
Alicia Freese
Ron Moore
Town officials also want bicyclists, horseback riders and snowmobilers to have access to many of the 50 miles of logging roads — activities permitted in wild forest but not in wilderness.
Tourism sustains the five towns, which have grown desperate for an economic infusion as logging and mining jobs dwindled over the last several decades. Indian Lake is the largest of the five, boasting a population of 1,300.
"We're like every other town inside the Blue Line. We're all dying," said Indian Lake Town Supervisor Brian Wells, referring to the boundary on historic maps of the Adirondack Park. Claiming that 92 percent of his town's land is under state ownership or control, Wells said, "We're handicapped enough as it is."
Long Lake Town Supervisor Clark Seaman, whose father worked in a now-closed iron ore mine, said school enrollment has dropped considerably — the town graduated just two high school seniors this spring.
Seaman's hope: "I want to see as much access as possible to state Forest Preserve land. Anything we can do to increase potential traffic in the area is a positive."
Among those who've stuck it out: Dorreen Ossenkop, who started the Adirondack Buffalo Company in North Hudson with her husband 24 years ago. A trickle of customers last Wednesday afternoon gazed at the languid herd and browsed the trinkets and victuals — pies, pickled eggs, buffalo steaks — for sale in the gift shop.
Ossenkop sat behind the cash register recording purchases in a notebook. "We're hoping they'll open Boreas Ponds up as much as they can," she said, which would likely bring more visitors to the farm. When the chef from Elk Lake Lodge, a wilderness lodge six miles down the road, stopped by to pick up some meat, he expressed the same sentiment.
But not everyone favors larger crowds. Neil Woodworth is executive director of the Adirondack Mountain Club, a 30,000-member organization that advocates for hikers, skiers and mountaineers. The group is part of a coalition called BeWildNY that wants to restrict bicyclists, snowmobilers and other motorized transportation in the area around Boreas Ponds. BeWildNY is also pushing to keep vehicles at least a mile from the lake.
"We've learned that if you provide a buffer — like a mile or mile and a half — you cut down on the number of casual users," explained Woodworth, who's especially concerned about the introduction of invasive species into the area.
Crowds could cause damage beyond the Boreas Ponds, because from there, hikers can reach the High Peaks, which are "already facing a serious overuse problem," according to Woodworth. "Particularly on fair-weather weekends, we have tens of thousands of people hiking in the eastern High Peaks ... It's almost like a conga line up the peaks."
Peter Bauer, executive director of the conservation organization Protect the Adirondacks, argues that those numbers prove that wilderness attracts, rather than discourages, visitors. His group also supports stopping cars a mile out.
In January, as the debate raged, Cuomo pledged during his State of the State address to "construct infrastructure at Boreas Ponds in the Adirondacks and build trails as part of the 'hut-to-hut' system that links state lands to community amenities."
That benign-sounding proposal was a bombshell for New York conservationists, who question its constitutionality. The state's constitution asserts that Forest Preserve land "shall be forever kept as wild forest land," and courts have struck down previous attempts to establish state-run rental cabins.
Richard Booth, a former APA commissioner and a Cornell University professor, deemed the proposal an "absolutely nutty idea" that clearly doesn't pass legal muster. "You're not supposed to put commercial uses on the Forest Preserve," Booth asserted.
In February, officials from Cuomo's Department of Environmental Conservation met with conservation leaders, including Woodworth. He recalled them saying "they wanted to put yurts, tent platforms, or some kind of dining and lodging structure for 24 to 36 people on the lands of the Boreas tract. They would persuade the APA to classify the land [as a combination of wild forest and wilderness] but leave out five acres for what I'll call the 'glamping facility.'" (State officials reject that characterization, saying accommodations would be rustic.)
If the meeting was an attempt at mollification, it failed.
"This would be an unprecedented level of state urbanization of the backcountry," said Woodworth during an interview last week. "For the first time in the history of the Forest Preserve, the state would be providing overnight accommodations."
To Bauer, the hut proposal is only the latest of Cuomo's transgressions in the Adirondacks. "He spends time here, and he's interested in the place. It's just his whole focus is economic development," he said.
The governor has bestowed more money and attention on the park than many of his predecessors. Several years ago, Cuomo, who grew up vacationing in the park, brought his cabinet and members of the Albany press corps to paddle the Boreas Ponds.
The governor is featured in all three of the framed photos on a windowsill in Moore's office at the North Hudson Town Hall. The Republican official supports the hut concept and has high praise for the state's top Democrat.
"Gov. Cuomo has probably done more for the Adirondack Park and those of us who live here than any administration I can think of," he said.
Cuomo has also proposed a $32 million public-private plan to transform the dilapidated Frontier Town into a "world-class recreational and tourism hub" that would include a brewery, a campground and an equestrian center. His administration is seeking private partners to help plan and pay for the project.
The 11-member APA board, which includes eight members appointed by the governor, was expected to make a decision on Boreas Ponds in March, but it's been indefinitely postponed for reasons unknown. Its spokesperson didn't respond to multiple requests for comment.
In the meantime, people can park three and a half miles from the pond and trek in on the rugged logging road. On the afternoon of July 19, five cars were in the lot. They belonged to a man towing a kayak with his bike, a man wheeling a gleaming wooden canoe on a cart and three sets of hikers.
Many suspect the hut proposal is what's delaying the APA's decision. "I think this matter is really right now in the hands of the governor's office," said Woodworth. Bauer went further, suggesting, "The agency does not make any decision that this governor has not already approved."
DEC Commissioner Basil Seggos insists that the APA board is acting independently, and that it's actually the other way around — the Cuomo administration is waiting for the APA to make its classification before it decides whether to pursue the hut proposal.
Calling the proposal "conceptual," he stressed that it would be "a very rustic approach to lodging — you know, cots, dirt floors and that's it."
"The Boreas Ponds really is a majestic parcel," the commissioner said. "It's one of the rare places in New York where you really can get away from everything." And, he said, the state is committed to keeping it that way.