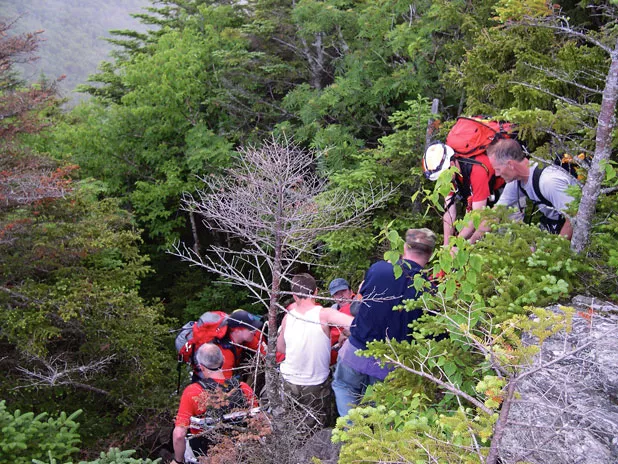 Waterbury Backcountry Rescue Team performs a rescue on Camel's Hump this summer
Neil Van Dyke and Brian Lindner are not guys you want to see in the backcountry. If you do encounter them, it generally means one of two things. Either you were irresponsible and had an accident — or you just had an accident. Regardless of how you came to make the gents' acquaintance, it's a safe bet you'd rather never meet them in the first place. Encountering either in the backcountry probably means you're in bad shape — sprained ankle, broken leg or worse.
Van Dyke and Lindner are backcountry rescuers who run Stowe Mountain Rescue and Waterbury Backcountry Rescue Team, respectively. Both have devoted years to getting people out of sticky situations far from civilization. Van Dyke's and Lindner's teams go where ambulances can't — scree-filled gullies, remote rock ledges, ice-slicked embankments. Their respective teams aren't the only backcountry rescue squads in the region, but if you get stuck on Mount Mansfield or Camel's Hump, these are the folks who are going to get you down.
Compared with the unforgiving Rockies, where death in a backcountry accident is not an impossibility, Vermont may seem too tame to necessitate teams like Van Dyke's and Lindner's. But the mountainous terrain here can be every bit as rugged and the weather even more unpredictable.
The number of people needing rescuing from our mountains is "picking up dramatically," says Lindner, who is a manager at National Life when he's not rescuing people with WBRT or ski patrolling at Stowe. A combination of factors is making the backcountry more accessible, including advances in gear, increasing numbers of activity options and the human need to always push the limits. In 2009, the Stowe team has responded to 23 calls in the area around Mount Mansfield. Lindner's crew, which covers the region around Camel's Hump, has responded to seven calls so far this year.
In Vermont, there are two different types of backcountry rescue teams. Stowe Mountain Rescue and Colchester Technical Rescue, both municipal agencies, are considered high-angle rescue teams. Waterbury Backcountry Rescue Team, a volunteer agency funded through a private nonprofit, is considered a low-angle team. The difference, Lindner quips, is that if someone from his team falls during a rescue, the worst that will happen is he'll get a bad bruise. By contrast, if a Stowe team member plummets during a rescue attempt, he could die. The high-angle teams are trained to use ropes and riggings to retrieve people. The low-angle teams don't often leave the ground.
Formal backcountry rescue has a long history in Vermont. Van Dyke, who owns the Golden Eagle Resort in Stowe, was one of the original founders of Stowe Mountain Rescue 29 years ago. Since then, his team has become one of the most respected rescue operations in the country. Composed of just 12 people, it is generally involved with every major backcountry rescue in the region.
Like municipal fire and rescue departments, the backcountry teams provide mutual aid in many emergencies, says Sgt. Robert Cushing, team leader of the Vermont State Police's Search and Rescue Team. In large-scale search-and-rescue operations, Cushing says, the state police can manage a scene and do the ground tracking and the grid work. But for most technical rescue work, they have to call in the Stowe or Colchester teams.
All of Van Dyke's team members are EMTs, and all participate in trainings twice a month. Slip-and-falls that result in lower-leg injuries are the most common calls they get, but they train for much more. SMR members focus on preparing for rescues that hold the highest risk and require the most skill, such as rappelling down a cliff and hauling someone back up on a litter. It's with good reason that they practice those kinds of evacuations — they actually happen.
In March, the team responded to a call about a snowshoer hiking on the Moss Glen Falls Trail who got too close to the edge of the trail and fell about 50 feet down a steep, rocky embankment into the river. The team had to lower a litter to the snowshoer and pull him up onto the trail for treatment. Then they belayed him back down the icy trail to where he could be carried out to a waiting ambulance. The snowshoer sustained multiple trauma injuries, but without the rescue team it would have been hard to get him out alive, or at all.
Lindner's team, founded in 2002, has also had to deal with its share of serious accidents. Two years ago, the WBRT was called to a trail on Camel's Hump to assist a hiker who had broken her leg after slipping on wet rocks. The hiker landed in a watery area, couldn't get herself out and stayed in the water until the team arrived. It took nearly three hours to get her down.
Both Van Dyke and Lindner say that many of the accidents they respond to could be prevented by people taking precautions. Because many don't consider the Vermont backcountry to be all that dangerous, they don't plan appropriately before heading out, both men gripe. "One of our big focuses is to educate people to consider what they're getting into," Van Dyke says. "They don't think of what they're doing as a backcountry activity, which requires a different skill set and different equipment."
Simple precautions like telling someone where you're going, when you're leaving and when you'll be back can make all the difference. Because communication is spotty in most alpine areas of the state, rescue teams often don't have good information about the location of a victim. Lindner says getting the facts is like playing a game of telephone — by the time the rescue team gets word of someone in need of its services, the message has often been garbled and changed. Essential directional words like "south" can easily become "down" as the message travels, which can dramatically affect response times, Lindner says.
In addition to letting someone know where you're going, it's a good idea, Van Dyke says, to gather information about your destination. Carry a map and a compass or a GPS unit. Do not rely on your cellphone, rescuers say, because on the off-chance you get service, the batteries will run out quickly.
Lindner and Van Dyke offer other tips so that you never have to encounter them on the mountain:
Don't start out too late in the day. Everything takes longer in the backcountry than people think.
Be mindful of the weather. A zero-degree day is not a good day for backcountry explorations.
Bring extra clothing and food and adequate water, even if you think you're only going to be out for a couple of hours.
Always carry a headlamp in your pack. If you don't have a headlamp, and someone in your party needs rescuing, you will be more of a hindrance than a help to rescuers.
In addition to those basic tips, rescuers advise against taking the Vermont backcountry for granted. It only takes one little trip on the trail to snap a limb, and if you're not properly prepared, you could wait hours for a way out.
While the Stowe and Colchester teams don't charge rescuees for their services, Waterbury reserves the right to bill them depending on the nature of the call and how prepared and responsible the subject was. There is considerable debate in the backcountry rescue community on the issue of whether to fine people for irresponsibility and poor decisions. One line of thinking is that people who need rescuing will fear the charges and try to extract themselves, thus endangering themselves and creating more work for the rescuers.
In states like New Hampshire and Maine, laws have settled the question: People who head out to the backcountry unprepared and need rescuing get a fine from the state for their irresponsibility. Though Stowe Mountain Rescue advocates against such penalties, Van Dyke recognizes the need for some sort of intervention to prevent people from heading to the backcountry unprepared.
"This sort of mindset has crept in where people say, I never thought it would happen to me," Van Dyke says. "In a way, we've become less self-reliant. You have to prepare for the worst."