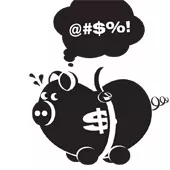 For many Vermonters, staying inside during the winter is as agonizing as being a sick kid on a snow day. But now that lift tickets cost more than a couple of tanks of gas, skiing and snowboarding are starting to seem like special-occasion rather than every-weekend sports.
Hinesburg resident Dan Simkins has a suggestion — rather than paying big bucks to ski at a resort, the 46-year-old mechanical engineer recommends "snorkeling." That's backcountry skier jive for unmarked powder so deep you'd need a snorkel to breathe in it.
Simkins loves backcountry shredding when the snow is high enough to roll over his shoulders. The fact that it's free is nice, too.
Nicknamed "Danimal" by his backcountry buddies for his aggressive style, Simkins first tried the adventure sport during the emergence of the last recession in the early 1990s, but not necessarily in response to it.
"I was totally bored with alpine skiing," he says. "We would duck into the woods looking for powder, and back then it wasn't really kosher to ski in the woods. The Ski Patrol would chase you out or take your lift tickets away. We were rebels, you know."
So Simkins opted for telemark skis and the backcountry, which freed him from the constraints of lift-service skiing and gave him access to the "stash" — ungroomed, un-skied powder.
"The beauty is, you can bend your knees and ankles and put your knee all the way to the ground," he says of telemarking. "It adds a whole new degree of freedom. You have total mobility. And when you start experiencing absolute untracked powder in the middle of the woods, it's worth it, especially at zero cost. We call it helicopter-style skiing without the helicopter."
But busting up a 1000- to 2000-foot pitch without a lift will always be taxing, maybe not on the wallet, but certainly on the body — especially in several feet of snow. Like other backcountry powder-heads, Simkins fastens climbing skins on the bottom of his skis to ease the hike. The nylon skins prevent backward sliding, allowing his tellies to act like snowshoes. According to "Danimal," the skins run roughly $100, but used ones can be purchased for cheap on telemark websites.
When the conditions are right, Simkins treks up and skis down a pitch three or four times in a day, sometimes several days a week. So, while many skiers are weathering blistering winds on crowded lifts, Simkins is most likely breaking through fresh powder on a steep Vermont mountain face, miles away from crowded, icy runs and long lines.
"You have access from wherever you parked to wherever you're going to ski," he explains. "You drop down the pitch; then you work your way back up that same pitch, zigzagging back and forth the whole way. You're usually very happy to find another skin track — we call it the railroad. You get on the railroad and, oh, boy."
The thought of the hike can be daunting enough to dissuade others from switching from lift-service to backcountry. But with the current state of the economy, Simkins says he wouldn't be surprised to see more able-bodied ski bums making the transition.
"The sport has been exploding for 10 years," he says. "The equipment has gotten to the point where it's much more accessible for people. It's gotten popular, and a lot of people like me have just gotten bored with the lift-service experience. Even snowboarders are looking for more."
To Simkins, lift-service will always be a carnival — "an experience for the masses" as he puts it, complete with fee. Unless he is helping his 5-year-old learn how to ski, resorts are usually his last resort. It's the insatiable hunger for pristine powder and new runs that keeps him in the woods, out of the ordinary — and thrifty.
"It's really just about the quality of skiing," he says. "Getting out in the state forest, absolutely in the middle of the woods, nobody around for miles, just playing and having a ball."
Got a story about how you're getting by? Email cathy@sevendaysvt.com.