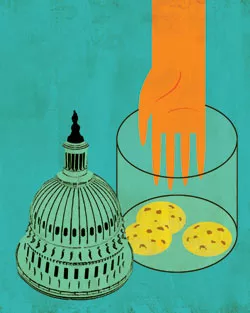 Last month, former Algiers Fire District treasurer Sherry Roebuck of Guilford started an 18-month sentence in a federal prison for stealing more than $80,000 from her municipal employer. The prison term is only a part of Roebuck's punishment. After her release, she'll be on the hook for nearly $83,000 in restitution for her crimes. The extra $3000 covers legal fees and other related expenses.
Assuming the 52-year-old felon manages to pay it back, the money won't go to the Algiers Fire District, which has already been reimbursed. It'll go to the Vermont League of Cities and Towns, which insures the town of Guilford against crime and covered all of its losses.
Vermont law requires that every municipality be insured for criminal and financial malfeasance. A recent rash of embezzlements precipitated the law's expansion last year to cover any municipal official who receives or disperses funds. VLCT now insures about 95 percent of Vermont's 330 cities, towns and other municipal entities, including water, fire and solid-waste districts, against everything from snow plow accidents to worker's compensation claims to wrongful death suits filed after police shootings. In the wake of Tropical Storm Irene, VLCT shelled out more than $10 million to fix flood-damaged municipal infrastructure. In the last few years, a spike in financial fraud has forced the nonprofit to pay out substantial claims.
Since 2003, the league's self-insurance plan has had 14 claims for financial mismanagement totaling $1.7 million, according to Ken Canning, VLCT's director of risk management services. Of that, VLCT paid out $1.3 million to its member organizations for losses due to embezzlement or bookkeeping blunders that cost municipalities hundreds of thousands of dollars.
"We're designed to take hits like this," Canning says, just one year after Vermont topped a national list of worst states for white-collar fraud. He insists the League's insurance funds are on solid financial footing. "We don't like it, but that's what we're here for."
Like auto insurance, what a municipality pays for insurance is based on a complex formula that accounts for its population and claims history. Those with good "driving records" — i.e., few or no claims — are rewarded with lower premiums, while others, like the Hardwick Electric Department, are punished with higher premiums. In 2011, the publicly owned utility suffered the largest public embezzlement in Vermont history when former office manager Joyce Bellavance pled guilty to bilking the utility out of $1.6 million.
In 2010, before Bellavance's crime was discovered, Hardwick Electric paid $817 a year for its crime coverage; today, the utility is paying $1654. Though its insurance cost doubled, Canning notes that it's still "pretty low" relative to its coverage. Member-owned VLCT won't raise premiums on its members by more than 15 percent a year for a single claim, even when a major loss occurs, to help "take the sting out of it," he says.
But there's another kind of sting for Hardwick residents. The VLCT only covers up to $500,000 in criminal damages. Losses that exceed that amount fall on the municipal entity and its taxpayers. Even when towns are fully covered for their losses, it can take years before that hefty check arrives.
Technically, Bellevance still owes her former employer another $1.1 million. In February, her husband agreed to move out of the house and leave behind valuables to help compensate the town for his wife's thievery, according to an Associated Press report. U.S. Attorney Tristram Coffin estimated the house and its contents are worth about $750,000. Assuming it sells for that, Hardwick is still short $350,000 — and it'll be a while before Bellevance starts paying restitution to the town and VLCT.
Assuming she makes good on the $1.1 million, Canning notes, "We're next in line. But we're not holding our breath."
The sum total of the Bellavance fraud is staggering. But at least its value has been established; when VLCT members are victimized, they have to account for every dollar taken, typically by conducting a forensic audit that can cost tens of thousands of dollars — an expense that's not covered by insurance.
In April 2011, Donald Hewitt, former treasurer of the tiny town of Ira, pled guilty to wire fraud for writing checks to himself and misappropriating property tax funds from the 1990s through 2009, when his scheme was finally discovered. VLCT reimbursed the town of Ira for $350,000, which, according to Canning, represented the actual money that Hewitt stole, as revealed by a forensic audit.
However, Canning says that because Hewitt's scheme was "kind of like a shell game," in which he moved funds from one municipal account to another, the town now claims its actual losses exceeded the $350,000 VLCT paid out. As a result, the town has filed a lawsuit against VLCT, claiming losses in excess of $500,000. Ira town officials declined to comment due to the pending litigation.
Similarly, former town clerk Suzanne LaBombard stole more than $100,000 from Isle La Motte between 2001 to 2006. But the town's books were in such poor shape, Canning says the town couldn't tell how much was stolen. Fortunately for Isle La Motte residents, LaBombard and her father paid back 100 percent of the documented losses.
What do these crimes have in common? Far from being sophisticated confidence schemes, Canning says every town offered easy access to embezzlers. In Guilford's case, town administrator Katie Buckley describes the fraud as "so simple a kid could do it."
Like most victimized municipalities, the all-volunteer Algiers Fire District didn't segregate its financial duties. The embezzler controlled the mail, bank statements, deposits, withdrawals and checks. And, like other recent fraud cases, Roebuck got caught because someone finally asked to see the books.
"It doesn't take a lot of education to look down and see checks written out of sequence, vendors not approved by the town or the treasurer is on direct deposit," says Canning. "As we like to say, trust is not an internal control."
Though one might assume that towns suddenly experience a huge windfall once VLCT cuts them a check, that wasn't the case in Guilford. Once the town got its money back, Buckley says it was immediately deposited back into the fire district's bank account. The town has since taken over all of the fire district's bookkeeping duties.
Harder to fix is the psychological damage to the town.
"It was a harsh reality slap," Buckley says. "The biggest impact was the feeling on the community because it's one of your neighbors who stole from you ... That's a hard pill to swallow, and there's no dollar sign that corrects that."