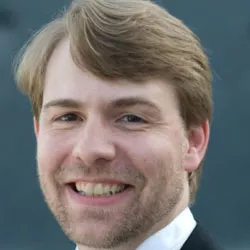 At the same time that the Philadelphia Orchestra announced it was filing for bankruptcy a few weeks ago, the Vermont Symphony Orchestra issued a press release stating that its 2011-12 Masterworks Series had sold out. Never mind the demise of the Vermont Mozart Festival: Classical music is thriving in Vermont on both sides of the baton. The latest evidence is the brand-new Middlebury Bach Festival.
Middlebury College music professor Jeffrey Buettner created the three-day event with his wife, Jessica Allen, a soprano soloist and area voice teacher. Though inspired by the Bach Festival Leipzig, which Buettner attended in Germany last June while on a grant, the couple envisioned an event that went beyond a straightforward concert series.
"We decided to model the festival on Bach's final job in Leipzig," says the 40-year-old organist and choral conductor. Before he died in 1750, Buettner explains, Bach spent his last 27 years in the university town juggling responsibilities that included teaching students, composing weekly service music for a number of city churches, and writing and conducting compositions for city celebrations and civic functions.
The Middlebury Bach Festival will similarly permeate the local community. Bach performances will grace the Friday Shabbat at Havurah, the Addison County Jewish Congregation, as well as Sunday services at eight area churches. A Saturday evening concert will be prefaced by a series of free, informal talks explaining the intricacies of Bach's compositions; speakers include Christoph Wolff, the German musicologist and Harvard University professor whose 2000 book on Bach was a Pulitzer Prize finalist. And the weekend's various orchestras, ensembles and choral groups include professional musicians and students performing side by side.
Buettner, whose graduate work is in conducting, moved to Vermont in 2007 to accept the college's first faculty position for choral director. Since then he's been multitasking on a Bachian scale. In addition to teaching courses on the history of a cappella, music theory and the like, he is the founding conductor of the Vermont Youth Orchestra Chorus and Concert Chorale and the organist at the Congregational Church of Middlebury. Yawning during a phone conversation, he explains, "I've been up all night studying Bach scores."
One of those scores is Cantata 191, a three-part piece for choir and orchestra that Buettner will conduct in the second half of Saturday night's program. "It begins with such exuberance," he enthuses of the first movement, "then changes to a tremendously expressive call for peace — all in four minutes." Bach reworked the cantata for his much-loved Mass in B Minor, a work Buettner would have liked to include were the full piece not such a "giant undertaking." Instead, he'll close the concert with the Mass' "Dona nobis pacem."
Buettner says Bach's music "appeals on intellectual and emotional levels — there's a lot to think about, but there's a lot that simply evokes a feeling." The popular conception of Bach as "stolid and boring," he says, is belied by the baroque composer's enduring popularity over the last two and a half centuries. "The reason Bach survives in the repertoire is because his music demands the extremes in both technique and expressive device," he says. "Musicians are drawn to that."
And audiences benefit when musicians explain the finer points of Bach's inventions. In one of the four "interest sessions," Buettner and his colleague Bettina Matthias, a 41-year-old German professor and pianist, will discuss the interplay between text and musical figuration in the two chorales on the evening program.
"I give the German literary take on it, to make the whole thing more accessible to non-German speakers," says Matthias, who is writing a textbook for voice teachers on singing in that language. She'll be pointing out specific ways Bach used voice parts to emphasize a word or phrase in the text — for example, by holding it longer — that run counter to spoken German's rhythms.
If that sounds too technical, there's always the music-and-wine route: A baroque ensemble that includes Midd affiliate artist Cynthia Huard on harpsichord will play at an opening gala at the college's Mahaney Center for the Arts, and the Edgewater Gallery downtown will host a preconcert reception with duets by violinists Jane Bearden and Michael Dabroski, cofounder of the Burlington Ensemble.
"What makes our festival unique, in our minds, is that it involves college, town and congregations," says Buettner. And that combination will likely ensure that the Middlebury Bach Festival reappears annually on Vermont's growing roster of classical celebrations.