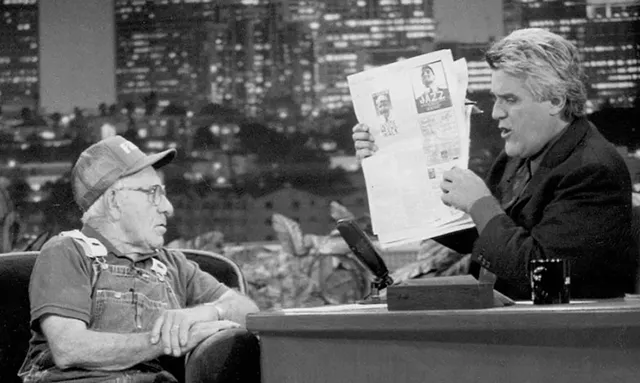 Steady Freddy
Whether or not he achieves senatorial status, Fred Tuttle is still a star. The Tunbridge dairy farmer was in fine form — and short sleeves — on "The Tonight Show" last week, answering tough questions about interns and inhalation with unprecedented aplomb. While Tuttle held his own, Jay Leno held Seven Days, which served as an unexpected visual aid during the interview. You won't read it in The Burlington Free Press — which has an unwritten rule about never mentioning its competitors — but 7D was front-and-center on national television for a couple of crucial seconds. Referencing the "Vermont weekly, Seven Days," Leno pulled out a copy of the September 2 edition while the camera zoomed in on the only ad purchased by the Tuttle for Senate campaign — a one-column incher next to Peter Freyne's "Inside Track." Amazing how far a $10 ad in the local weekly can take you. While in Los Angeles, campaign manager and filmmaker John O'Brien "took a meeting" with a company that might be interested in turning the Fred story into a film. "It may never happen," O'Brien downplays. "But there was a lot of speculation about who would play Fred."
Chance Encounter
It's hard to imagine Steve Goldberg in cahoots with the State Liquor Control Board — his provocative plays are not exactly buttoned-up. But someone — something — is looking out for the Burlington playwright these days. First he convinced folks at the Flynn to let him stage a play in a brand-new space right on Main Street — something no other local theater group has managed to do. Then he got around another seemingly insurmountable problem: despite projecting, his actors were completely drowned out by the live music from the Last Chance Saloon. Just as he started to panic, Goldberg learned the bar is shutting down for three weeks as a result of two state liquor-control violations. "Luck be a License Suspension?" Goldberg calls it "a really amazing coincidence" that the shut-down happens at precisely the same time as the three-week run of his play, which opens Thursday. Who knows? Maybe the displaced drinkers will take a chance on theater instead. In "End Zone," about an ex-football star in a loveless marriage, Seven Days columnist Peter Freyne plays a barfly. Stanislavsky method, of course.
The 'Biz' Buzz
The dust has finally settled at Vermont Business Magazine, where editor Tim McQuiston and publisher John Boutin were locked out for a spell. The two men, who were minority shareholders, now own the publication outright, after outbidding a competing buyer from Pennsylvania. "Our lawyer said this is more like a divorce than a business transaction," says McQuiston, noting the deal was further complicated when the Pennsylvania publishers got a temporary restraining order to protest the sale of the paper, which they say was promised to them. The final ruling, not surprisingly, is sort of a joint custody arrangement. While McQuiston and Boutin will continue to run Vermont Business Magazine, Vermont Outdoors Magazine — which was once part of the same publishing firm — went to the Keystone State folks. Seems like former majority shareholder Jim Lurie got what he wanted, too — out, for the best price.
Gold Fingers
The storefront formerly occupied by the Israel Solomon dry cleaning and tailor shop will maintain its old-world charm under new ownership. Jewelry artist Timothy Grannis and his partner Susan Hurd are transforming the retail space into a working goldsmith shop and jewelry design studio. Grannis will not only exhibit and sell his own work, which is represented in the private collections of Steven Spielberg, Barbra Streisand and Michael Jackson, but about a dozen other artists from around the country will be represented there on consignment. My focus is on design," Grannis says, noting he will carry everything from "fused copper to high-carat gold and precious stones." The grand opening is Friday, timed to coincide with the "First Friday" art trolley that links all the downtown galleries. If you can't get a ride, walk a block up to Bank Street to check it out. Says Grannis, "It seems like downtown is undergoing a lot of homogenization. This is a great antidote to that."
In Brief
The Oprah "award" couldn't have been better timed for Vermont writer Chris Bohjalian. The author of Midwives is using his local celebrity this week to assist in fundraising efforts for the Lincoln Library, which lost 80 percent of its books in flooding this past spring. Now Bohjalian can put his checkbook to work, too — inside book sources say it is not an exaggeration to presume the Oprah endorsement will make him a millionaire . . . The next best thing to a trip to the Florentine countryside? Three silkscreens by Milton Glaser, based on his own trips to Tuscany. That and other works of art are going, going, gone — for great prices at the annual art auction to benefit the Flynn Theatre. Bid on Stephen Huneck, Robert Brunelle and Frank Larson on Friday at Lewis Acura in South Burlington.