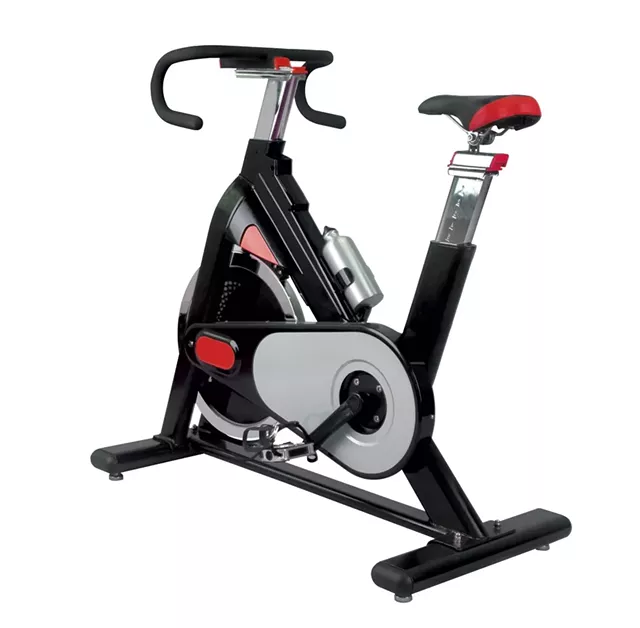 On a cold morning last winter, I found myself pedaling a stationary bike in a dimly lit room, surrounded by a half dozen other cyclists, all of us sweating along to "Malibu" by Miley Cyrus. Although I wasn't covering any actual ground, I was making progress: 18 months after my daughter, Virginia, was born, I was regaining my fitness and my confidence, one wheel rotation at a time.
I first heard about indoor group cycling, or Spinning — the cardiovascular workout set to music — in the pages of a celebrity gossip magazine. In 2014, sitcom actress Tia Mowry told In Touch Weekly that Charlize Theron had snubbed her at SoulCycle, a high-intensity indoor cycling class. "So, indoor cycling is for super-fit celebs," I thought. "Got it." The activity sounded interesting, but inaccessible.
In fact, Spinning isn't just for the Hollywood elite — and the activity has grown in popularity in recent years. A class search on spinning.com, the official website for the worldwide Spinning fitness program and equipment company, yields 38 results in Vermont alone.
Trying a new fitness class might not seem like a big deal, but I had experienced some setbacks after delivering my daughter. For one, I gained about 40 pounds during pregnancy, more than I'd anticipated, and more than doctors advise for a woman of my size. Also, I had a cesarean section. Healing from the surgery and subsequent infections made for a long recovery.
I still remember walking slowly up a small hill near my house, feeling the pull of the stitches in my abdomen and the crush of disgust and defeat. Before pregnancy, I'd been able to accomplish just about anything I had wanted to do physically. A runner since middle school, I enjoyed hiking and road biking. All of a sudden, I was limited.
I felt inadequate for my inability to quickly snap back to my pre-baby abilities. Turns out I wasn't alone.
Leslie C. Johnson, associate professor of behavioral sciences at Northern Vermont University's Johnson campus, has researched first-time moms' experiences with "postpartum weight bias" — the social devaluing of women who carry baby weight. In a study of 148 women, Johnson and her students found that new moms' perceived postpartum weight bias related to lower overall psychological well-being and lower comfort in their roles as mothers. Sounds about right, especially in a world where gossip sites laud celebrities with flawless post-baby figures, with headlines like this one from DailyMail.com: "Kylie Jenner flaunts her incredible post-baby body in striking ruched bodycon dress in San Francisco."
Last summer, after we moved from Jericho to Bristol, I joined the local gym, with the goal of integrating exercise back into my life. I grabbed the group class schedule and found that the only classes that fit into my work and parenting timetable were Intro to Spinning, Spinning and Express Spin. "I guess I'm getting on a bike," I thought.
Intro to Spinning, a 30-minute beginner lesson, seemed like the best place to start. I showed up early, and an instructor helped me to adjust my seat and handlebars and strap my feet onto the pedals. My fellow classmates included a handful of older men and women who pedaled and sang along to the upbeat oldies playlist, altering their speed and resistance at the instructor's commands. Strands of rope lights illuminated the room, creating a comfortable atmosphere in which I didn't feel self-conscious about my red, sweaty face. That first ride wasn't easy, but it was fun.
Since that day, I've graduated to 60-minute classes, but still enjoy the 30-minute sessions when I'm pressed for time, which is almost always. (Have you heard that working moms are super busy? It's true.) Top 40 songs, '80s throwbacks and hip-hop bangers propel my workouts and transport me back in time to dance parties with my friends.
Going to class has become something I look forward to, for both the exercise and the break it provides from the responsibilities that come with being an Adult with a capital "A." Contrary to its name, group cycling is, at least for me, an individual activity and offers a much-needed sense of alone time, even with other cyclists around me. Having a kind and outgoing teacher greet me by name can turn my day around. Feeling active and healthy, releasing stress, and taking time for myself all help to boost my mood and give me more patience. That means I'm able to be a better me — and a better mom — when I get home.
I haven't stopped at Spinning. With my renewed stamina and confidence, I trained for and ran in the People's United Bank Vermont City Marathon as part of a two-person relay team in May. That's 13.1 miles per team member — a distance I hadn't covered since my running heyday about eight years ago. The race came 23 months after my daughter was born, and felt like a major milestone.
My parents brought Virginia to the race. I know she won't remember it, but I look forward to showing her pictures of us on race day. I'll remind her of the time she cheered me on as I kept putting one foot in front of the other.