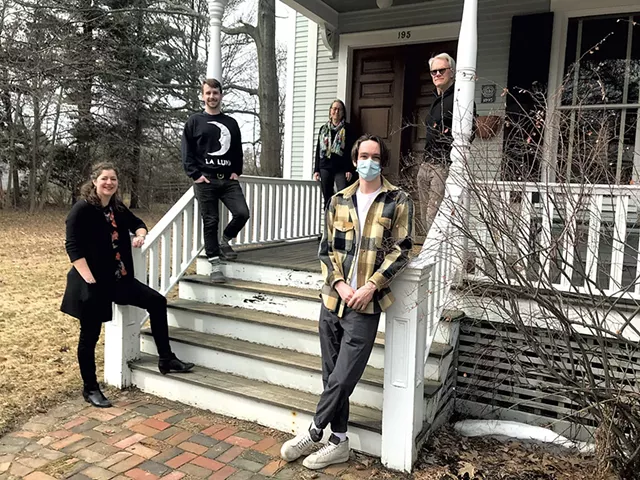 Chelsea Edgar
Clockwise from lower left: Grace Ross, Jackson Harvey, Lyn Severance, Bill Harvey and Henry Severance
On March 14, with a couple hundred confirmed cases of the coronavirus in New York City, Jackson Harvey, 29, and his girlfriend of three years, Grace Ross, also 29, left their apartment in Queens to seek temporary refuge at Jackson's parents' house in Burlington. They figured they might be gone a week, so Jackson grabbed an IKEA bag of unfolded laundry, a pair of clogs and hiking boots. Grace didn't bother to bring her slippers.
By the end of March, New York City had more than 30,000 cases, and the Centers for Disease Control and Prevention had urged residents to refrain from all travel. Jackson and Grace have no plans to return to Queens anytime soon.
As the coronavirus pandemic has spread, scores of young adults have returned, by choice or necessity, to the scene of their Vermont childhoods. In mid-March, when rumors of an imminent lockdown in New York City began to circulate, brothers Will and Noah Kiernan, ages 25 and 23, left their East Village apartment and drove north to their father's house in Charlotte. Around the same time, Jacob Tischler, 29, moved back in with his parents in Williston after the off-Broadway theater where he had been bartending went dark.
Even within Vermont, young people are returning to the nest. Liam Elder-Connors, 28, a reporter at Vermont Public Radio, moved out of his shared house in Winooski to work from his parent's home in Stowe. "It's nice to be with family when there's a pandemic going on," he said. Elder-Connors, like many journalists, has pivoted to nonstop pandemic coverage: "I'm working 10, 12 hours most days of the week, and it's nice to be somewhere bigger than an apartment, with better internet."
Young professionals and their college-age siblings, exiled from campus until further notice, have found themselves marooned at home together for the first time in years. A week after Jackson and his girlfriend came back to Burlington, his younger brother, Henry Severance, a junior at Clark University in Worcester, Mass., returned from his language program in Taiwan. For the first time since Jackson left for college, the two brothers and their parents, Bill Harvey and Lyn Severance, are under the same roof.
The five-bedroom Harvey-Severance home on North Prospect Street is mercifully spacious — "more room than we deserve," joked Bill, who, with his wife, runs a graphic design company from a studio above their garage. From his point of view, this unexpected reunion has been relatively happy and drama-free.
"As much as we're all in different stages of life right now, we're a very tight family," he said. "This is the longest we've been with Jackson in the last 10 or so years, and it's really quite nice. Male frontal cortexes tend to develop more slowly, so now that he's 29, it's like, 'Wow! He's a real person.'"
But Bill knows that for 21-year-old Henry, the forced cohabitation isn't ideal. "Henry is at a point in his life where, for biological reasons, he really doesn't want to be living with his father and mother, which is completely understandable," he said. "We've been giving him a long leash, and luckily for us, we have plenty of space for that."
Square footage is also an advantage in the culinary department. The Harvey-Severances are prolific cooks ("There literally isn't a baked good that's not available in the house," said Grace), and they have sit-down meals together every night, a tradition the family embraced long before the days of quarantine. At one point, Jackson, an avid bread maker, was nursing three different starters, which he used to produce six loaves of sourdough bread and 20 English muffins.
Their days have a meandering, convalescent quality. Jackson, who was between jobs before the pandemic started, occupies himself with his bread and various chores, including building a chicken coop and painting the window shutters. Grace, who works in publishing and can do her job remotely, reads and occasionally tries to get everyone to play a board game. Both parents have design projects in progress; the pandemic has affected their work, Bill said, but they're trying to keep a positive attitude: "As an entrepreneur, I'm always thinking of ways to thrive. Lyn and I are trying to be flexible, and this pushes us a little harder."
But for Henry, whose online classes don't start until midnight because of the time difference in Taiwan, the hours can seem oppressive: "I personally am horrible to be around right now," he said. To keep himself busy, he's been producing music on his laptop and working on an Instagram illustration project, a charity effort to raise money for coronavirus relief.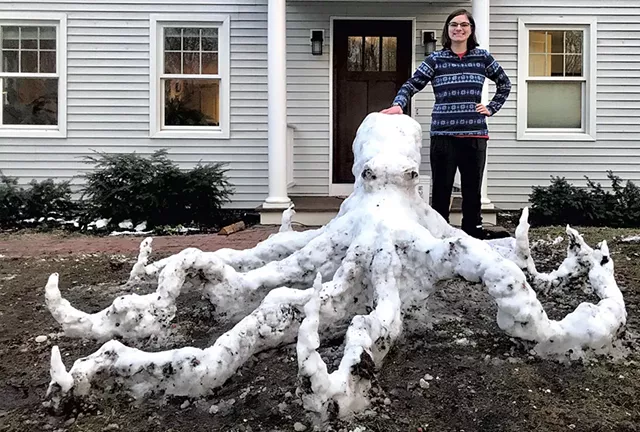 Chelsea Edgar
Mary Markley and her pet snow octopus
Like Henry, 20-year-old Mary Markley, a sophomore at Stanford University, was recalled to Burlington in mid-March. At Stanford, Markley had grown accustomed to staying up until all hours, philosophizing with her friends; at her childhood home in the New North End, her mother, Katy Farnham, shuts off the Wi-Fi at midnight, the internet curfew for Markley's younger twin siblings, both seniors-in-exile at Burlington High School.
When Markley finally does get into bed, usually around 3 a.m., she often has a hard time convincing herself to get out of it again. One day during her first week at home, she emerged from her room around 9 p.m. to make a large batch of pancakes, hoping that the prospect of breakfast carbohydrates would motivate her to get up earlier the next day. She even called a friend on Zoom and pretended to host a cooking show. When she came downstairs in the morning to get her leftovers from the fridge, she discovered that her sister had eaten them.
"It sounds really melodramatic, but I just don't see the point in doing anything," Markley said. "Like, you can do online classes in bed with no pants. I just have no sense of purpose, and there's also this fear of falling behind. Everyone at Stanford is using this time to learn a new branch of physics or work on their startup."
In spite of her malaise, Markley recently managed to scrape together enough gumption, and snow, to sculpt a 10-foot-wide octopus, with unnervingly well-articulated suction pads, in her front yard. Her attempt to host a spring solstice party via Zoom was less successful: According to Markley, the sound quality was terrible, and her sister kept yelling at her to quiet down.
"This all feels very regressive to me," she said. "For two years, I've been living independently, and now I'm fighting with my siblings about whose turn it is to clean the kitchen. I'm lucky that I don't have to worry about housing or anything, and I feel bad expressing that I'm sad or disappointed. But my favorite part of college was staying up all night talking about stuff with people who have such interesting brains, and this just feels not the same." The anxiety of not knowing when she'll be able to go back to Stanford, coupled with the inability to go anywhere but outside, has left her feeling unmoored.
That feeling stems, at least in part, from a lack of agency: Markley and Henry Severance came home because they had nowhere else to go. But when going home is a choice, the stakes feel different — less like an unwanted relapse into adolescence than a new, weird chapter of the parent-child dynamic.
In mid-March, Clara Campoli, 32, a prekindergarten teacher at a public school in Manhattan's Upper East Side, had several weeks left of maternity leave when the pandemic began to tighten its grip on New York City. When her husband, Evan Fain, found out that his co-working company would allow him to work remotely — and that Clara would be conducting a virtual classroom upon her return to school — they booked a rental car and drove with their 2-month-old son, Lewis, to Clara's childhood home in Burlington's Five Sisters neighborhood. Not knowing how long they'd be gone, Clara and Evan packed haphazardly: an assortment of clothes and a month's supply of diapers for Lewis, now on the cusp of being too small; one pair of pants for Clara. Evan forgot his running shoes.
"My husband's company has been very affected by everything that's happening, and he's working pretty much around the clock," said Clara. "So when school started online for me, I wanted to be around my parents for help with childcare during the day."
When the couple left New York City, her parents, John Kassel and Julie Campoli, were driving back from a ski trip in Colorado. Clara said her parents were eager to see Lewis, but for their safety and his, she persuaded them to quarantine themselves for two weeks at their second home in the Northeast Kingdom. When her parents stopped at the house in Burlington to pick up provisions, she insisted that they keep their distance.
"It was weird," she said. "We didn't hug. They didn't even touch their only grandchild."
Clara's father agreed that it was surreal to see his grandson and not be able to hold him. That moment was an important reckoning, he said, a concrete instance of the abstract imperative to demonstrate love by staying away.
"That was when I realized that this is a long-term thing," said John. "It's not, 'Can I hold my grandson now?' It's, 'Can I give them space so that I can hold him in the future?' Making space for others, particularly for your family, helps you grasp the scope of this."
On Sunday, having separately completed their 14-day isolation periods, Clara and her parents reunited in Burlington, where all three generations will embark together on the next phase of their new reality. When it seems safe enough, Clara said, her husband and father will make a trip down to the apartment in Brooklyn to pick up more necessities for the baby — who will, in all probability, outgrow several months' worth of clothes by the time the world returns to something resembling normal.