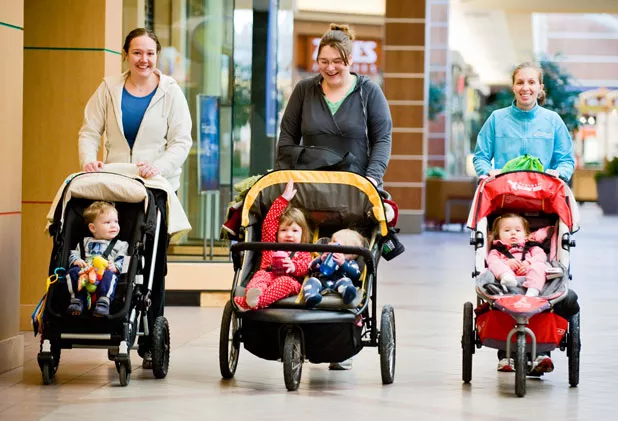 Christina Sicard, Kristen Carpenter and Lindsey Burnett
One of the biggest milestones in my new son's life wasn't when he smiled for the first time (five weeks), when he rolled over for the first time (three months), or when he began to sit up (five months). It was when he turned eight weeks — which meant I could take him along with his older sister to my gym's nursery.
Not that the nursery is a perfect solution. There I routinely see teary-eyed toddlers and wailing babies clinging to their parents, ignoring the entreaties of the warm and well-qualified staff. Mom or Dad or both, desperate for an hour — or 45 minutes or 30 minutes or 15 damned minutes — of exercise, plead and cajole until they finally admit defeat and turn their backs on the kids. Luckily, my own offspring have become accustomed to and even love the gym nursery. But they still have their moments, as do I, when a morning workout feels more like World War III.
It doesn't have to be this way. Nor do I need to stay stranded at home, packing on the calories from leftover mac-'n'-cheese with no way to work them off. As Waterbury's Heidi Hill writes in her new book, Fit Family: The Infant, Toddler, and Preschool Years, families can learn to exercise with their kids, almost as soon as they arrive in this world.
"Too often I hear of parents who 'used to' exercise but no longer can find the time for it with young kids, or maybe when they try, it doesn't go well, and they think it is not going to work for their family," writes Hill in her first chapter. "But, as you will hear, time and again, from parents quoted in this book, with some planning and the right attitude, you can stay fit while introducing your children to healthy habits and the fun of exercise. That's certainly been my experience."
And Hill's experience qualifies her to dispense advice on maintaining a fit family. She grew up in New Hampshire's Mount Washington Valley, where she cross-country skied and hiked, and continued to recreate in the area after relocating to Portsmouth. In 1998, Hill moved to Morrisville — "I was then 27 years old and single and figured I needed a recreational mecca a little further from my parents," she says in an interview. It was in Morrisville that she met her husband-to-be, Tom, who just happened to be a top cyclist and cross-country ski racer. After marrying in 2002, the pair settled in Waterbury Village for easy access to the mountains.
"My husband and I have always made exercise a priority," Hill writes. "Exercise defines us just as our work does, and now as being parents does. Before we had kids we often considered how a life with children might affect our ability to exercise."
After said kids — now 2 and 4 — arrived, Hill realized that her learning experiences could translate into a tome for other exercise junkies and outdoor enthusiasts with young children. She had been editing the Vitesse Press book Fit and Pregnant around the same time she was figuring out how to raise an exercise-oriented family, so the new project was an, ahem, nice fit.
"It took me two years to write Fit Family while I stayed home with my kids," says Hill, who started the book with a newborn and a 2-year-old. She sneaked in writing sessions during naps, late at night and occasionally on weekends — that is, when she and Tom weren't outside "researching" the book.
Throughout Fit Family, Hill and the parents she interviews extol the virtues of classic Vermont forms of exercise: hiking, running, biking, cross-country skiing, swimming and paddling. Creative dance and family yoga get a chapter, while sections on nutrition, strength training and stretching offer suggestions on how to make kids well rounded rather than just, well, rounded.
Hill also addresses one of the major obstacles facing families who want to get outdoors with kids. No, not the arctic temperatures that kept folks indoors last week, but the mountains of gear it takes to keep everyone warm, dry and happy while pulling them around in a pulk on cross-country skis or toting them toward a summit in a backpack. Hill says her own basement holds a bike trailer, adult bikes, a ski pulk, a couple of packs, and heaps of summer toys and tools so imposing that the girls use them as a bicycle "obstacle course" between outdoor sessions. "Come spring, we'll be looking to get rid of some stuff that we're phasing out of, such as our double jogger and backpacks."
To lower equipment expenses, Hill suggests swapping gear with fellow active families or posting an ad online. "The retail prices on items from a kid's bike to a jogging stroller are outrageous," she admits. "We never pay top dollar, but I do encourage new parents to ask for exercise equipment for a gift." As for kids' classes — also pricey — Hill advises choosing one or two things for the year rather than trying to cram in too many play sessions per week.
In Fit Family, Hill also emphasizes the importance of adults getting out there and exercising sans famille. She and Tom manage to ski four to six days a week in the winter, she tells Seven Days. "We've learned to be efficient with our own exercise time, and we constantly communicate our wants and needs around fitness so that we can fit it in," she says. "If anything, we're likely to forgo other things, like social events."
Hill's tips are addressed to parents everywhere. For local folks trying to keep active with a new arrival, though, last fall brought a welcome bit of news: In September, Lindsey Burnett of Richmond got herself certified and opened Vermont's first Stroller Strides franchise. Anyone who's been to the University Mall in South Burlington early on a Monday, Wednesday or Friday morning has probably noticed the class, in which stroller-pushing moms get an hour-long workout through power walking, resistance bands and body-toning "stations" where they do lunges and other exercises.
"All of the seniors who are doing their morning walk love seeing the kids," says Burnett, who has a toddler and is expecting her second child in June. Though the program is aimed at moms, kids pick up the points, too. "My daughter pulls out my [resistance bands] when we're at home, stands on them and then lifts her arms," says Burnett. "She also practices side shuffles and tries to lunge."
In the warmer months, Burnett hopes to move the Stroller Strides class to the Williston Bike Path. For now, the U. Mall offers the convenient option of shopping after the workout — and, says Burnett, "My participants have noticed that they are able to buy smaller clothes."
Alas, Stroller Strides won't work for me right now — I still don't have the double stroller necessary to hold both my tots. (Unless you count the roomy shopping carts at Lowe's, where my kids and I head when we're suffering from cabin fever.) But, thanks to Hill's book, I have some handy new tips on what to look for in gear, as well as how to bundle the babes up safely and how to give kids stepping stones toward sports, such as breath control for swimming and trail's-end rambles for hiking. Compared with wrestling the young 'uns into the gym every day, those outdoor options are a breath of fresh air.