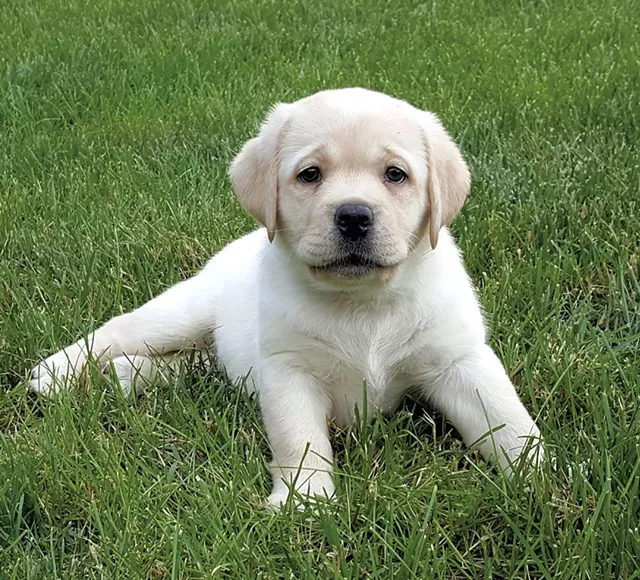 We're expecting a little one any day now, and no one could be happier — or more surprised — than I am. With my husband and I in our early 50s and our four kids finally old enough to stay home by themselves, we're enjoying a level of freedom we haven't had in 15 years. And here we are, going back to sleep interruption and potty training.
In two or three weeks, I'll be cradling a baby girl and marveling at her cute, floppy ears, her little wet nose, those sweet 16 toes.
We're getting a dog! I never thought I'd write that sentence. Dogs just don't run in my family. I grew up on a farm in northern Iowa where animal was a two-syllable word: livestock. Why feed it if you aren't going to eat it? I remember asking for a dog, but the answer, as I expected, was no. "Dogs chase pigs," my dad said.
My husband, Joe, had a dog when he was about 12. It was a little black bulldog named Max. But Joe's family only kept him for about a year; he doesn't recall why. "Dog arrived one day. Dog left one day," he said when I pressed for details. "I remember going for a walk. It was a pet parade or something." Max was about the size of a loaf of bread, Joe said. "After a half mile, he couldn't walk anymore. I had to carry him home."
Somehow, despite both of their parents' relative dog indifference, our kids inherited canine cravings. Maybe it's a fluke of genetics. Or maybe it's a universal law of nature: Kids love dogs. So they beg. For years, my kids have been asking for a dog, and, for years, I have been saying no. I had borne four kids in 3 years. Cleaning up after one more thing that pooped had zero appeal — the same goes for drool, shedding, muddy paw prints and that dog smell.
A couple of years ago, Joe caved. In front of our kids, and without consulting me first, he said, "I could be ready for a dog now."
With me under the bus and Daddy in their corner, the kids persisted. My 12-year-old son, Jack, worked getting a dog into school writing projects. "Why I Should Get a Dog," is the title of one essay. "Here are some facts how getting a dog can help you," he wrote. "1. Dogs can sense cancer in a human body. 2. Dogs can give you good heart health. Petting a dog gives you lower blood pressure and heart rate. 3. A dog can make you happier. 4. Kids with dogs have less allergies." In fifth grade, he wrote a peace poem: "Peace is warmth, no more war, sleeping, laying down, sitting with a dog on your lap."
Mom guilt piled on. How could I have four kids and not give them a puppy? Slow-motion frames of them romping and giggling in a sun-dappled backyard played in my mind. Until I came to my senses, grabbed my brain remote and pushed No! Are you kidding me?! No!
And then, about a year ago, something changed. I'm not sure I can entirely explain why. Part of it stems from continual reminders that life is short. Live before you die, one saying goes. Better to regret the things you have done than the things you haven't, says another. My mother died last summer. Then, more than ever, I needed proof that there is a heaven. In the airport, on my way home from her funeral, I bought the book Heaven is for Real. It's the true story of a little boy who recovered from a serious illness, then astounded his parents by describing heaven and relatives he met there. He also said there are dogs in heaven.
I looked out of an airplane window somewhere over the eastern United States and thought, "We need to get a dog."
And I started really wanting a dog. I scanned the available dogs on shelter websites. Pulling out newspaper inserts for recycling one morning, I lingered over a pet store ad and actually considered shopping for dog toys. Out for a run, I was so focused on two dogs running toward me that I almost didn't see the people they were with, friends of mine.
Everything started moving quickly when my friend Laurie told me about Gator, her English lab. Blockier than American-type labs, English labs are considered calmer and quieter. When Laurie offered to send me contact information for Gator's breeder, I said yes to be polite. Still thinking we would adopt a rescue, I didn't intend to use it. But Joe and I considered the benefits of knowing a dog's lineage, its likely good health and temperament, and the thrill of knowing a dog its whole life. When Laurie sent me a photo of Gator as a puppy, oxytocin surged as I texted back, "I'm in love!"
I sent a check to a breeder and came out to my 85-year-old father: I think I'm a dog person.
Our summer schedule now revolves around the dog that's not even here yet. The Art of Raising a Puppy — the canine What to Expect When You're Expecting — is on my nightstand, and I'm planning to post Jack's essay on the refrigerator. "I will feed him. I will walk him and it will be a great way for me to get fresh air," it says. I think I'll highlight my favorite line: "I will clean up after him and pick up his poop."