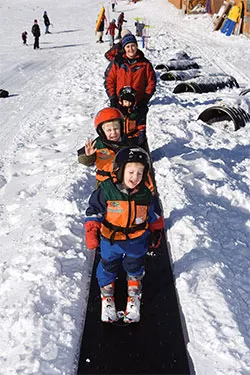 The kids ride the Magic Carpet with steeze.
I was not alone in my search for toddler size 6 boots and 70-centimeter skis at the South Burlington High School ski swap last month. All around me, parents with barely walking wee ones were frantically trying to find the smallest possible finely tuned equipment to clamp on their offsprings' feet and send them flying down a slick, snow-covered hill. Crazy? Maybe. But for Vermonters, getting kids to ski at age 2 or 3 is akin to New Yorkers applying to Manhattan's best preschools before they even become pregnant.
"Learning to ski should be every Vermont kid's birthright," says Joe Cutts, the Burlington-based SKI magazine editor, former coach and Cochran's Ski Area board member. "Skiing, way more than basketball or hockey or soccer, is the one sport where Vermont kids have an advantage and can really go on to compete on a world stage."
Cutts points to Green Mountain-bred Andrea Mead Lawrence, Billy Kidd, Barbara Ann Cochran and Chip Knight, along with the new generation of Cochran cousins, as examples of the state's skiing heritage. "It's definitely a Vermont kid's likeliest route to an Olympics — or an appearance in a big ski movie."
So, on the eve of the Vancouver Olympic Winter Games, and in the midst of ski-movie mania around Burlington, here's the lowdown on lessons for little ones at local ski areas. But parents, take note: It's not just about dumping your kid at ski school and calling it a day. As Cutts concludes: "Skiing with little kids is ridiculously fun. It gets them outdoors in winter, it toughens them and — think about it — being able to chuck yourself down a snowy mountainside when you're 7 or 8 years old really gives you confidence in other things."
For views of Lake Champlain and proximity to Burlington, Bolton Valley has other ski resorts beat among Chittenden County parents. But kids have to be 4 or older to ski in the Mountain Explorers program ($42 for a day) at Bolton; to snowboard, they have to be at least 6. "Sometimes we'll do a private lesson for a little bit younger, but not too much younger," says Bolton Valley spokesperson Josh Arenson. Info, 434-3444.
Catamount Outdoor Family Center
For nordic skiing, the Williston "experiment in outdoor recreation" proves to be a favorite for cabin-fevered families, thanks in part to its all-ages trails and plastic skis that slip right over regular toddler boots. "My little guy started at 2," says Catamount Executive Director Eric Bowker. "He loved it." Strap-on ski rentals are just 10 bucks for the day, and you pay no trail fees for kids under 6. Tots too cold or timid to try skiing on their own can ride behind mom or dad in a Chariot, which Catamount rents for $10 an hour (reservations are recommended on weekends). There's sledding and other winter fun, too. Info, 879-6001.
The country's ne plus ultra of teaching tykes to downhill ski, Cochran's starts its ski and snowboard instructional series at age 6. But in a "Cochran's original" twist, parents can learn how to teach their own kids through the Ski Tots program for ages 3 to 5. For $145 for four separate morning sessions (including full-day lift tickets), instructors will school parents in the fine art of getting kids to make "pizza" with their skis. Then "Nippers" aged 6 and under can compete in the Lollipop Races on Sunday, putting themselves on the path, maybe, to compete in the Olympic Winter Games someday. (Multiple Cochrans, and charges of the family's ski school, have become Olympians.) Info, 434-2479.
Ski it if you can? Pretty much. Kids' private lessons begin at age 3, for $50 an hour. Kids 4 to 12 learning to ski for the first time can benefit from the small instructor-to-child ratio (one to three) in the season-long Rockin' Robins program (from $425 for December through March). For seasoned preschoolers who've been schussing since they could walk, the hard-core ski area has a "purple Chipmunk" program appropriate for any kid age 4 to 6 who "skis primarily in a dynamic parallel on blue and green trails and in a wide-track parallel on black-marked trails," according to ski school director Terry Barbour. But the best news is that full-season passes for kids 12 and under are free — if you sign up by October 15. Info, 496-3551.
Toilet training stinks. But most ski schools don't deal with kids until they've passed that milestone. So for parents with potty-averse little people, Smugglers' Notch — whose ski school pioneer Peter Ingvoldstad just won the North American Snowsports Journalists Association Lifetime Achievement Award — may be the best thing since, well, diapers. Nationally acclaimed for its family-friendly approach, the resort has a Little Rascals program ($129 per day, including rental equipment) that teaches kids as young as 2-and-a-half years old. Toddlers can ride the Magic Carpet lift, slide down the snow and then tear around the Treasures day care center when they're cold, bored or cranky. Plus, cold, bored or cranky parents can get free cookies and hot chocolate while watching their little rascals race down the hill in a weekly competition. Info, 644-8851.
Stowe-bound skiers with kids under 13 months are out of luck; while many ski areas take babies as young as 6 weeks, this resort's day care center tends them beginning at age 1. But potty-trained 3-year-olds can learn to ski in the full-day Cubs Adventure program (from $115, not including equipment); in semi-private and two-hour 3 Ski lessons (from $74); and in the season-long CubBusters program ($1625 until October 30). You must be at least 21 to learn the pleasures of the Sugarhouse cocktail ($14), made with Sapling Maple Liquor and Vermont Ultra Vodka, in Stowe Mountain Lodge's Hourglass bar. Info, 253-3000.
The 'Bush's best ski school program may be its Mountaineering Blazers, a season-long lesson in such backcountry skills as climbing with skins and freeheel bindings, survival methods and winter camping; kids even get to spend a night in a mountain lodge. But for 3-year-old "Micro Bears" who know how to use the Charmin, half-day on-snow lessons start at $79 (not including lunch or equipment rental). Info, 583-6300.