Dylan Kelley
Owen Daniel-McCarter schmoozing with patrons at Babes Bar in Bethel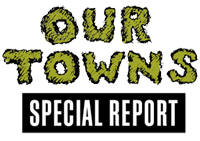 "Oh, my God, is that freaking Mario Kart 64?" I muttered upon entering Babes Bar in Bethel. A projector blasted the classic Nintendo video game's opening menu on a giant screen in the back of the pub. Four controllers lay on the floor, awaiting challengers eager to enter a breakneck race around Wario Stadium.
Directly adjacent was one of my favorite old-school arcade games: The Simpsons. I can't tell you how much allowance money I spent in my youth attempting to rescue Maggie Simpson from the evil clutches of Mr. Burns.
"Is it my birthday?" I quipped.
No, it wasn't. It was, however, Jesse Plotsky's — his 33rd, to be exact. He and his husband, Owen Daniel-McCarter, 36, opened Babes in June after uprooting their lives in Chicago. Itching for adventure and a less stressful way of life, the couple ended their 11-year stint in the Windy City in favor of the sleepy village, where Plotsky's brother and sister-in-law also live.
"We knew it was gonna be a complete 180," Plotsky said. "But that was part of the draw."
In just under six months, the couple has not only created a thriving business but reinvigorated a sense of community in the Upper Valley burg. Currently the only stand-alone bar in town, it offers a wide selection of reasonably priced libations, Chicago-style hot dogs, pool, board games, live music, film screenings and karaoke. Owing to a convivial atmosphere and welcoming spirit, Babes stands out as a true melting pot.
On the night of my visit, twentysomethings mingled with septuagenarians, recent transplants with multigenerational Vermonters. Some were college professors or students, others were machinists, farmers, baristas, cooks and graphic designers. All seemed equally at home in the space.
According to patrons, that's a sharp contrast from what existed there before. For years prior, a dive bar called Bethel Depot occupied the building.
"It was dark and gloomy," said East Bethel resident Kyle Miller, 28, of Bethel Depot, which closed in 2017. He and Elizabeth Morse, 22, sat playing a vigorous round of dominoes in the center of the bar. The two said they frequent Babes more than anywhere else.
"We knew the previous bar was notoriously a 'guy' bar ... Women and queer people and people of color did not feel welcome," said Daniel-McCarter. "We really wanted to send messages [that said], 'This is a space where we are thinking about race [and] gender.'"
Vermonters are notoriously wary of outsiders — especially those darn city slickers and flatlanders. But Daniel-McCarter and Plotsky's reception from locals has been anything but prickly.
"I remember people saying they didn't want to come because they thought it was gonna be a gay bar," said Miller. "But that changed pretty fucking quick."
In addition to rumors that Babes would be an LGBTQ bar, word that the new venture would be a strip club made its way through the grapevine. But as Daniel-McCarter pointed out, the term "babe" has risen in popularity as "a gender-neutral term of endearment" as opposed to a crass term for a particular type of woman.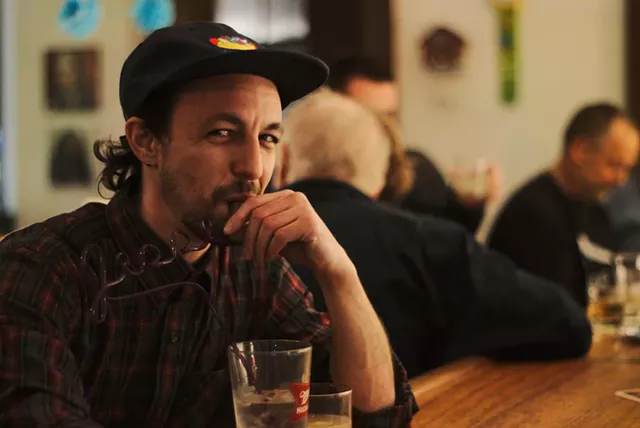 Dylan Kelley
Jesse Plotsky
The word also refers to folk legend Paul Bunyan's trusty blue ox Babe — a nod to Daniel-McCarter's Wisconsin roots — as the sign hanging above the entrance makes clear.
Nestled along Bethel's quintessentially Vermont Main Street strip next to Cockadoodle Pizza Café, the bar occupies a former train depot — hence the previous bar's name. With help from family and friends, the new owners renovated the space while retaining much of the historic two-story building's charm. Exposed brick, original wainscoting and hardwood floors bolster the spot's winsome vibe.
Funky, eclectic furniture and art adorn the spacious, softly lit ground floor, where a crowd of about 30 people was gathered. Across the room from the bar, which occupies the entire north wall, a couple played a lazy game of pool. Smidge, the owners' black lap dog, scurried around between people's legs looking for fallen foodstuffs.
The upper level is like a library study room crossed with a basement chill zone with old-fashioned school desks and sturdy tables and chairs scattered around. On this particular night, Wayne's World played on a small TV opposite a comfy leather couch.
One customer told me that she brings her own chair to the bar's regular movie nights. It recently screened cult classics The Goonies, The Nightmare Before Christmas, and Planes, Trains and Automobiles.
As the party downstairs got into full swing, Daniel-McCarter tended bar, allowing his partner to mix and mingle with their guests. As I joined the throng to chat up some locals, I kept hearing similar words used to describe the bar: inclusivity, openness, accepting, welcoming, friendly.
I asked people where they would have been on a typical night before Babes opened up. Some mentioned Crossroads Bar and Grill in South Royalton, but otherwise, nearly everyone said they would have been hanging out — and drinking — at home.
"This is a big deal here," said Bethel resident Beth Umba, 56.
She and her husband, Willy Walker, 52, have lived in Bethel for 25 years. Umba says the ease of being able to walk to a watering hole makes her feel like she's permanently on vacation. "This is the spot," she said.
"Not just for Bethel," Walker interjected. "People come from Randolph, Royalton [and] Lebanon [N.H.]."
Some of the old crowd still comes, too.
"They have stuff going on all the time, [and] there's always a smile," said Andrea Farnsworth, 71, a former Bethel Depot regular. "The clientele here has totally changed. There's a few of the old ones, but 99 percent of the people I don't even know. So, [I'm] meeting new friends and getting to know them."
"We knew there was a community here that the previous bar never tapped into," said Daniel-McCarter. "They're interested in variety and options and trying new things."
Once I'd done my fair share of hobnobbing, I indulged in some video games. As much as they entice me with their flashy visuals and open-world formats, modern titles don't excite me nearly as much as retro ones do. After whooping a friend's ass at Mario Kart, I played The Simpsons until my thumbs ached. I felt unmistakably like myself.
Afterward, I watched some local twentysomethings play a convoluted card game they called Hell, in which each player uses his or her own full deck of cards. Some folks and I talked about our favorite songs to sing at karaoke. I petted the dog. I was in heaven, and I was completely sober the whole time.
Before heading back to Burlington, someone turned the tables on me.
"If you could use one word to describe Babes Bar, what would it be?" asked Dillion Bachand.
"Community," I said.
He responded immediately: "I would've said 'home.'"