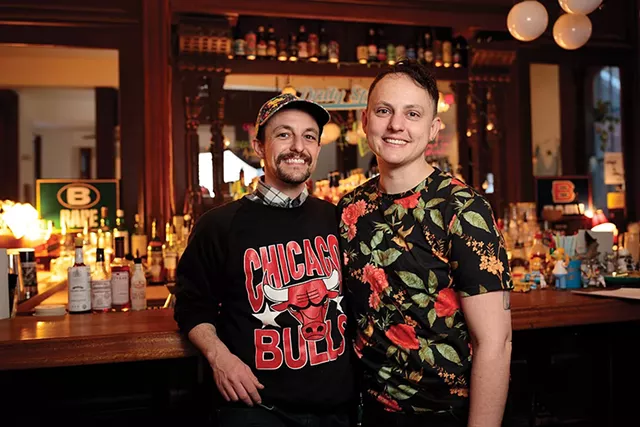 Ben DeFlorio
Babe's Bar
Sometimes you want to go where everybody knows your name. If you live in Bethel, chances are that place is Babes Bar.
Since it opened in a historic former train depot at the center of town in June 2018, Babes has become Bethel's go-to watering hole. Married owners Jesse Plotsky and Owen Daniel-McCarter launched the bar after uprooting their lives in Chicago in favor of a simpler lifestyle.
"We knew it was gonna be a complete 180," Plotsky says. "But that was part of the draw." Sure enough, the couple's friendly, welcoming attitude has won over locals of all ages and walks of life.
Ben DeFlorio
Babe's Bar
Babes isn't the first bar to occupy the red brick building. But, as Daniel-McCarter points out, "There was a community here that the previous bar never tapped into. They're interested in variety and options and trying new things."
For Vermonters, one of those new things might be Babes' signature food offering: the Chicago-style hot dog, which is slathered with sweet relish, hot peppers, tomatoes, mustard and celery salt. It's OK if you make a mess while chowing down; Babes is a judgment-free zone.
Cocktail offerings include a wide range of classics, such as Manhattans, martinis and gimlets, many of which include Vermont-based spirits. The Wisconsin Bloody Mary features SILO Distillery cucumber vodka from Windsor; the negroni, Barr Hill Gin from Hardwick. Barkeeps also pour wines, ciders, and a selection of lagers, IPAs, amber ales, porters, shandies and stouts that would make any brew hound happy.
Ben DeFlorio
Babe's Bar
Drink in hand, patrons might find themselves engrossed in a round of pool, a quick turn at Monopoly or a full-blown Mario Kart 64 tournament. Or, on the right night, a raging queer dance party, live acoustic folk music, karaoke, or screenings of cult films such as The Goonies and Groundhog Day.
But most folks frequent the bar to simply kick back, get loose and enjoy each other's company. Whether you're with friends or flying solo, at Babes you're one of the gang.