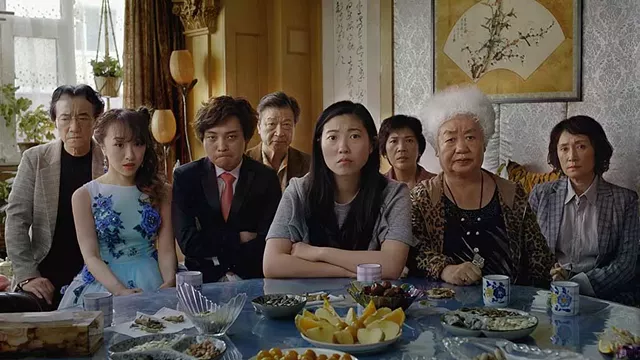 THE BIG TRICK A family deceives its sick matriarch out of love in Wang's quietly funny ensemble drama.
Actor-rapper-comedian Awkwafina has the body of a shy, slouchy millennial and the voice of a grumpy old coot. She can spout off the most ridiculous, obscene brags — as in her viral parody video "My Vag" — without breaking a sweat or cracking a smile. She can play it big, stealing the show as the heroine's outrageous best friend in Crazy Rich Asians or the motormouth pickpocket in Ocean's 8. Or she can play it small, sliding right into an intimate ensemble drama like this one. But she's always alive on screen and never like anybody else.
The Farewell is the kind of movie that comic actors generally make after they've headlined several blockbusters and decided it's time to "get serious" and win awards. The second feature from writer-director Lulu Wang is a quiet, gracefully made examination of the Chinese diaspora, cross-cultural differences, and life and death in an extended family. Much of it is in Mandarin with English subtitles. But its concerns are relevant to anyone who's ever had to balance their own needs against those of their loved ones.
Awkwafina plays Billi, a struggling creative in New York. While she's reluctant to tell her immigrant parents (Tzi Ma and Diana Lin) about a recent disappointment, she confides easily in her beloved Nai Nai (grandma) by phone.
Then Billi learns that Nai Nai (the effervescent Shuzhen Zhao) has terminal cancer. The family is returning to Changchun, China, to say goodbye to her, but there's a catch: They have to pretend they're not saying goodbye. Hoping to maintain Nai Nai in her usual sprightly, upbeat mental state, they're keeping her diagnosis a secret from her. The official reason for the family gathering is a hastily arranged marriage between Nai Nai's grandson (Han Chen) and his Japanese girlfriend (Aoi Mizuhara), who seems as baffled by the whole proceeding as Billi is.
Representing a modern American perspective, Billi is initially repulsed by the notion of keeping Nai Nai in the dark. She goes along with the charade under duress. But when her uncle gives her a broader cultural context for the deception, something clicks for her.
Through a series of family tableaux — always richly detailed, sometimes funny, sometimes whimsical, sometimes a bit too archly stylized — Wang explores the question of whether it's better to shield our loved ones from bad news, taking the burden on ourselves. This shielding was once common in the West, too (as 19th-century novels attest), so it's worth asking what we lost and gained when we decided it's always best for patients to know the awful truth.
If the movie has a flaw, it's the lack of fleshing out in Billi's character. Aside from a passing mention of writing, we don't know what her dreams are, let alone how she's paying the bills now. She's defined primarily by a forlorn, unmoored quality that contrasts with Nai Nai's fiercely energetic presence.
Without Awkwafina in the role, the movie might have felt unmoored, too. But when Wang's script links Billi's sadness to her immigrant identity, the actor sells the hell out of her monologue, making us feel Billi's insecurity, her anger at her parents for uprooting her and her guilt over that anger.
Thanks to the potential energy that Awkwafina always embodies, we can see there's a fierce Nai Nai inside Billi, too. The performance may not be what you'd expect from someone who got famous rapping about her lady parts on YouTube, but it promises a brilliant career.