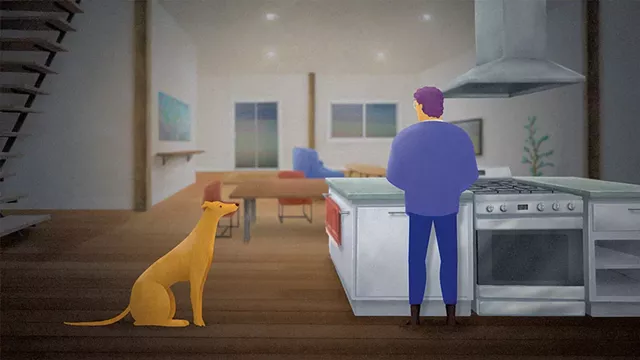 Courtesy Of Jon Portman
Still from "Malady of Mine"
When designer Jon Portman got inspired to make a short animated film, in 2018, he didn't have to look far for collaborators. A 2013 Middlebury College graduate and cofounder of Oxbow Creative, Portman was among the first tenants of Burlington's Karma Bird House, the Maple Street office, gallery and café space opened in 2013 by Michael and Giovanna Jager of JDK (now Solidarity of Unbridled Labour).
"It's just this really cool breeding ground for talent," Portman said by phone from San Francisco, where he currently lives. Among the fellow Karma Bird House inmates he enlisted for his project were animators James Kowalski and Devin Renca and visual artist Charlie Hudson, who provided some of the artwork seen in the film. Many "worked at low rates or donated time" to the self-funded project, Portman said.
Fast-forward to 2020. Portman's film, "Malady of Mine," has made the rounds of festivals, virtual and in-person, from Santa Fe, N.M., to Prague. It screened at Animaze: Montréal International Animation Film Festival and received the Best Animation Short award at Los Angeles' IndieX Film Fest.
The 10-minute film has no dialogue. But the painterly visuals — a combination of oil painting and digital illustration, Portman said — join forces with the moody score by Canadian composer Sean William to tell a haunting story.
A young artist named Javi lives in a vibrant rural landscape with his partner, a high-powered lawyer who's often absent for her work. As he goes about his daily tasks, Javi experiences a strange "malady" represented by a swirl of colors in his chest — now on the left side, now on the right. This visual analogue of his illness resembles the paintings he's creating for a show, and Javi begins linking pain to creativity — with unsettling results.
Portman, who wrote the film with Rob Cole and directed it, described it as a "cautionary tale" riffing on the "myth of the troubled artist. There's a lot of truth to that narrative," he said of the notion that angst births art, "but it's also a dangerous narrative to believe and participate in." "Malady of Mine" explores what happens "when you take that concept to the extreme."
When Portman made "Malady of Mine," he was looking for a creative break from the sometimes "soul-sucking" world of marketing, he said. He hoped to take the "next step" into working in film.
Portman is now doing just that in the Bay Area, where he moved for his fiancée's pediatric residency. But he said he hopes the couple can return to Vermont, where he still owns a house and where his sisters, Abby and Emily Portman, recently opened Poppy Café & Market in Burlington's Old North End.
Portman has fond memories of the creative community at Karma Bird House, which gets a nod in the film (Javi drinks "Birdhouse Ale"). The Jagers, he said, "have created something really special there. I owe a lot to what they've built."