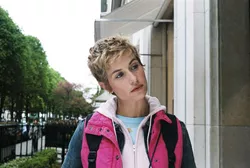 GAMINE TIME: Actors stretch to play actors in Daniéle Thompson's love letter to the Parisian art scene.
In real life, Avenue Montaigne is one of Paris' most expensive tourist traps, with a view of the Eiffel Tower and outposts of Dior and Chanel. As the heroine of this 2006 French film soon discovers, you can't get a room there for under 500 Euros. This doesn't bode well for Jessica (Cécile de France), a pretty young woman who's come from the provinces inspired by her grandma's umpteen tales of the City of Lights. Granny loved the luxe life but ended up working in the service industry as a dame pipi, literally "pee pee lady," which the subtitles genteelly translate as "washroom attendant."
Jessica does better - she snags a job waiting tables at the Bar des Théâtres, which caters to actors and musicians from the tony venues nearby. When she learns the nearest hotel is beyond her means, she doesn't head for a cheaper neighborhood and a youth hostel: She sneaks into the plush dressing room of a concert hall and falls asleep. The famous pianist (Albert Dupontel) who should be using it doesn't notice - he's too busy fretting because he's sick of touring and tuxedos. Meanwhile, the star of Jessica's grandma's favorite soap (Valérie Lemercier) is fretting for her own reasons. She's itching to play Simone de Beauvoir in a biopic helmed by a famous American director (real-life famous American director Sydney Pollack), but she's afraid he won't be able to see her in the role. It doesn't help that she's high-strung, swigs vinegar with her food, and can't resist adding naughty ad-libs to the Feydeau play she's currently rehearsing.
Quirkiness and light are typical of this film, in which the grittier sides of Paris - strikes, immigrants, cultural tensions - might as well not exist. Its original and more informative title translates to Orchestra Seats. That's all Jessica wants, as she says at one point: a place to observe the human dramas of the creative folk, close but not too close.
For the viewer, that title is a reminder that movies in France are still kissing cousins of theater. For every director like Luc Besson, who offers American-style CGI and super-fast editing, there are two or three like Danièle Thompson, the longtime screenwriter who directed this film and penned it with her son Christopher. Though Avenue has some visually attractive sequences, it's primarily a vehicle for actors.
And fine actors they are. Cécile de France, with her cropped, bleached hair and hoodies, looks like an updated version of Jean Seberg in Breathless. Outspo-ken and easygoing, with a drawling voice and crinkly smile, she's a good foil for the touchy artistic types. Lemercier digs her teeth into the role of the diva-ish - but not dumb - soap actress, making you wonder why Hollywood can't offer juicier roles like this to older women. Claude Brasseur is poignant in the role of an aging, ailing millionaire who's auctioning off the art collection it took him a lifetime to amass. Screenwriter Christopher Thompson does double duty as his son, who rather predictably becomes Jessica's love interest.
In fact, most of the plot developments in Avenue Montaigne are as predictable as those of the Feydeau farce being rehearsed in the film. By the end, it's hard not to conclude that Jessica lives a charmed life of the kind only granted to penniless urchins in movies. Her romance with Thompson's character goes a little too swimmingly, considering this is a guy who just left his wife so he could proposition his dad's young mistress.
But in the end, the performers carry the show. The spirit of the film is embodied by Dani, the high-cheekboned French singer and actress, now in her sixties, who plays a longtime backstage attendant full of anecdotes about rock and cabaret stars. Though she never achieved fame herself, she says, "I've succeeded in life," her face glowing. In a celebrity-obsessed culture, it's a nice reminder that art - making it, or helping others do so - is its own reward.