Jeb Wallace-brodeur
Autumn Tomlinson in her studio
Autumn Tomlinson and her four siblings grew up living in a school bus on 10 acres in rural Coquille, Ore. They were homeschooled by their parents, full-time potters Greg Tomlinson and Lynne Brown. Autumn enjoyed working in ceramics and clay, and she particularly liked carving designs into her pieces.
In college, Tomlinson dabbled in many mediums without a clear focus. But when she took her first woodblock carving and printmaking class, it reminded her of all the things she loved about pottery.
"Carving a wood block is the same reduction process as carving pottery, where I'm taking away bits and pieces to create art," she said. In 2007, she graduated from the University of Oregon with a bachelor of fine arts in printmaking.
After years of international travel, Tomlinson moved to Vermont in June 2019 with her partner, Colorado native Andrew Akerlund, because of the state's "strong arts and crafts scene" and outdoor opportunities, she said. In October, she became the fifth winner of the Studio Residency Program at Studio Place Arts in Barre, where visitors can view her developing body of work.
"I was excited to see Autumn's intriguing narratives and approach with woodblock printmaking," said SPA executive director Sue Higby. "It was clear to me that the studio residency would help her connect with the Vermont art community and assist in launching her art career."
Jeb Wallace-brodeur
"Origin Story"
Higby started the SPA's residency program in 2015, giving emerging artists from the Montpelier and Barre area free use of a studio for 11 months. "The program provides access to the community of artists who affiliate with SPA and the chance to integrate art into their daily life," Higby said.
Tomlinson's path to SPA covered the globe. After college, she worked in her own studio and taught printmaking classes at the Materials Exchange Center for Community Arts in Eugene, Ore.
But she had always wanted to travel, so in 2011 she put art making on hold, took a coffee-shop job in Garmisch-Partenkirchen, Germany, and used the town as a home base for touring Europe. Over the next seven years, she journaled, worked and traveled in Australia, New Zealand, Bali, Cambodia, Thailand, Vietnam and Antarctica.
In September and October 2017, between two food-service jobs at the McMurdo Station research center in Antarctica, Tomlinson completed a two-month residency at Dragon Dance Theatre in Trois-Rivières, Québec. There, she produced a series of three woodblock prints inspired by her time in Antarctica.
"Antarctica doesn't have an indigenous population, and thus it doesn't have any origin stories," said Tomlinson, who is fascinated by folklore. "My idea was to create an origin story using elements I found in Antarctica."
One work, titled "Origin Story," features a female creature with the legs of the large sea spider living under the Antarctic ice. Behind her head is the skull of a seal, six species of which live in Antarctic waters. The feathers of the south polar skua, a large seabird, form the background of the print. Strings of Christmas lights are coveted at McMurdo for ambience, Tomlinson said, so she included those to represent the stars. The pattern on the ground emulates tracks that vehicles leave in the snow.
Tomlinson draws her images before carving them into wood. "I don't necessarily have the entire composition in mind when I start, but I draw out the portion to be carved before I begin carving the block," she said.
She uses oil-based relief inks. To gauge the right amount of ink for printing, she puts a dollop of it onto a piece of glass and uses her roller to pull it across the glass in all directions. "I wait to hear the ink pulling, like a sticky popping or a quieter version of Velcro," she said.
Moving the roller from glass to woodblock, Tomlinson transfers ink to the woodblock, then lays paper on the block to create a print. She removes the paper, carves the next detail of her image into the woodblock, and repeats the inking, printing and carving process until her picture is complete.
"Whether printing by hand or in a press, you have to get the pressure right so the ink doesn't spill into the crevices and blur the lines on the paper," she said.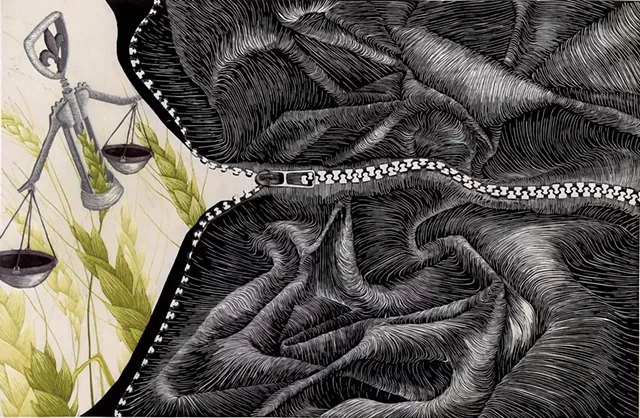 Jeb Wallace-brodeur
"Divergence"
During her SPA residency, Tomlinson wants to explore ideas, imagery and elements she has not used before, such as combining graphite drawings and ink printings. She also wants to experiment with stacked images.
"Printmaking as a medium is stacking layers on top of each other on a single piece of paper," Tomlinson explained. "I'm also interested in stacking together different papers." She plans to play with printing on both sides of the paper and to layer papers of various transparencies.
Tomlinson's residency concludes with a show from September 15 through October 30. While at SPA, she'll also teach printmaking classes.
"I looked forward to Autumn sharing her skills with community members on SPA's in-house press," Higby said. "She is contributing to the creative enterprise at SPA, something that I value greatly."