Hiking at Smugglers' Notch
Vermont's autumn colors are famous — and all the more spectacular when seen from above. At higher elevations, the sweeping views of orange, red and yellow spreading over the landscape are downright dramatic.
Happily, finding a hunk of granite on which to perch and take in the fiery foliage display needn't take all day. Plenty of short- to medium-distance hikes close to Burlington will leave travelers on tight schedules with their calves tingling and senses replete. Read on to learn about three prime peaks within an hour's drive. For many more options, download Vermont's free Trail Finder app (trailfinder.info) for 200-plus trail maps at your fingertips. Or visit the Green Mountain Club headquarters (greenmountainclub.org) in nearby Waterbury to speak to a local expert and learn about guided outings.
Remember to pack extra layers, plenty of water and a snack — perhaps a hunk of sharp cheddar and a just-picked Vermont McIntosh apple. Then go out and bag that view.
Mt. Philo State Park
35 minutes from Burlington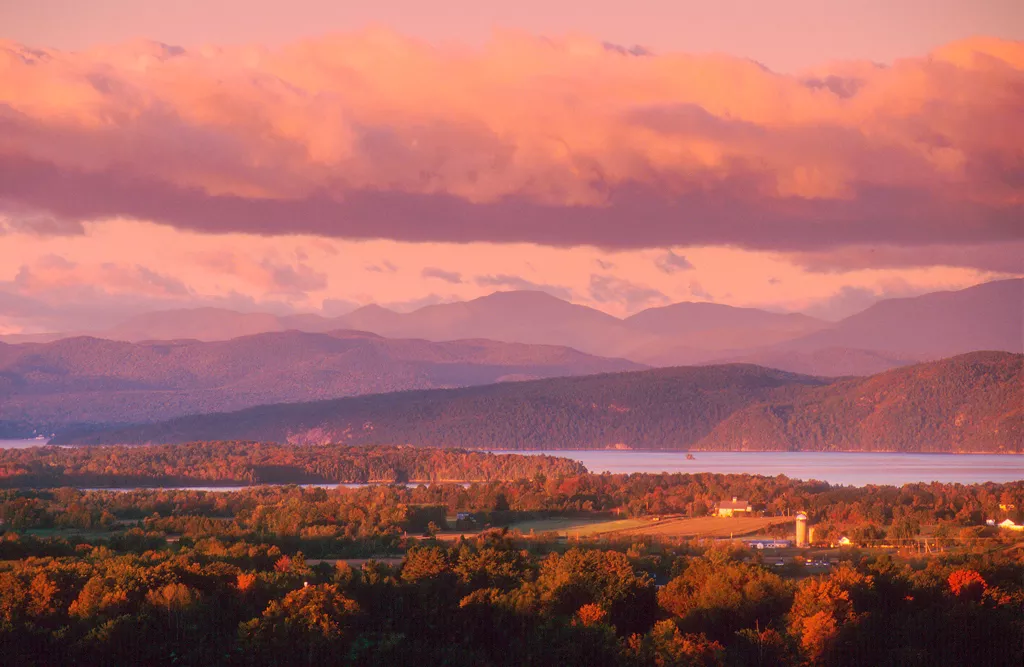 Jeb Wallace-brodeur
View from Mt. Philo
Difficulty: Easy
This 968-foot peak, just south of Burlington, is popular with locals and tourists alike. And for good reason: The three-quarter-mile ascent is steep enough to make you break a sweat and burn off the Ben & Jerry's ice cream, yet short enough (30 to 60 minutes) that it may feel almost like cheating once you attain the views at the top. Vistas this beautiful usually require more huffing and puffing.
Trails circle the summit, allowing hikers to take in a 360-degree panorama. The best vantage point is to the west. Farmland creeps to the shores of Lake Champlain, a 120-mile-long slash of blue with New York's Adirondacks on the other side. Near here, the lake drops to its deepest point, 400 feet, and the looming mountains punch into the sky, forming a nightly cradle for the setting sun. A helpful marker at one of the lookouts identifies 5,343-foot Mt. Marcy, New York's highest peak, and her smaller cousins.
Drink in the view while eating lunch at one of the picnic tables, and watch for migrating hawks and Canada geese. Cars are allowed up the twisting road until the gate closes in late October, so those with limited mobility can drive, or stroll up the pavement, while others in their party hike. Dogs are allowed on leash.
Find information and directions at vtstateparks.com.
Snake Mountain
55 minutes from Burlington
Difficulty: Moderate
Snake Mountain, a distinctive, serpentine ridge in Addison County, was once home to the Grand View Hotel. Opened in 1870, the inn later burned down, but its legacy remains — locals still call the mountain's overlook the "Grand View." And walkers follow the old stagecoach road to the top of the 1,287-foot peak. The 3.6-mile hike takes about two hours and goes up and down, past beech trees with smooth gray bark and ferns dappled with forest light.
The carriage road can become muddy after a rain, but it's a relatively wide, smooth path. Students from nearby Middlebury College and multigenerational families alike traverse this route to snap group shots at the summit's ledge, which offers 180-degree views of cornfields, silos, Lake Champlain — and beyond. Peregrine falcons sometimes shoot past. Meanwhile, geology students can muse on the ancient history of Snake Mountain, once an island poking from the inland Champlain Sea in the days when whales, rather than lake trout, swam the waters.
Find directions and more history at trailfinder.info.
Hunger Mountain
45 minutes from Burlington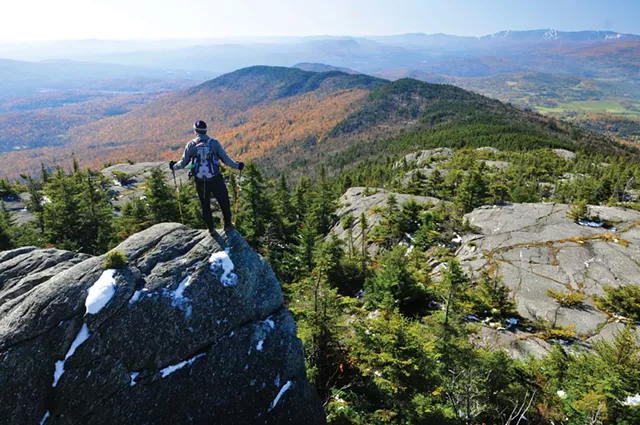 Difficulty: Advanced
For a slightly longer hike, this peak in the Worcester Range near Waterbury Center promises a lovely half-day romp featuring forest, cascading water and rock-wall scrambles. Even in September, hikers will often find wild blueberries to sample. Year-round, the Worcesters boast big veins of quartz that look like snow.
The trip up and down the west side of the 3,539-foot mountain runs about four miles and takes about four hours, not counting the time one should allow at the bald summit to enjoy the views of neighboring ranges. These include the ridgeline of Mt. Mansfield, Vermont's tallest peak. Take a minute to identify the features of its distinguished face: the forehead at the southern end, then the nose, chin and Adam's apple. To the east, New Hampshire's Presidential Range comes into view on clear days.
After descending, stop on the way home at the nearby Cold Hollow Cider Mill for a warm cider doughnut. You've earned it.
Find directions to the trailhead at greenmountainclub.org.
---
L'automne au Vermont, encore plus beau en randonnée
Les couleurs d'automne du Vermont sont célèbres — et d'autant plus spectaculaires vues d'en haut. Quand on grimpe, les panoramas majestueux aux éclats orangés, rouges et jaunes qui s'étendent à perte de vue sont tout simplement époustouflants.
Heureusement, il n'est pas difficile de trouver un rocher où se jucher pour admirer le feuillage chatoyant. Les randonnées de courte ou de moyenne distance près de Burlington sont nombreuses, offrant aux visiteurs pressés l'occasion de se dégourdir les jambes et d'éveiller leurs sens. Lisez ce qui suit pour en apprendre davantage sur trois sommets de choix à moins d'une heure de voiture. Ne manquez pas non plus de télécharger l'application gratuite Trail Finder (trailfinder.info), qui contient plus de 200 cartes de sentiers au Vermont. Vous pouvez aussi vous rendre au Green Mountain Club (greenmountainclub.org), dans la ville voisine de Waterbury, pour parler à un expert local et vous renseigner sur les excursions guidées.
Ayez dans votre sac une « petite laine », beaucoup d'eau et une collation – pourquoi pas un bout de cheddar piquant et une pomme fraîche du Vermont? – et préparez-vous à avoir le souffle coupé.Mt. Philo State Park
Mt. Philo State Park
À 35 minutes de Burlington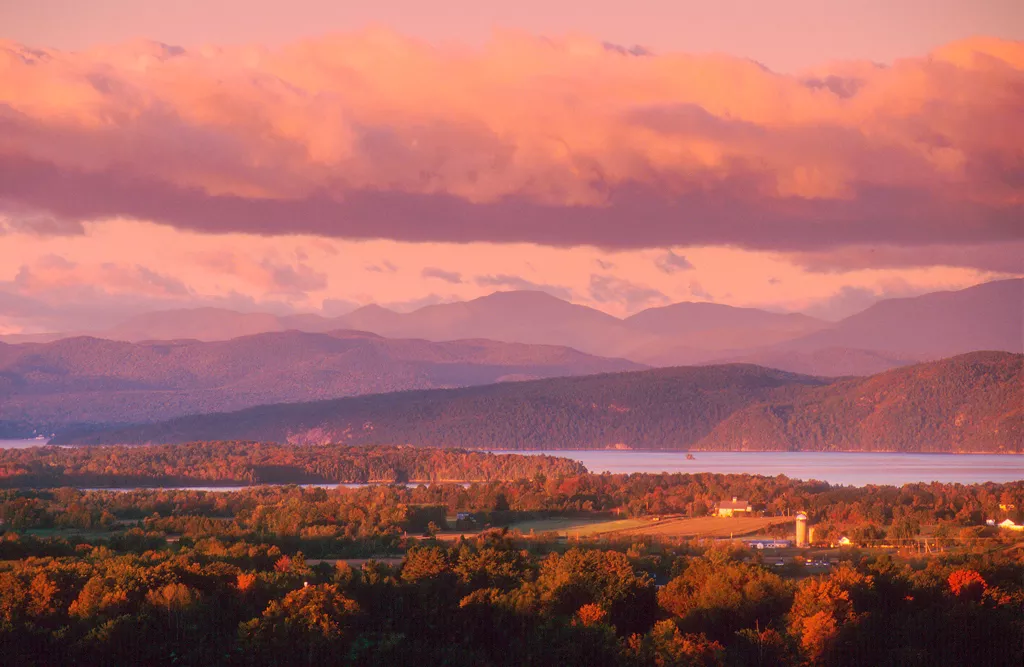 Jeb Wallace-brodeur
View from Mt. Philo
Niveau de difficulté : facile
Ce sommet de 295 mètres, juste au sud de Burlington, est très prisé des touristes et des gens du coin. Et pour cause : l'ascension de 1,2 kilomètre est suffisamment rude pour vous faire perdre les calories ingérées chez Ben & Jerry's, mais suffisamment courte (de 30 à 60 minutes) pour que vous ayez l'impression de ne pas mériter une aussi belle vue. Les panoramas aussi somptueux exigent habituellement un effort plus grand!
Les sentiers font le tour du sommet, ce qui permet aux randonneurs de jouir d'une vue à 360 degrés. Le meilleur poste d'observation se situe à l'ouest, là où les terres agricoles se déploient jusqu'aux rives du lac Champlain, le long d'une bande bleue de 193 km avec comme toile de fond les Adirondacks dans l'État de New York. Près d'ici, le lac atteint sa profondeur maximale, soit 122 mètres, et les majestueuses montagnes se dressent à l'horizon, offrant un écrin idéal au soleil couchant. À l'un des belvédères, un écriteau identifie le mont Marcy, plus haut sommet de l'État de New York culminant à 1 629 mètres, ainsi que ses acolytes moins élevés.
Absorbez la vue tout en savourant votre lunch à l'une des tables de pique-nique, et soyez à l'affût des faucons et des outardes en migration. Les voitures peuvent circuler sur la route sinueuse jusqu'à la fermeture des portes, à la fin d'octobre. Les personnes à mobilité réduite peuvent ainsi rejoindre leurs amis randonneurs au sommet grâce à cette voie pavée. Les chiens sont permis, mais doivent être tenus en laisse.
Pour obtenir plus d'information et des indications, allez à vtstateparks.com.
Snake Mountain
À 55 minutes de Burlington
Niveau de difficulté : modéré
C'est sur Snake Mountain, une montagne particulière à l'allure serpentine située dans le comté d'Addison, que se trouvait autrefois le Grand View Hotel. Établi en 1870, l'établissement fut détruit par un incendie, mais son héritage se poursuit. À preuve, les gens du coin surnomment toujours « Grand View » l'observatoire de la montagne. Les randonneurs peuvent accéder au sommet, qui culmine à 392 mètres, par la vieille route carrossable. Il faut environ deux heures pour parcourir les 5,8 kilomètres de cette route vallonnée, au détour de hêtres à l'écorce lisse et de fougères nimbées de lumière.
Le chemin peut devenir boueux après une averse, mais il est relativement large et plat. Étudiants du Middlebury College avoisinant, familles avec de jeunes enfants, retraités : des gens de tous âges empruntent cette route pour prendre une photo de groupe au belvédère, d'où l'on peut profiter d'une vue à 180 degrés sur les champs de maïs, les silos, le lac Champlain et au-delà. Des faucons pèlerins passent parfois au-dessus à vive allure. Les amateurs de géologie seront fascinés par l'histoire de Snake Mountain, qui était autrefois une île au milieu de la mer de Champlain à l'époque où les baleines, plutôt que les truites, régnaient sur ces eaux.
Pour obtenir des indications et d'autres faits historiques, allez à trailfinder.info.
Hunger Mountain
À 45 minutes de Burlington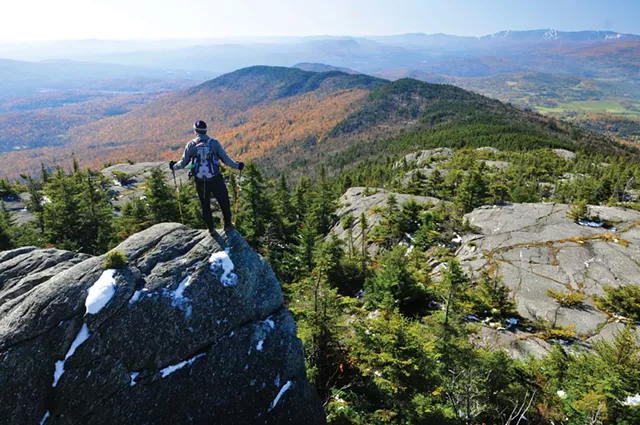 Niveau de difficulté : avancé
Pour une randonnée légèrement plus longue, ce sommet situé dans les montagnes Worcester, près de Waterbury Center, offre une magnifique randonnée d'une demi-journée dans un décor de forêts, de cascades et de parois rocheuses. Même en septembre, les randonneurs peuvent trouver des bleuets sauvages à se mettre sous la dent. Toute l'année, ces montagnes font voir de grandes veines de quartz aux allures de neige.
Il faut environ quatre heures pour monter et descendre le versant ouest de Hunger Mountain, haute de 1 079 mètres, pour une distance d'environ 6,4 kilomètres, sans compter le temps passé au sommet dégarni à profiter de la vue sur les pics avoisinants, dont le mont Mansfield, le toit du Vermont. Prenez un moment pour en observer les traits distinctifs : le front, au sud, puis le nez, le menton et la pomme d'Adam. À l'est, le chaînon Presidential, dans le New Hampshire, se dévoile par temps clair.
Après être redescendu, sur le chemin du retour à la maison, faites un arrêt à la Cold Hollow Cider Mill pour déguster un beignet au cidre encore chaud. Vous l'avez mérité.
Pour savoir comment vous rendre au point de départ du sentier, allez à greenmountainclub.org.