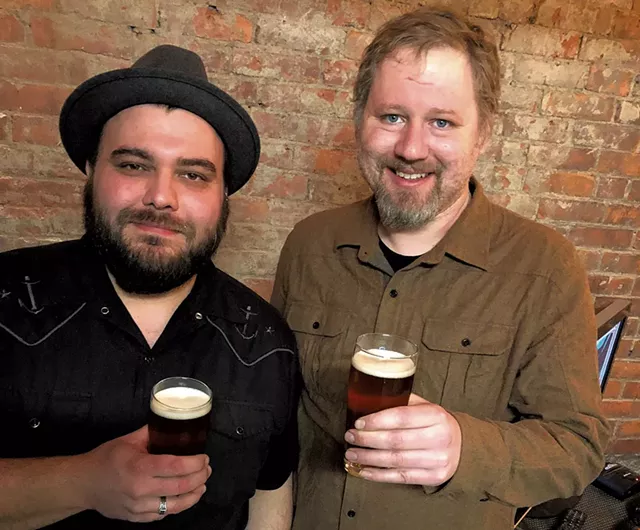 Jordan Barry
Reverend Col. Jeff Baker II (left) and Adam Krakowski
This weekend's Vermont Brewers Festival has some suggested reading, but don't worry; it's way more fun than your high school summer reading list. Burlington Brewing: A History of Craft Beer in the Queen City, coauthored by Reverend Col. Jeff S. Baker II and Adam Krakowski, is a comprehensive look at Burlington's beer scene, both historically and today.
Published on June 3, the book chronicles the breweries that have kept the tap lines flowing within Burlington's city limits. More than that, though, it looks at the people and stories behind the beer. That approach makes sense, considering the authors' backgrounds: Krakowski, who coauthored Vermont Beer: History of a Brewing Revolution and authored Vermont Prohibition: Teetotalers, Bootleggers, & Corruption, focuses his historical research on the beverage heritage of New England. Baker has earned industry cred curating an award-winning beer program for the Farmhouse Tap & Grill and writing extensively about beer market trends and consumer education; he's currently head of education and training at Farrell Distributing.
"I'm firmly fascinated by the 'How did we get here?' while Jeff is wired into the here and now," Krakowski said.
The two teamed up serendipitously after the History Press approached them independently with the idea for the book. Krakowski had just finished writing Vermont Prohibition and was feeling the burnout of writing a book every two years. Baker agreed to do the book if he had a coauthor, then he called Krakowski. "I knew he had told his wife that he wasn't going to do another book for a year," Baker said. "So I gave him a sales pitch: What if we split it?" According to Baker, Krakowski laughed, replying, "I was going to call you in 10 minutes and ask you the same thing."
Seven Days chatted over beers at Queen City Brewery with Baker and on the phone with Krakowski. We discussed Burlington's brewing history, local and seasonal ingredients, and what Burlington means to the larger Vermont beer scene — from this weekend's festivities at the waterfront all the way down "Pint Street." (The interviews have been condensed and lightly edited.)
SEVEN DAYS: What makes Burlington so special, in terms of beer?
JEFF BAKER II: There are two main things that make Burlington stand out. One is the proximity to the lake: It's a shipping community; it's a trade community. That sets it up really well to be a high-quality brewing location, because when you have extra beer that the locals aren't drinking, you have easy access to send it elsewhere.
The other thing that I think is really important about Burlington is the proximity to farming. I've long maintained that brewers in Vermont are treated and supported the same way that farmers are. For most of history, brewing was a farming activity, so those two go hand in hand.
ADAM KRAKOWSKI: It's the synergy of the brewers and the food producers, and just people wanting to have the best possible product. If you look at old menus — yes, I do geek out and look at historical menus — you literally see when Vermont Pub & Brewery opens, the first brewpub in the state, and starts getting attention for the beer they're producing. All of a sudden the other bars and restaurants in town start upping their draft list. It's not a bad thing, because they start playing off each other.
SD: The book includes tons of research on the early breweries in Burlington. You've gone all the way back to the city's first commercial brewery, owned by Daniel Staniford, that opened in 1800. Do you have a favorite strange fact about Burlington beer history?
Courtesy Of Reverend Colonel Jeff S. Baker Ii And Adam Krakowski (authors)
Burlington Brewing: A History of Craft Beer in the Queen City by Reverend Col. Jeff S. Baker II and Adam Krakowski, the History Press, 211 pages. $21.99.
JB: Researching the history of the buildings was a really unique part of the book. The place where American Flatbread is on St. Paul Street was formerly a patent medicine manufacturing facility. And years later, when it became Zero Gravity's brewpub, they started brewing gruit ales, which were historically thought to have medicinal properties. They tie into the history, brewing these pseudo-medicinal ancient styles of beer in a place that was a patent medicine manufactory.
AK: There's one [strange fact]: William Stone bought the old Peterson brewery in Burlington, and he basically shuttered the brewery and went on to make a fortune producing tonic and mineral water rather than beer. Obviously, Prohibition was a key figure, but success-wise, he was big.
SD: What was the influence of those historic breweries on the modern scene?
AK: The short answer is, absolutely nothing. And that's the fascinating answer. If you look at every other major spot in New England city-wise, outside of Vermont, there's a brewing heritage there. All of those areas had breweries, and a lot of them were there up until federal Prohibition. Vermont went 100 years without an operational brewery. You don't have any heritage whatsoever, and that's what created the thriving brewing scene both in Burlington and throughout Vermont. The brewers weren't influenced or attached to any local situation; they're literally brewing what they want to drink.
SD: What do you want to drink right now?
JB: Zero Gravity just put out a new beer called Little Birdy, which is an IPA with guava. And Simple Roots is working on a strawberry beer brewed with strawberries they harvested at a local farm. You can see where I'm at: It's all about fruit beers.
AK: I have been drinking a lot of lagers this summer. I've also been drinking the Solstice indigenous ale from Zero Gravity. That's Destiny [Saxon, head brewer]'s summer solstice gruit, with all local botanicals.
SD: How does the idea of using local ingredients play into brewing, both historically and today?
AK: Historically, it was all local. You see the newspaper articles where the Burlington Brewery was saying, "I'm willing to pay top dollar for barley. Stop by the brewery and see me." Versus now, where it is a novelty. But I think with food security, there's more interest in it.
Once there are more grains and local hops available — and I mean that in a quality sense, not quantity — I think more brewers will be utilizing local ingredients — not because of the novelty, but because they're better.
JB: There are definitely brewers in Burlington who are supporting Peterson Quality Malt [in North Ferrisburgh] in a big way. When we interviewed Foam Brewers for the book, they said it was very important to them to support the local maltster, because that's the only way for the malt to improve. It's not going to get better if nobody supports it.
SD: Using local ingredients is inherently tied to seasonality, too. Why should we care about seasonality in beer?
JB: Adam wrote a great line in the book: "We used to brew from the season, not for the season." You'd use pumpkin to stretch the fermentable sugars. But you didn't brew a pumpkin beer in July, because there weren't pumpkins!
Now, brewers treat ingredients the way we do fashion. We're coming up on the fall season; people are getting ready to bust out their sweaters, they're thinking about pumpkin, and they're ready to drink it. They don't want to wait until November, December, January when pumpkins would be in and harvested.
We refer to "seasonal slide," which is that pushing back, back and back to where you see a summer ale in February. That's part of the modernization and globalization of brewing. You can get ingredients from anywhere at any time. You can get passion fruit on a moment's notice. I don't think there's any local passion fruit. [Laughs]
AK: I'm a huge proponent of seasonality. A big thing to understand about brewing in the 19th century was that you could only do it with the ingredients you had. When you ran out of ingredients, that was the end of the brew season. We've totally skewed that, where this year there are Oktoberfests out in July. It kind of takes away from the magic of beer.
SD: How does Burlington fit into the larger Vermont beer scene, and what does it mean in that context?
JB: It's kind of a microcosm, where you see a breadth of scale and style. You have really tiny brewers, brewpubs that mostly sell their beer on-site, and others shipping beer out of state. There are breweries doing sour beers, lager brewing, and you get pretty much all of it, from the Vermont IPA to brewers pushing the envelope and trying new things.
This book isn't a list of the top 100 beers from Burlington, but it tells the story of the people and the bars and the buildings that are behind the beers. It was about humanizing and putting historical facts behind what we're drinking.