Empire of Self: A Life of Gore Vidal, Doubleday Books, 480 pages. $35.
Jay Parini's Empire of Self: A Life of Gore Vidal, published in October, is not the first biography of the late writer, raconteur and political gadfly (1925-2012). Indeed, Vidal's status as a larger-than-life figure in American letters fairly ensures that bookshelves will continue to groan with inquiries into his life. What distinguishes Empire of Self is a perspective that no other Vidal bio, current or future, can offer. Parini was close friends with his subject for decades.
A chance meeting in Italy in the mid-1980s soon blossomed into a friendship that survived despite Vidal's notorious prickliness and vanity. "It's very difficult to be friends with a narcissist," said Parini, a professor of English at Middlebury College and the author of numerous works of fiction, poetry and biography. "Especially somebody whose narcissism is almost on a clinical level."
Yet, as Empire of Self ably demonstrates, Vidal was far more complex than his public persona suggested. As erudite and viciously witty as any American writer since Twain, he was also an astute political commentator, an alcoholic and a semi-out gay man before such a declaration was widely accepted. Parini's book addresses these and other facets of Vidal's personality as it ranges from its subject's troubled childhood to his difficult decline.
Though Parini is not a character in the book per se, he was present at many of the events about which he writes. The author acknowledges his personal acquaintance with his subject in 13 "interchapters." These are first-person accounts taken from journals that Parini kept for years, knowing that someday — after Vidal's death and with his full consent — they'd be folded into this long-planned biography.
Parini spoke by phone with Seven Days about the ways in which a personal connection with one's subject both complicates and enriches the biographer's art.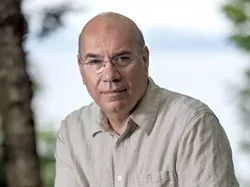 Oliver Parini
Jay Parini
SEVEN DAYS: What were the challenges in writing a biography of someone you knew so well?
JAY PARINI: Well, it was very difficult. I'm actually creating a hybrid genre for this book, which is part biography, part memoir. I was in both an enviable situation and an awkward situation. It's enviable because I actually knew how Gore talked and walked and what his daily life was like. The hard part, the awkward part, is that it was difficult to be objective about somebody you're having a friendship with. But I decided it was worth taking the plunge. So the book has the benefits of my knowing Vidal, and it suffers from my knowing Vidal, as well.
SD: I was struck by a sentence in the introduction: "[Vidal] required a hall of mirrors for adequate reflection, and there was never enough."
JP: Gore really had very little inner self that I could detect, and he required reflection, intense reflection, to have any sense of who he was, where he was. One of the first things he'd say when he'd call me from Italy was "What are they saying about me?" This mars a lot of his work. It's pretty obvious, if you look at any of the YouTube interviews, that he was seeking the world's opinion all the time. He was a man who loved to see reflections of himself, reproductions of himself, and he was capable of projecting this figure called "Gore Vidal," who's part fiction, onto a wide public screen in many different media.
SD: In your first interchapter, you remark that all memory is imperfect. Is that a disclaimer intended to suggest that we should take anything written about Gore Vidal with a grain of salt?
JP: That was intentional. I was once sitting with Gore and Erica Jong in Austria. He said to Erica, "What are you working on?" She replied, "I'm writing my memoirs." He said, "Ah, at last, you're turning your hand to fiction." I think that Gore always maintained that memoir was the highest form of fiction. We create stories in our heads out of the materials in our heads. Memories are fiction-making machines. They select certain details and omit other details, and they often alter the sequence of events.
SD: When you spent time with Vidal, were you taking mental notes for the eventual biography?
JP: Oh, yeah. I was actually working on this book — sometimes halfheartedly, sometimes enthusiastically — pretty much from the late '80s. I even wrote a large piece of the manuscript in the '90s. Frankly, [the book] was on my mind from about 10 minutes after I first met Gore — [I knew] that somehow I would write about him. I was working, on the one hand, as any good friend would work with somebody like that at the end of his life. On the other hand, I was mentally recording — sometimes actually recording, in my diary — what was going on.
SD: How did the book's throughlines and title emerge?
JP: The throughlines first emerged when I was reading an early book review that [Vidal] did in the '50s. He reviewed Robert Graves' translation of Suetonius' The Twelve Caesars, and said that a good biographer has to find both the angel and the monster in his subject. I thought, This will be my theme, coupled with the theme of the empire of self. The governing image of Gore was a kind of Roman emperor in exile. He lived in a beautiful villa, surrounded by servants, in great luxury, but nevertheless in isolation and at the fringes of the American political scene.
SD: You write in your conclusion that "a biographer is not a judge." Do you really believe that to be true? Isn't it part of the biographer's art to somehow judge his or her subject?
JP: I think that I tried not to be a judge. For example, I describe his sex life — which was, shall we say, prolific — without being judgmental. I don't care who he slept with or how often. I am totally nonjudgmental about his sexual life. His drinking was another big thing that I tried to be descriptive of rather than judgmental about. It's not exactly a secret that Gore was somewhat tormented by his sexuality and alcoholism. Those are just two facts. I don't make a judgment. I just present a case. My bigger role, as a critic, is to say, "I prefer this book to that book." I also tried to be very, very clear about this. I don't fudge it even slightly. I always say exactly what I thought about his various books, things I liked and things I didn't like.
SD: What has writing about Gore Vidal taught you about writing?
JP: Gore was something of a mentor, so he taught me a lot about how to sustain narrative tension and to shape a passage so that it has a rise and fall. He taught me a lot about crafting sentences. I feel like I learned a great deal and absorbed some elements of his own style. I liked the way his diction would rise to more erudite levels and descend to more colloquial phrases. I tried in many ways to use Gore's style in writing about him. Gore himself was a wonderful biographer, and I think I learned a lot about the art of telling lives from him.