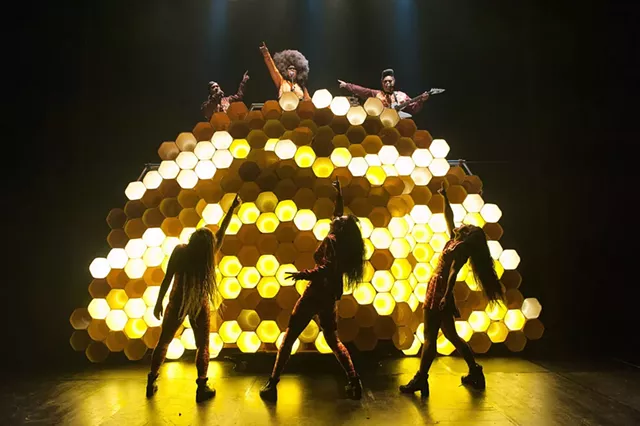 Courtesy Of Dylan Evans
Hot Brown Honey
Since its origins as a fringe nightclub performance piece in 2012, Australian cabaret Hot Brown Honey has become a full-blown theatrical experience. Its creators, Lisa Fa'alafi and Kim "Busty Beatz" Bowers, conceived of the production as a way to create space for women of color in overwhelmingly white artistic environments. In 2015, their troupe, also called Hot Brown Honey, first began touring the show in its present, spectacular form.
Through burlesque, circus arts, beat-boxing, contemporary dance, song and a recurring bee motif, Hot Brown Honey (the show) presents a narrative in which an angry Mother Earth dispatches a colony of emissaries — the Honeys, as they call themselves — to speak some deep, personal truths about how they relate to universal contemporary issues. Conceptually, the performance is all about stripping away figurative layers of oppression to examine the sticky issues that plague black and brown women.
Hot Brown Honey bring their riveting act to the Flynn MainStage in Burlington on Friday, April 26. Seven Days caught up with Bowers by phone.
SEVEN DAYS: I understand that Hot Brown Honey is a response to the lack of inclusion of women of color on stages and screens. Beyond that, what specific issues are examined and untangled in the show?
KIM "BUSTY BEATZ" BOWERS: We have a number of really specific issues, which is amazing because we've gotten to travel around the world and found that they're quite universal. We've tried to really unpack the ideas around exoticism [and] colonialism, how that's affected us and how we decolonialize, as well. And we've also looked at issues around hair, body, what affects us in the world, especially around violence against women. [We look] at sexuality and how to be free in a world that's put a whole heap of stereotypes upon us.
We really love talking about the show and the fact that we like to smash stereotypes. And we really push that, as well. Because what we need to do is untangle ourselves in an artistic way and also give people a real understanding [that] these are our stories, voices and bodies. We want to celebrate that. Hot Brown Honey is a vehicle to celebrate that, center stage.
SD: In a YouTube clip from 2018, Lisa said, referring to your various forms of performance art, "Whatever serves each message correctly, then we're gonna use that form." What's a specific example of that?
KBBB: People have a really hard time categorizing what we do, because we do use a lot of forms. But with each piece, we really go in there and go, "What are the skills that we have as a crew? What is the message we want to portray? What do we want to get across to the audience?" We have such an amazing, eclectic, talented group of women, from soul singers to circus artists to beatboxers. So we're really using those skills to get the story across. And music. We use so much music.
SD: How is music used in the show? Is there original music?
KBBB: We cross over a whole heap of places and spaces with music. We've got original tracks. We've got a track called "Don't Touch My Hair" [and] a new track called "Trap Queen." We also touch on a whole heap of remixes. Because we're from such varying cultural backgrounds — but we all live in Australia — it's kind of what our influences as women of color have been. We really draw from the world. Especially being here in the States, to be in a place that birthed so many forms — we're all big hip-hop [and] soul fans. Music that soundtracks revolution, that's sort of our basis. We really go there with different ways of telling the story in different forms of music.
SD: From the various trailers I've seen, it seems like the show is somewhat showcase-y, with each of your members taking center stage at one point or another. How much of those individual moments are created collaboratively, and how much comes directly from the individual?
KBBB: Well, Lisa and I went out with a really clear aim to find Honeys with skill sets that were really diverse. So being able to know that they were really frigging talented in their skill set made it a really interesting collaborative process. Because this is a show, there's a bit of a narrative happening here. So how do we incorporate that wonderful skill set into a bigger picture?
So it is quite collaborative, and it has been from the start. Crystal [Stacey], who is an aerial artist and a Hula-Hooper — we knew that she could do these things. But it was like, "OK, what's the message we want to put across?" And that was the most interesting point of collaboration. So for [Crystal], because her background is Indonesian, the story is about what happens when tourists go to places in Asia, which [are] deemed third-world countries, [and] how they act in that setting.
Hot Brown Honey continually moves and breathes. Wherever we go, another layer sort of happens on top of it when we hear new music or experience new things or we see what's happening on a sociopolitical level. It morphs the show.
SD: Given that you're coming from Australia, do you have to tweak the show's content for American audiences?
KBBB: Not that often, actually. We've found that we've been cutting through any sort of cultural barriers, because there are some really interesting moments when we get to make fun of ourselves and culture. You wouldn't know our prime minister over here. But we do know your president.
SD: I'm so sorry about that.
KBBB: They kind of come from the same stance, actually. The similarities are so easily contextualized.
SD: I think a lot of people, myself included, may not fully understand burlesque. How does the art form extend beyond sex appeal?
KBBB: Burlesque in its truest form is satire and actually making fun of the political and social structures around us. Burlesque is something that's really interesting because it's all about body empowerment. There's a veneer — a shiny burlesque world — but then, that's where it's come from.
One of the most famous burlesque artists, Josephine Baker, [did] a lot of funny stuff — taking the piss, as we say in Australia, or making fun of what was happening during her time. She was so political and involved in the civil rights movement [that] she was asked to lead the civil rights movement after Dr. [Martin Luther] King [Jr.] was assassinated. It's really interesting. The politics that connect with burlesque are quite massive.