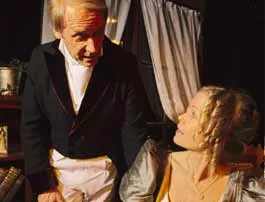 The Novelist in a nutshell: Jane Austen should've gotten laid. Leave it to a male playwright — in this case the eminent Howard Fast — to reduce the 19th-century novelist to a lonely, wide-eyed virgin whose only fulfillment will come from marriage to a retired sea captain. In this production, directed by and starring Grace Kiley and Donald Rowe, two of Vermont's most experienced actors haggle with Fast's sleepy "romance" about England's most famous romantic writer.
In the story, Jane Austen is 41 years old, living in a remote country villa and finishing her latest manuscript, Persuasion. She is unmarried and solitary, writing at her desk all day. Her life is as dry and tranquil as her books. Taking a promenade in the rose garden is about as exciting as it gets.
Enter the brazen Captain Crighton, a 45-year-old sailor who has spent nearly his entire life at sea. The man inexplicably barges into her room, tells Austen about his entire life, and then asks for her hand in marriage.
If the request sounds charming to contemporary ears, Austen is downright horrified. She denounces Crighton by saying over and over, "You are absolutely amazing. You are absolutely incredible." She asks him to leave, but the handsome, gallant captain won't take no for an answer. He's back the next day for tea.
Their eventual love affair is as slow and forgettable as the one in Persuasion; their language is impossibly verbose. The modern twist in the script is that Austen admits to shielding herself from the world; she never talks about war, never sees poverty head-on. Her life is sublime, a portrait of a bourgeoise. "The wanderlust has never entered me," she says as if she is proud of her handicap.
In Fast's imagination, Austen discovered "life" in her final weeks and embraced Crighton's brash advances. Perhaps the playwright has the hots for librarians?
The Novelist is about two loquacious talking heads — one a repressed, easily confused recluse, the other a so-called romantic tormented by his own horniness. As such, the banal melodrama hardly warrants such talented actors as Kiley and Rowe; it could be duplicated by a couple of freshman drama students. Here the actors embody the stodgiest of early 19th-century adjectives: Kiley is blissful as Austen, and Rowe is charming as Crighton. The play itself, however, is rather plain.
The stars also co-directed the play, and it shows. The blocking is awkward and unmotivated: Captain Crighton stands up and sits down for no apparent reason and paces back and forth like a flustered seagull. Since the whole play takes place in Austen's perfect English study, the characters are always trapped by walls, bookcases and tightly packed Imperial furniture. They never exit through the glass doors to admire the sunshine, nor does the script offer them objects to play with and to distract our attention.
To the production's credit, the set and costumes are gorgeously made and period-accurate. Linda Veilleux and Kiley collaborated on Jane's flowing dresses and the Captain's prim uniforms, giving each stitch full attention. Don Mersereau's lighting plot flawlessly floods the "room" with the warm, orange glow of a smoldering hearth. Like so many Austen adaptations, The Novelist is richer in atmosphere than in action. No wonder HBO calls them "costume dramas."
Given characters as straightforward as Jane Austen and her Captain, the script suffers from ambiguity. The Captain claims to love Austen because he has read all her books, but is that true? Or is this strange man, cast about for so long on the waves, really just desperately dealing with a midlife crisis? In other words, is dearest Jane just an early-19th-century motorcycle?
The playwright doesn't seem to approve of Austen's spinsterhood; Fast has her torn between "virginity" and "life." But marriage to Crighton would mean a life no more worldly, or profound, for Austen if he settles down. The play trots out some low-cal feminist ideals, but finally the Captain wins out, putting Jane in exactly the same house with basically the same life, give or take some uninvited company and off-stage sex. The only thing that comes between them is Austen's growing illness, a trite cop-out masked as tragedy.
Kiley and Rowe try hard to find a dramatic core, searching each line for a hidden nuance, but the play as a whole comes off like a badly translated Chekovian comedy.
In a way, this adequately mirrors the historical Austen and her elaborately constructed books. Writers are almost never interesting enough to deserve posthumous fictional biographies. The Hours, by Michael Cunningham, is a particularly odious account of Virginia Woolf. And Jane Austen is by far the dullest of the authors Fast might have chosen. If he wanted to stick to old-school British women, Mary Shelley and the Brontë sisters are far more dynamic characters.
At its best, The Novelist is cute and a little bit touching, in an Oprah kind of way. But enough Persuasion, already; this play needs some Sense and Sensibility.