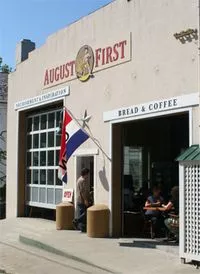 149 S. Champlain St., Burlington, 802-540-0060
map & directions | website
Buy fresh-baked baguettes and seven-grain bread by the loaf, or as sandwiches stuffed with fresh, healthy ingredients. Co-owner Jodi Whalen says that the curried chicken salad with Butterworks Farm yogurt, ginger, curry and lime juice "has been flying out the door." Soups and specials rotate daily. Breakfast & Lunch. Closed Sundays.
More information
$10 Lunch Special (Soup 'n' Sandwich, Baked Goods)
Cup of Soup
Choices change daily
Any Sandwich on Our New Rosemary Roll
Choices include turkey or ham bistro, curried chicken or tofu salad, BLT, salmon salad and veggie and cheese
Chewy Double Ginger Cookie