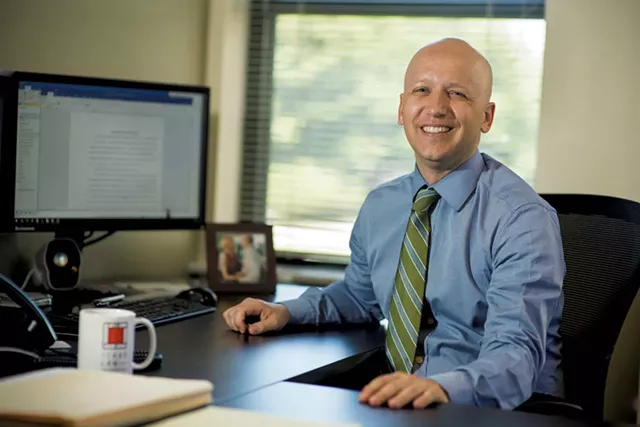 Courtesy Of Andy Duback
Brian Stark at his office in South Burlington
Brian Stark could tell you a lot of horror stories. Not the spooky ghost tales you'd relish around a campfire over s'mores, but the sort of stomach-churning stories that might run through a first-time home buyer's head around 4 a.m. a few weeks before closing.
Stark, 41, is an attorney with South Burlington's Stark Law, a firm he started in 2013. A native of Grand Rapids, Mich., he earned a bachelor's degree in urban and regional planning from Indiana's Ball State University, followed by a master's degree and juris doctor in environmental law from Vermont Law School. Stark has specialized in Vermont real estate transactions since 2003. A Burlington resident, he also serves on the board of HomeShare Vermont.
When I went under contract on a Winooski home last winter, my Realtor gave me less than 24 hours to hire an attorney. I picked Stark's name at random from a list and sailed smoothly through to closing. It wasn't until I actually met him in person, at the end of the process, that I realized I had no idea what his role had been. I only knew that those waking nightmares had, thankfully, never materialized.
I interviewed Stark a few months later and learned about all kinds of complications he's helped buyers and sellers navigate in his years on the job. They include having to sue over a seller's unsatisfactory home repairs; the "domino effect" in a chain of home sales when one party's closing date gets pushed forward; and a memorable land dispute in which neighbors showed up with a deed to a buyer's newly purchased property. (Title insurance saved the day.)
For Nest, Stark illuminated some of the legal work behind a real estate transaction. Our interview has been condensed for space.
I heard an analogy recently that a real estate attorney is like a duck. It looks like it's gliding easily along, but there's serious paddling below the surface.
One hundred percent. I've had people say that about our office. And it's true. You walk into closing pretty nervous, but we do this every day.
You're also not seeing all the background that's going on. Unless we come across a title issue, the buyer has no clue that we went to the land records, we did the title search. We give you that title opinion at the closing, and then you get the title insurance policy after the closing.
All of that stuff is really one of the most important pieces of the process, because it's certifying to you that what you, as buyer, have just paid a large sum of cash for, you truly purchased.
At what point in the home-buying or -selling process do you recommend somebody hire an attorney?
Everybody says, "Oh, I'm buying a house. I need a Realtor and a lender. Why do I need an attorney? I'm not suing anybody." And so it's typically the last thought, or we're the last ones into the process.
But if you think about it, that [purchase and sale] contract is a legally binding document, so [it] might be a good idea to have an attorney look at it before you sign it. Or, at a minimum, have an attorney review clause in there.
If you do hit a bump in the road, what it says in the contract can have large implications for that big deposit that you gave the seller, your ability to get that back, your ability to back out of the transaction and the ramifications of doing so. In an ideal world, the attorney is brought in right at the start of the process so they're reviewing that contract right when you sign it.
If a house turns over quickly, aren't you basically repeating the same processes the last attorney went through?
Yeah. Which can kind of feel monotonous at times. But then you come across something that is wrong in the chain of title, and you're like, How has this been missed this many times?
What are some complications you've run into? Any horror stories?
It can run the gamut. [For example,] people like to buy properties that have been foreclosed, because you're getting a really good deal on them. The problem is, the bank — who is the seller — could give a rip when you close. The way that those contracts are written, they can just extend and extend and extend as long as they want. So, we've had people in situations where they're running up against the date that they've gotta be out of their current home, and the bank/seller just can't get their act together to close in time.
And your role in that is to...?
Run our head against the wall until we can get 'em to close, if we're on the buyer's side! And usually we can get it to work. But it can be challenging sometimes.
What's the deal with title insurance?
It really is something that confuses the living bejesus out of people. It's something that we think is important and we recommend on every transaction.
It's a one-time premium paid at the closing and good even after you sell the property. So, if a subsequent owner came back and said, "Hey, there was this issue with the title when you bought the property; we want you to fix it," you can turn back around and make a claim on that policy.
We have seen people that had a neighbor come across the street after they had bought a property and say, "Hey, here's our deed to your property." I spent three weeks searching that title. I was all the way back to the late 1700s, and I couldn't tell you who owned that lot. The title insurance company ended up paying the neighbor ... so then the buyer had what they thought they bought. The only thing they paid for was the title insurance premium. So they were out a couple hundred bucks and got multiple tens of thousands of dollars' worth of coverage out of it.
Do you ever drive around town and recognize houses that you've helped change hands?
Having lived in Burlington 17 years come August, you just know the area well enough. So every time you're doing a title search, you're like, "Oh, I know where that one is!" Most of the time. It's fun. It kind of gives you a better sense of place than you necessarily would [have] just working and living here. And especially getting to go do title searches out of town. On a bright summer day, getting to go cruise the highways of Vermont doing title searches is an absolute blast.
I guess I don't really know what it means to do a title search.
In Vermont, we keep our land records at the town/city level. So, in our tiny little state, there's 200-some-odd recording jurisdictions. To do a title search, we actually have to physically go to the town clerk's office. They've got a big vault with all of the land records books in it, and indexes. A lot of the towns still are on an old-school Dewey decimal card system, and so each deed has a corresponding little index card that has seller and buyer on it, grantor and grantee, and same with all the mortgages and easements and stuff like that.
So, you're starting with the current owner and working your way back through the chain of title 40 years, plus one good deed. You make sure you find out everything you can about the property, as far as encumbrances. It's really interesting.
Not so much in [Burlington], but those farther-out places, you'll read the description, and it's like, "Along the stone fence, and when you get to the big oak tree, turn left..." You go back far enough, and you've got original chartered lots for the town. A lot of the towns still have their original town grant in their vault. That's pretty cool to see — you know, the governor of New Hampshire, under authority of the king of England, granting the right to establish this town.
What do you find rewarding about this type of law?
Your closing was one of the coolest things you've ever done, right? It was one of your best days: I bought a house! It's right up there with getting married and having a kid. I get to be part of that every day.
And, yeah, we have the ones that are horror stories or whatever. But on balance? No! To see how happy people are at the end of the closing because the buyer has this house that they're now so excited to move into, and the seller's off to their new adventures that they're excited about — and to play a role in making that happen — that's my favorite part of my day, sitting in here doing these closings.