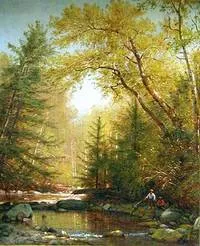 St. Johnsbury's Athenaeum is offering the perfect art history course for the busy modern student. It's free and it's slow — one painting at a time, on view for an entire week. Oh, and it's online, so you'll have no problem checking in after the kiddies have gone to bed. "This Week from the Gallery" is a new feature on the website — http://www.stjathenaeum.org — of this Northeast Kingdom treasure.
The Athenaeum was founded by industrialist Horace Fair-banks, and its post-Civil War architecture alone is worth a visit — in person, not virtual. But inside this combination library and gallery resides an astonishing collection of 19th-century American paintings and sculpture. The most spectacular is Albert Bierstadt's "The Domes of the Yosemite" — the 116-by-180-inch painting faces viewers as they enter the gallery. In 2005, the Athenaeum published a paperback, Handbook of the Art Collection, with text by Mark D. Mitchell.
Mitchell, who's assistant curator of 19th-century art at New York's National Academy Museum, also penned the descriptions of the weekly works highlighted online. On view last week: "Fishing," a 17-by-14-inch oil painting by Worthington Whittredge (1820-1910). Mitchell writes that the 1868-70 image of two men fishing in a peaceful forest "portrays a return to nature as a respite from the urban world."
Even before automobiles, apparently, guys needed a break from the grind. Like Seven Days, "This Week from the Gallery" is updated every Wednesday.