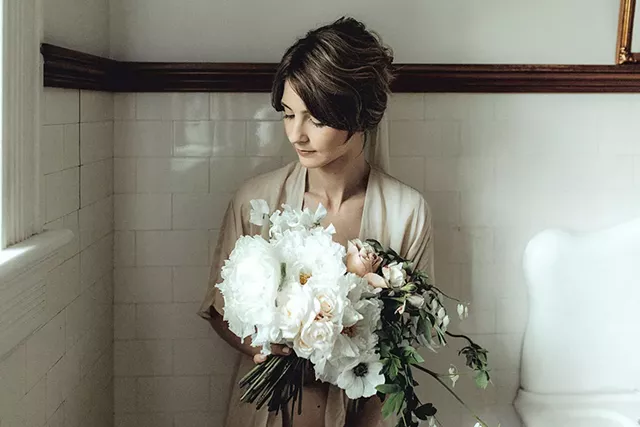 Courtesy Of Jacquelyn Potter
Erin Ostreicher
Erin Ostreicher is living her childhood fantasy. The 32-year-old florist says that when she was a kid growing up in Westport, Conn., she dreamed of working with flowers. She made dolls out of hyacinth, drew blooming buds incessantly and sketched her "dream greenhouse."
Now the Skidmore College graduate runs her own bridal-oriented floral design company, Nectar & Root, out of a Winooski storefront, in tandem with a small bridal boutique called Cult of Flowers Bridal. After eight years of designing flower arrangements in a cramped Burlington studio space, Ostreicher moved last year into the West Canal Street storefront, where she sees clients by appointment. She began stocking clothing and jewelry, with a mix of vintage and contemporary pieces, in December.
When it comes to flowers, Ostreicher has a distinctive style. She calls it "romantic but effortless" and "a little bit wild." There are no perfect roses in her assemblages. She often incorporates wildflowers with full-petaled blooms, such as peonies and garden roses, into bridal bouquets that look like they've been scooped from a carefully stocked pasture in a Romantic painting. Her work is a little messy, a little whimsical and utterly entrancing — the right match for brides looking for an artistic take on traditional bouquets and decorations.
For one of her own wedding bouquets (she made two), Ostreicher bunched together sweeping strands of spiraea she found by the side of the road. The effect was quite dreamy, as evidenced by the pictures in her online portfolio.
Courtesy Of Jacquelyn Potter
Wedding dress from Rackk & Ruin
Ostreicher may have fantasized about working with flowers as a kid, but she didn't start studying the form until after college. She spent her undergrad career immersed in creative writing and visual art, of which she says that "a lot ... involved flowers, or was described as being flowery and had a lot of landscape themes."
After graduating, Ostreicher worked at publisher Verve Editions and at Crow Bookshop, both in Burlington. "I kept surrounding myself with floral-related things," she recalls. Her interest piqued by some flower-themed books that Verve was handling, she started buying up the gardening section at Crow, she recalls: "I had kind of forgotten that I had this grand scheme at 7 of being a florist, but then it came back to me."
At the time, Purple Shutter Herbs still occupied the Winooski storefront that would become Nectar & Root. "I was looking into learning about herbalism and aromatherapy [there], but that didn't feel quite right," Ostreicher says. "So I landed on floral design."
After completing a summer program at the New York Botanical Garden, Ostreicher was hooked. In 2010, she moved back to Vermont and began doing bridal floral arrangements from a room in the AO Glass studio space on Pine Street in Burlington. While it was suitable for those in-between years, the constricted space can't have been easy to work out of, or to welcome brides into.
By contrast, she describes herself as "truly inspired" by her Winooski store, which has dedicated work and retail spaces. The back room houses a walk-in cooler that keeps her flowers fresh, while long rows of shelves hold an assortment of vases and vessels for potential clients to peruse.
Painted a warm, welcoming white, the front of the shop has large windows that let in copious amounts of sunlight — "plenty of light to work in and to photograph my flowers in," Ostreicher says. A creamy velvet couch faces a massive mirror where brides can see themselves in dresses from two carefully curated racks. A small table behind the couch showcases a selection of new and vintage jewelry.
All in all, the shop highlights Ostreicher's unique style, which she describes as a major selling point for her clients. "I find that now people tend to come to me because they like the style I work in," she says.
Labor Day bride Rachael Clark of Montpelier found Ostreicher through friends and family who were satisfied customers. She says hiring Ostreicher was an easy decision: "I really valued her as a floral artist. We had some specific ideas in mind, colors, but we really loved her work and wanted her to run with it."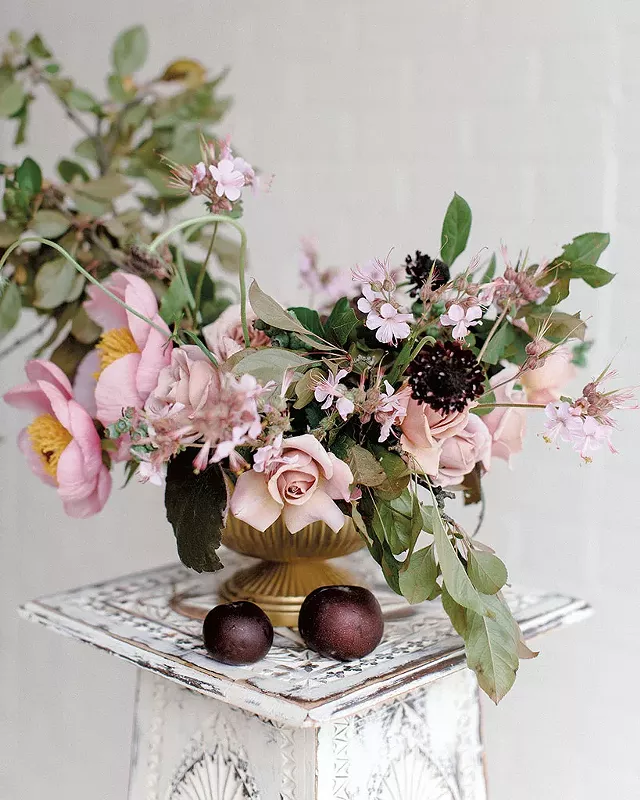 Courtesy Of 822 Weddings
Floral design by Nectar & Root
While Ostreicher's prices are on the higher end compared with other area florists, she says, she will work with any budget. With her clients, she explains, she'll "make a strategy for how we can make the most impact given that budget. And it's not usually flowers everywhere, in high volume. It's focusing on those really special places where the flowers can shine."
For instance, for clients who can't afford arrangements on every table, Ostreicher might find crafty ways of repurposing flowers. "So maybe the bridesmaids' bouquets will become the centerpieces," she says.
Like her floral arrangements, the jewelry and garments Ostreicher sells at Cult of Flowers Bridal are one of a kind. For the contemporary gowns, Ostreicher collaborated with Brooklyn-based designer Diana Deane. The vintage dresses come from a who's-who of area sellers, including Reel Vintage, RataGlam, Project Object Vintage, Rackk & Ruin, Wearing Symbols, Theodosia Vintage and Nutritious Vintage, the last of which is run by Ostreicher's sister.
The jewelry is likewise a mix of old and new. Contemporary pieces from Rackk & Ruin join vintage brooches, earrings and more from the ever-eclectic Wearing Symbols.
Women run most of the labels Ostreicher carries. She's committed to "using the space to support other small business owners, artists and makers — particularly women," she says.
In addition to repping up-and-coming female designers and vintage retailers, she tries to work with female gardeners and producers. "There's a flower farmer I started working with this past summer, [Eva Dannenberg Alexander of Blossoming Bough Flowers in Craftsbury Common]," Ostreicher says, "and I just love her stuff, so I'm buying her out every week trying to support her."
Brides-to-be aren't the only ones who come to Nectar & Root: Ostreicher loans out the space for photo shoots and has used it to host a writing club and guest workshops with the likes of basket-weaving instructor Alexa Rivera. "I want to be able to offer the space for more things like that," she says, "where people can do art or just connect with other people."
Sounds like a match made in heaven.