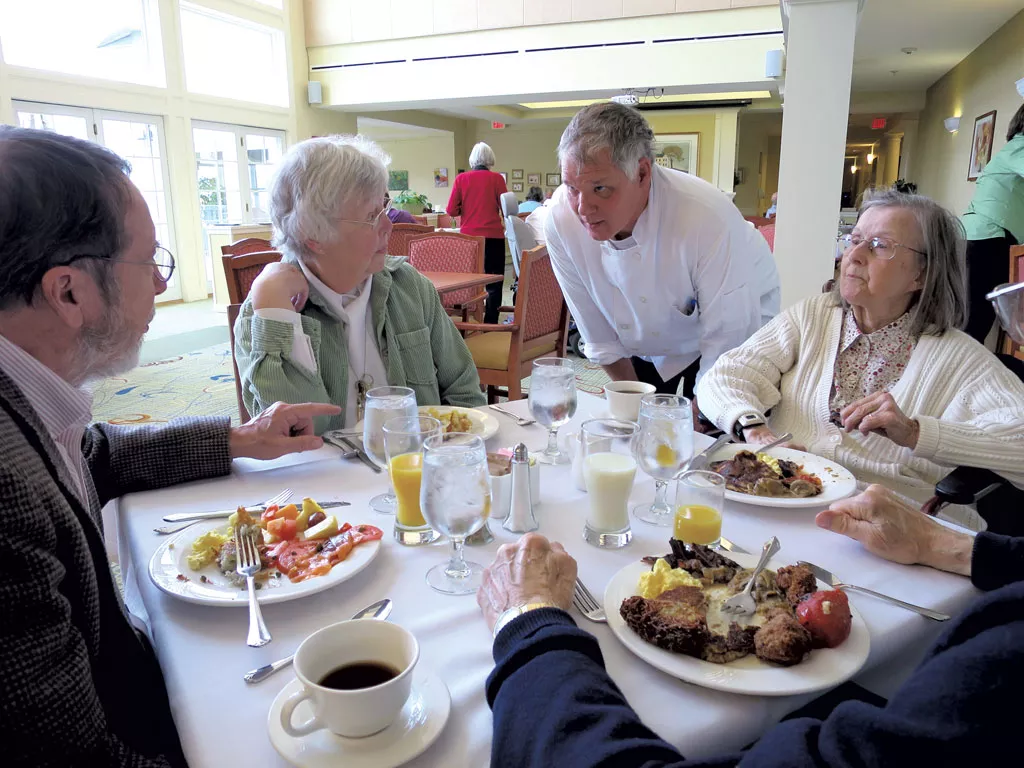 Matthew Thorsen
Bill Koucky visiting with residents in the dining room
At a BYOB hot spot in Montpelier, the bacon, ham and pastrami are all cured and smoked in-house. Whole local animals are butchered on-site. Chef Bill Koucky wildcrafts fiddleheads, wild leeks and chanterelles himself. With attractions like that, it's no surprise the spot is exclusive.
Matthew Thorsen
Potato latkes
In fact, Koucky (pronounced KOOSE-kee) serves only 60 people daily. And they're the same people, because they live there. Koucky is the chef at Westview Meadows at Montpelier, a senior residence just outside of downtown.
Westview residents aren't the only Vermonters enjoying exceptional cuisine in their golden years. The trend started in 2006, when Kathy King, director of dining services at Shelburne's Wake Robin, enrolled that senior community in the Vermont Fresh Network. Today, the Arbors at Shelburne, Cathedral Square Senior Living in Burlington and EastView at Middlebury are all Fresh Network members.
Most of the chefs in charge of those dining rooms graduated from the New England Culinary Institute, and many boast impressive résumés. King was the executive chef at Windham Hill Inn in West Townshend before she took her position at Wake Robin. David Merrill of EastView spent 19 years as executive chef at the resolutely upscale Basin Harbor Club in Vergennes. He left a job at Middlebury College last December for the senior center at the suggestion of Café Provence chef-owner Robert Barral.
But Koucky, who has taken from-scratch cooking to the extreme at Westview Meadows since he arrived there four years ago, has particularly shining credentials. In 1996 he left Boston, where he had made a name for himself in restaurants such as Todd English's Olives, to become a chef-instructor at NECI. For his final seven years at the school, Koucky taught in the popular meat fabrication kitchen.
"I was overqualified when I started," Koucky wildly understates as he describes his debut at Westview. But he wanted a job less stressful than restaurant work, one that would allow him more time with his kids. "At my stage in life, I thought it was important," he says of scaling back.
What he didn't expect were the challenges he'd face. On Koucky's first evening on the job, the other cook took a bag out of the freezer — pot roast. "What do I do?" Koucky asked. "Just heat it up," he was instructed.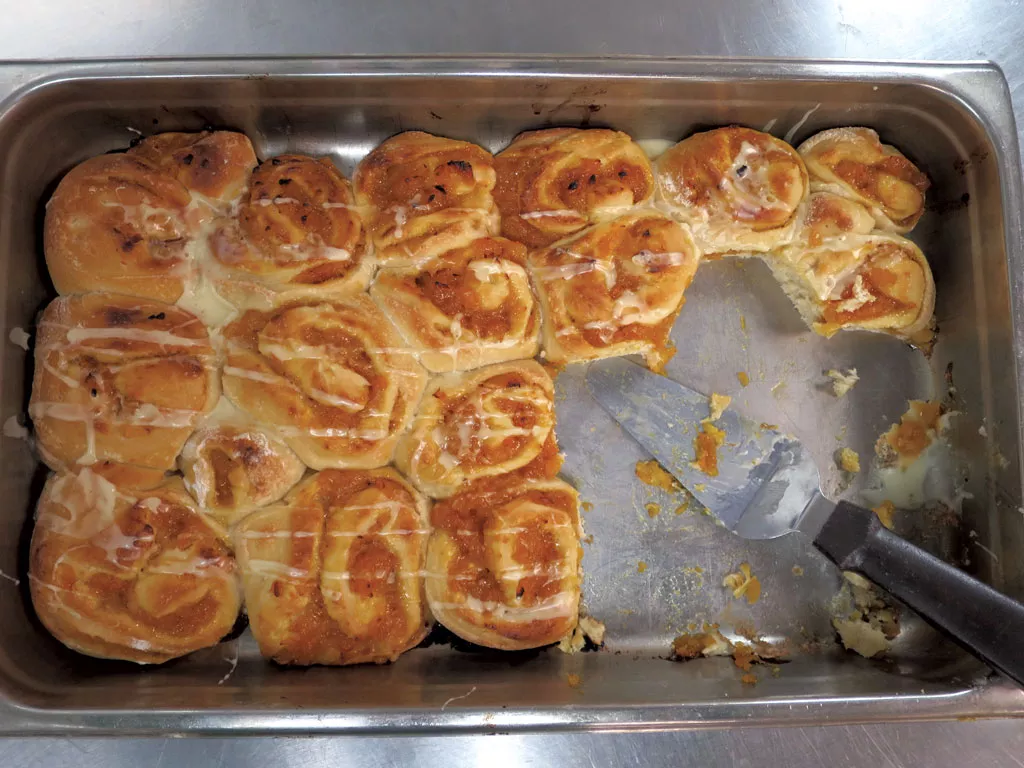 While Westview is hardly a downscale senior living option — current residents include accomplished people such as Bridge to Terabithia author Katherine Paterson — use of such processed foods is routine in institutional dining. When Koucky showed up, he remembers, the kitchen was already $6,000 over budget for the year. He told his boss, executive director Dawn Provost, that he could eliminate that debt in three months.
"We ended that first year $2,000 under budget just by buying bags of flour and whole chickens instead of Tyson chicken fingers," he recalls. "By making my own bread and butchering, we've saved a lot of money." With those savings, Koucky was able to buy all local meats — and earn "an appropriate salary."
Provost says Koucky actually saved Westview more than the figure he mentions, but she prefers not to specify how much. In any case, Provost says, she's most impressed by how the chef has contributed to the well-being of Westview's residents. "We know that in eating well and being well taken care of, there's longevity," the director explains.
Despite the active lifestyle at Westview, most new residents gain about 10 pounds when they arrive, Provost notes. For those concerned about the bulge, Koucky's fresh-baked breads and rolls are a mixed blessing. Others, who relied on a diet of Lean Cuisine when they lived on their own, need the extra weight. Either way, Provost says, residents' family members who marvel at their loved ones' longevity often make specific mention of the meals as a factor.
One of those family members knows her way around good cuisine: food writer and public relations specialist Marialisa Calta. Her mother has lived at Westview for four years, first in independent living, now in residential care following a stroke. The latter plan comes with breakfast, lunch and dinner, while independent living residents only eat dinner in the dining room overlooking the Montpelier hills.
Calta dines with her mother once or twice a week at Westview, she says. Her recent favorite dishes have included a preparation of lamb two ways, including a grilled rib and a slice of leg served with chanterelles. She also raves about housemade lamb sausage served with barley pilaf and Swiss chard. "I've had some incredible, memorable meals there," Calta says.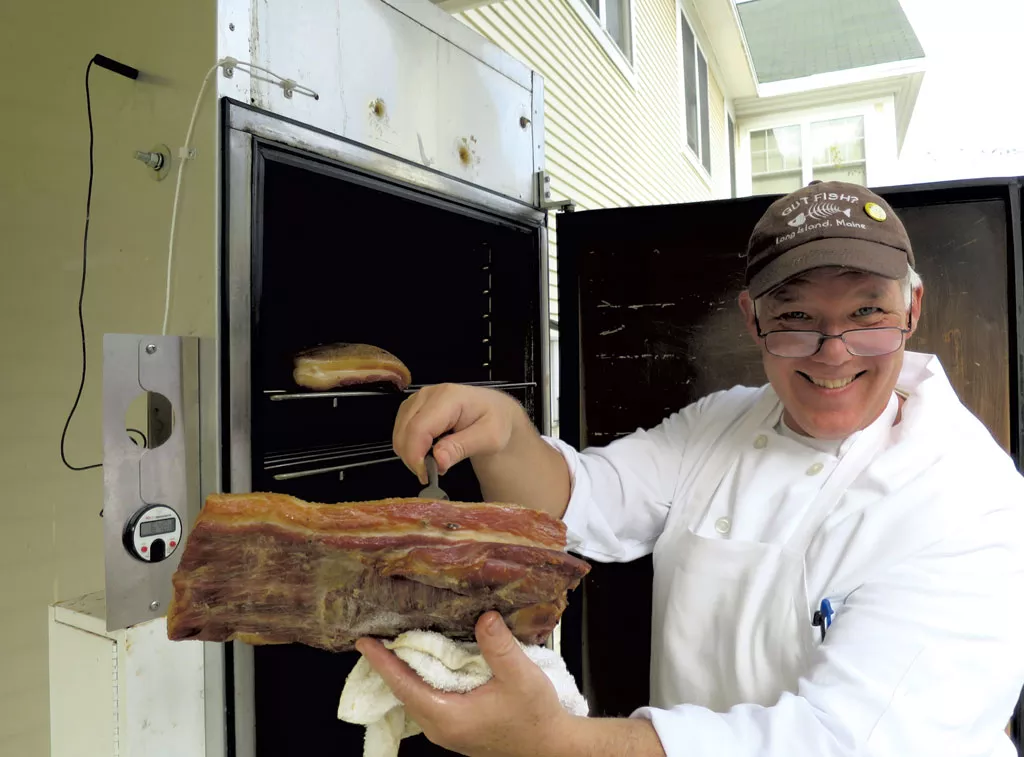 Matthew Thorsen
Bacon from the smoker
And sophisticated ones. Dinners are three-course affairs, served by uniformed staff. "He does not infantilize the audience. He's not cooking down to them," Calta says of Koucky. "It would be awful if everyone just said, 'Mac and cheese for you for the rest of your life!'"
While spending one's dotage at Westview isn't exactly a budget option, it's still a surprise to sit down in the dining room and encounter a tender, pink veal rib eye with porcini-sherry sauce on one night, or beef tenderloin with lobster just a few days later.
The key to that apparent largesse is using whole animals, Koucky explains. When he buys a side of beef, he notes, the filet mignon costs him no more than the chuck that gets ground into potential burgers and meatloaves. The half cow carries his staff of three cooks through six weeks of meals.
That veal rib eye came from a whole calf from PT Farm — and it's uncommonly juicy because the animal was free-range, the chef explains.
Koucky gets his pork from PT Farm, too. "I call them Thursday, and they slaughter the pig Monday and I get it Tuesday," he says. So begins a process that engages the whole residential community. Once meats emerge from a brine sweetened with Cold Hollow Cider Mill cider, the chef pops them in the smoker. Built by Westview maintenance man Chuck Meeks using an old refrigerator, the smoker can fit as much as 60 pounds of ham and bacon in one shot. Residents always comment on the resulting smells, says Koucky.
Some of that meat appears at the buffet brunches served every Sunday, some on the dinner table. On a Tuesday night, we sampled a chicken Cordon Bleu stuffed with smoky ham that we would never have guessed was carefully prepared with low sodium content for better heart health. We tasted only the sweet smoke of the thinly sliced pig flesh, wadded into a Misty Knoll Farms chicken breast almost tightly enough to burst it.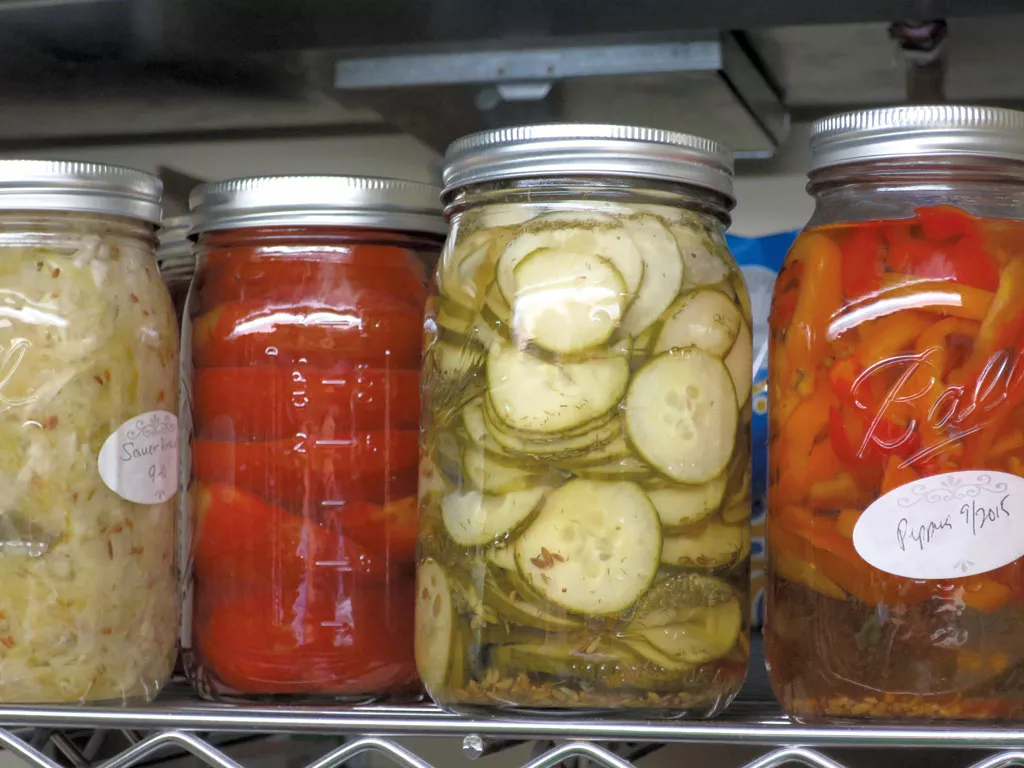 Matthew Thorsen
Housemade pickles
In fact, all of Koucky's cuisine uses less salt than commercial kitchens do. But the flavors don't suffer. Cream of garlic soup tastes of cream and garlic, not salt. The chef prepares lower-salt pickles and cans vast jars of caraway-speckled sauerkraut. A recent antipasto plate featured smoked, pickled tomatoes alongside colorful pickled peppers, olives, smoked Gouda and lamb capicola, the fat of which melted on the tongue.
Koucky is right to declare that many of his entrées would go for $40 a plate in his old Boston stomping grounds. But he admits that one of his greatest challenges is "riding the keel of not breaking culinary boundaries." In other words, it's not his role to teach old dogs new tricks. For instance, as much as it pains him to serve Russian dressing, he says, he makes it from scratch because residents want it on their green salads.
He's also learned not to push too far. "My first Easter here, I put rabbit on the menu," he remembers with a laugh. "That was not received well at all. I called it bunny, too."
In four years at Westview, Koucky says the most important thing he's learned is to keep his already-rustic cooking style simple and fresh. "I want to honor their past by serving whole food with real ingredients," he says. That means that if the kitchen runs out of lettuce from primary supplier Littlewood Farm, he'll run home and get some from his own garden. "I want to honor their sophistication."
With a clientele whose loyalty will last the rest of their lives, Koucky has plenty of exquisite meals ahead of him.