Sadie Williams
Viall's Crossing
At first glance, Viall's Crossing is a pastoral wonder. The 132.5-acre farm sits on the outskirts of the tiny town center of Westport, N.Y. It's equal parts rolling, farmable fields and verdant forest. But what looks like a familiar landscape — white house, hayfields, dirt driveway — is actually a property that hosts literal and figurative crossroads: a road, a railway, a hiking trail, and a family exploring the intersections of rural living and big-city culture.
Until recently, 75-year-old Harold White owned Viall's Crossing, whose name has a dual purpose. It honors his ancestor, Asa Viall, who was friends with abolitionist John Brown and transported Brown's body in his farm cart after his execution. And it identifies the only railroad crossing for miles: a small path used by farmers, and now hikers, to get to the other side of the Canadian Pacific Railway, which runs from New York to Montréal.
Viall's story would have been forgotten if not for two conservation nonprofits that came together to preserve the property. First, the Eddy Foundation, based in Essex, N.Y., bought it outright from White. It then sold the house and land to a young farming couple with a conservation easement that ensures the railroad crossing will remain part of the Champlain Area Trails network.
The results? The second nonprofit, CATS, is one step closer to achieving its mission of crisscrossing the Champlain Valley with hiking and cross-country ski trails. And Lindsay Willemain and Nick Rowe get to own a homestead at a reduced rate.
CATS executive director Chris Maron had his eye on Viall's Crossing even before it went on the market. The railroad crossing was crucial to future trails, but CATS couldn't afford the property. After a real estate agent walked into his office and asked if he was interested, Maron approached the Eddy Foundation, on whose board he sits. The nonprofit agreed to team up to preserve Viall's Crossing by purchasing the property before a developer could.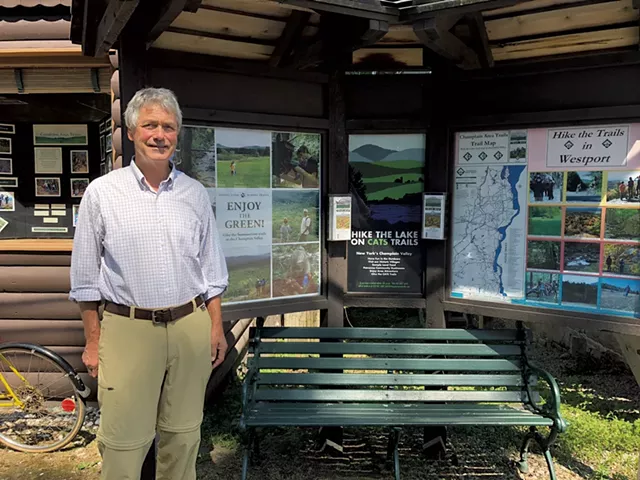 Sadie Williams
Chris Maron
The foundation promptly sold the property to Willemain, 39, a poet and organic farmer, and Rowe, 38, a retired U.S. Marine who studied ethnomusicology at Columbia University. The couple, who have a 2-year-old son, bought the house in April and promptly left their apartment in New York City.
The conservation easement was an integral part of the deal, making Viall's Crossing more affordable for Willemain and Rowe. It also allows CATS to preserve the property's lush forests and hayfields and to create a hiking trail that hops the tracks in the only legal crossing for miles.
"Railroad tracks and right-of-ways are private property," Maron explains. "They have their own police department, and you can only walk across in a few designated locations."
This particular crossing brings CATS a step closer to one of its goals: creating a trail loop that links Westport to its northerly neighbor, Essex.
"We're in the Champlain Valley," Maron says, "and we're known for outdoor recreation and hiking. Yet here, people can't really do that. We want to have places we can hike, and we also want it so outdoor recreation helps our local economy."
He's referring to the boost that hikers will give Westport and Essex by shopping and dining at local establishments.
So far, CATS has conserved and maintained 40 miles of trails, according to its website, and aims eventually to connect them to trails across the lake. Having solidified one route from Westport to Essex, the nonprofit plans to circle back with a trail that curves down to the east. Some portions of the Essex-Westport route run along roadways, and, though they're scenic, Maron plans to move the whole operation off-road.
Viall's Crossing is one piece of the property puzzle that will make his goal possible. Maron says most of the properties on the Adirondack side of the Champlain Valley are privately owned, so conservation easements must be secured from the owner of each parcel over which a prospective trail would pass.
If White's property had ended up subdivided, Maron would have needed to secure multiple easements. That's one reason he worked so hard to find a young family to take it over — that and the strategically located crossing.
Sadie Williams
Nick Rowe, Lindsay Willemain and their son Augustus
While the crossing is essential to Maron, for Willemain the tracks are more of a source of reflection.
"We live very remotely," she says, "and yet the train comes through. So what do you make space for?"
The answer: organic farming and an eventual artists' residency. For now, though, that vision remains partly aspiration as the couple grapples with the dull and dangerous reality that their new home is riddled with lead paint.
Willemain is hard at work scraping it off the walls and ceilings in almost every room, plus the wraparound porch. The upstairs rooms are uninhabitable, so she's moved her family into a downstairs living area.
During an interview at her chic dining room table — which stands out amid the faux-wood paneling and flowery wallpaper from White's tenure — a postal driver leaves a package on her crowded porch. "Those are attachments for my HEPA vac," Willemain says with a laugh.
The farmer laughs a lot, despite the amount of labor she's putting into lead remediation. It's more than necessary. Her son's lead levels have risen since they moved from New York City two months ago, she says.
Maybe her laughter comes so easily because fixing the dilapidated house brings Willemain closer to owning the homestead she's dreamed of. Her interests are varied but generally creative. She has worked as a lawyer, a mediator, a yoga teacher and a production assistant at the avant-garde feminist poetry collective Belladonna*.
"I was really unhappy as a lawyer," Willemain says.
She didn't think about farming as an option until she heard a National Public Radio story on Kristin Kimball, author of The Dirty Life: A Memoir of Farming, Food, and Love. The book details Kimball's first year as cofounder of the horse-powered Essex Farm.
Willemain caught the bug. Soon she was working on farms in New York, in Jamaica and outside her native Baltimore. In 2012, she landed a position working with Kimball at Essex Farm, a scant 10 miles from the property that would one day be her home.
Like the Kimballs, Willemain wants to use horses "for anything that requires field work or implements." She's already moving in that direction; her Amish neighbors mowed her fields last week with their draft horses. In exchange for hay, they'll help her fix broken fences.
She's also planted a small orchard of fruit and nut trees with her son. Next up, "I want to get some meat goats and have some chickens and a couple of horses," Willemain says. She also needs a potable water source; she's currently filling jugs of drinking water at her son's daycare facility.
For now the priority is the house, but Willemain won't set aside her other passions, poetry among them. "It's hard for me not to embody both of those things," she says of her creative life and her fascination with farming.
In the years ahead, she and Rowe want to create an artists' residency that will balance their love of organic agriculture and the natural landscape with their appreciation of music and literature.
"The conservation work and the presence of this very loud train that I'm trying to embrace, and thinking about what we'll be leaving in New York has me thinking about what belongs, what will come — these big questions," Willemain says. "And how do we make space for the exploration of those questions?"
The inquiry may be cerebral, but the landscape on which it will play out is real. Willemain and Rowe have 132.5 acres to explore — and a hiking trail, railway and road that will undoubtedly bring a few explorers to them.