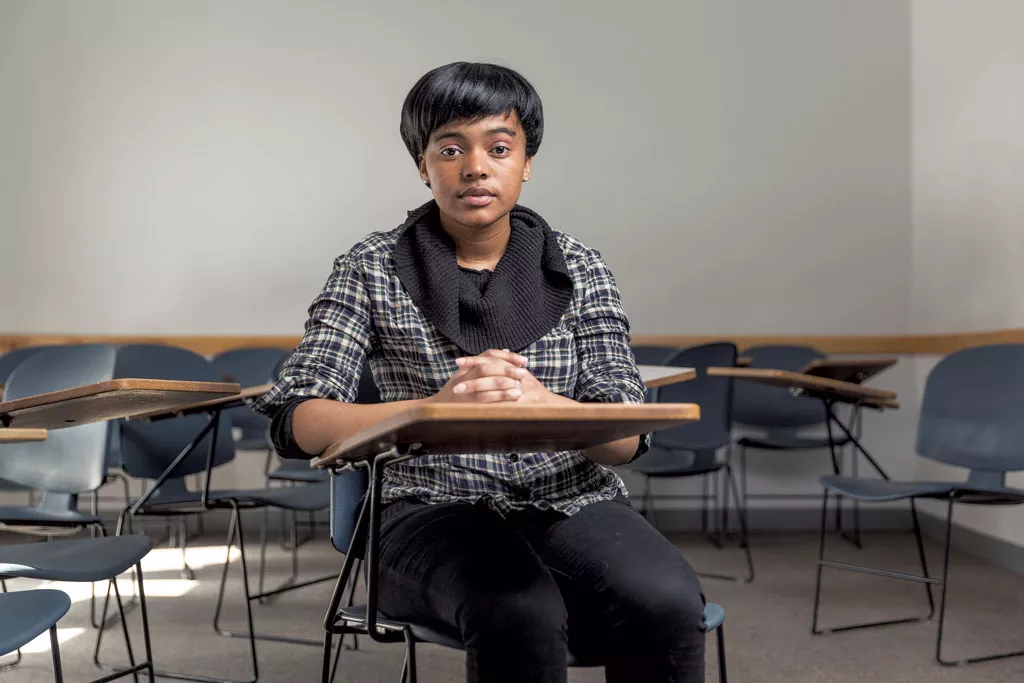 Oliver Parini
Tezzy Nhlengethwa of Brown University
As the deputy prime minister delivered an impassioned oration, her colleagues found time to punctuate their furious note taking with periodic outbursts of "Hear, hear!" and to rap knuckles on their desks in a show of support. Across the room, members of the opposition, who took notes with even greater fervor (and in multicolored inks), occasionally jumped out of their chairs with arms outstretched in gestures of objection to which speakers could respond at their discretion.
This tense but respectful dispute — about the appropriateness of strategies for correcting social misbehavior — took place in an almost featureless classroom at the University of Vermont. Arguments pro and con zipped around the room, delivered with gusto by students at Harvard and McGill universities who appeared for all the world to be experts on the subject.
Impassioned though they were, the speakers had been assigned their topic and positions only 15 minutes before opening arguments commenced. That sounds like a challenge for even the most informed speaker, but it's standard operating procedure in tournaments that, like this one, abide by the rules of British Parliamentary debate.
The only unusual feature of this tournament was that all of its participants were women.
The 2015 North American Women's Debate Championships, which took place at UVM last weekend, are in some ways a natural continuation of the school's historically robust debate program. But the competition also represents an attempt to break up a misogynistic attitude that, many participants said, has tainted college debating for too long.
If the intelligence and ardor with which these young women spoke are any indication, the university debate establishment is in for an upheaval.
If you're looking to get into an argument, Vermont is a pretty good place to visit.
UVM's debate squad has been a perennial powerhouse since the 1960s, when professor Edwin Lawrence created an endowed professorship of forensics. Since 1982, a single prof has held that position: Alfred Snider, better known by his nickname, "Tuna" or "Dr. Tuna." He's had plenty of time to amass an army of ardent admirers.
As integral as Snider has been to UVM's debate program — and to its affiliates, the Lawrence Debate Union and the World Debate Institute — he participated in the recent Women's Debate Championships mostly in an unofficial advisory capacity. Two reasons: He was out of the country at the time, and he's not a woman.
Sharmila Parmanand, whom Snider has called "perhaps the most celebrated debate trainer in the world," took the lead in preparing the debaters for the women's championships. She's been coaching UVM debaters for the past year and earned her own nickname: Her students, who wear their fondness for her on their sleeves, call her "Sharms."
A former competitive debater herself, Parmanand, 28, is the policy director for the Visayan Forum, a Manila-based nongovernmental organization dedicated to the eradication of modern-day slavery. She knows Snider from the international debate circuit. Such is his reputation that, when he told Parmanand he'd like her to coach his team, she seized the opportunity, even though it meant holding down jobs in two hemispheres.
Oliver Parini
Alexandra Klein (left) and Etinosa Obanor of Cornell University preparing for a debate
Parmanand explained the necessity for an all-female debate tournament in simple terms. "Women are disproportionately underrepresented in terms of debate performance and achievement," she said, citing, among other statistics, the absence of a single female speaker in the top 10 finishers at last year's university championships.
"I have no scientific basis for why this is the case," Parmanand continued, "but it would suggest there are cultural norms that discourage women from debating. It's seen as a very aggressive, intimidating activity."
For this reason, she said, the women's debate circuit was created with several goals in mind. One is to provide a safe, friendly atmosphere in which women may develop their debate skills; another is to allow young female debaters to meet and learn from those with more experience. But the most important objective is changing the androcentric culture of the debate community as a whole.
By providing a forum in which women debaters can excel, the tournament prepares them, Parmanand said, for greater success in all-gender debates. The aim is nothing less than changing the system from within.
Approximately 125 debaters traveled to Burlington from more than a dozen colleges and universities in the U.S. and Canada for this, the second such tournament ever, and the first held in the U.S. The participation was nearly twice that of last year's tournament at Montréal's McGill.
Still, Parmanand explained, the North American college debate circuit lags behind other regions with regard to gender equity; women's tournaments have stronger footholds in the UK and Australia.
The tournament's women-only policy applies primarily to the debaters, as evidenced by the handful of men in attendance. Some of the event's judges are male students and professors, but men may not serve as chairs of the judging panels, nor may they judge the playoff rounds, called "breaks" in debate parlance. (Incidentally, judges at these tournaments are also competitors, in that they are competitively ranked for their skills in adjudication.)
Students from UVM `fielded a team on their home turf, while other Catamounts assumed the tournament's administrative roles. Senior Mariel Golden is a skilled debater who has traveled to Malaysia, Hungary, India and other places to participate in tournaments. For this one, she served as "head convener," overseeing the tournament's complex logistics rather than participating in debates herself.
Golden, who grew up in Warren, majors in political science — only because, one gets the sense, UVM does not offer "debate" as a major. She said her experience in debate has taught her organizational skills, creativity, argumentation and strategy, while giving her tools for the critical analysis of texts — skills that would benefit any college student. But women are disproportionately underexposed to this particular method of developing those skills, Golden said, in large part because they are often not taken seriously in the debate world.
"People really do not treat female speakers the way they should," Golden said. "There are retention problems, and a lot of clubs aren't run by professional coaches. [Some schools have] had a really serious problem with older male debaters having 'a relationship with' younger female debaters." Even though she conceded that things are slowly improving, Golden was not the only participant to refer to mainstream debate as a "boys' club."
Nicolas Cathcart, a junior at Brown University, was a judge at the tournament. "This tournament is very useful in breaking down the stereotypes ... that men have about women," he said. "A lot of people define certain topics, like economics, as 'men-dominated' topics, whereas something like social justice might be seen as a 'women-dominated' topic. But at this tournament, we see women doing well in a wide variety of topics, and we can take this back and see that there are no topics that are specifically made for women or for men."
Cathcart's colleague, Tezzy Nhlengethwa, a native of Swaziland and a sophomore at Brown, was in Burlington to participate in her first women-only debate. She was impressed by the spirit of camaraderie at the tournament. "We are all more supportive, and we all talk to each other a lot more [than do participants in standard debates]," she said. "I think people build each other up after the debates, giving each other feedback even though they were on opposite teams."
Just before the tournament's final round, debaters gathered to hear an address by someone who knows a great deal about the challenges women face in the public sphere: former Vermont governor Madeleine May Kunin. The timing of her talk couldn't have been more appropriate: It took place on International Women's Day.