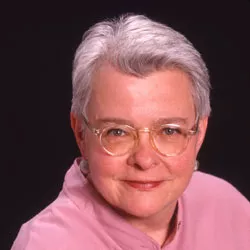 Half a century after the start of second-wave feminism, women still haven't achieved parity in certain areas of the arts. Few women number among the country's leading orchestra conductors, architects or film directors. And in theater, according to University of Vermont drama professor Lynne Greeley, "83 percent of plays produced in this country are by men." The question is: Why?
The University of Vermont's theater department is using its current season to address that last disparity. At Greeley's instigation, the season features plays written exclusively by women: Paula Vogel's How I Learned to Drive, Mary Zimmerman's The Arabian Nights and Wendy Wasserstein's The Heidi Chronicles. (The fourth, Patricia Clapp's The Toys Take Over Christmas, is an annual tradition that happens to be female authored.)
As for the question of why a theater season featuring women is so unusual — while a season of plays by men barely raises an eyebrow — UVM is hosting a symposium dedicated to the topic this Saturday that is free and open to the public. Vogel herself will give the keynote address. The 60-year-old Yale University School of Drama professor won the 1998 Pulitzer Prize for How I Learned to Drive and has mentored several successful female playwrights, including 2010 Pulitzer finalist Sarah Ruhl and the 2012 winner, Quiara Alegría Hudes.
Vogel will also join the symposium's panel discussion — titled "Women in Theatre: Transcending Barriers" and moderated by Greeley — with Cristina Alicea, producing artistic director of Vermont Stage Company; Melissa Lourie, artistic director of the Middlebury Actors Workshop and an adjunct professor of acting at UVM; and lighting designer Lauren Glover, a recent UVM graduate.
"It's a national question," Alicea says of the underrepresentation of women playwrights onstage, "and I'm glad we're going to discuss it." The 33-year-old, who calls herself "one of the few female artistic directors in the country," suggests that "the problem lies in the people who are choosing the plays" — many of them older men who still serve as artistic directors of the theaters they founded during the 1970s regional-theater movement. "To be fair, I don't think it's a conscious decision," Alicea adds. "They're reading the plays they're interested in."
UVM theater department chair Gregory Ramos, who is directing Vogel's play, places the gender disparity within a larger social picture of "fewer opportunities for women" — especially when they choose to have children and become primary caregivers.
Greeley notes that "there are plenty of women writing plays out there," and no dearth of published scripts by women. The problem comes in the move from page to stage. Even Ruhl, Greeley says, tells of sending her plays to producers and being told that they had no strong characters. In fact, Ruhl's plays have plenty of strong women characters — including the eponymous lead of Eurydice, which UVM produced a few years ago — but the male producers didn't recognize them as such.
The half-day symposium will preface the Saturday-night performance of Vogel's play. How I Learned to Drive is told from the perspective of a 35-year-old woman, Li'l Bit, looking back on her relationship with her uncle, Peck, who took advantage of her budding sexuality but also taught her a sense of control through driving lessons. While humorously frank on sexual taboos and expectations about women's social behavior — with a drink; behind the wheel — the play is both moving and difficult to watch.
Will Vogel stay and watch? "She hasn't committed, but we hope she stays," says Greeley. "But the director and actors have said they really don't want to know if she does."
Symposium on Women in Theatre: Transcending Barriers. Saturday, September 29, 1 to 5 p.m. at Royall Tyler Theatre, University of Vermont in Burlington. The symposium is free and open to the public, but registration is required: Email theatre@uvm.edu or call 656-2094.
"How I Learned to Drive": Thursday through Saturday, September 27 to 29, 7:30 p.m.; Thursday and Friday, October 4 and 5, 7:30 p.m.; Saturday, October 6, 2 and 7:30 p.m.; Sunday, October 7, 2 p.m. at Royall Tyler Theatre, UVM, in Burlington. $7-18.