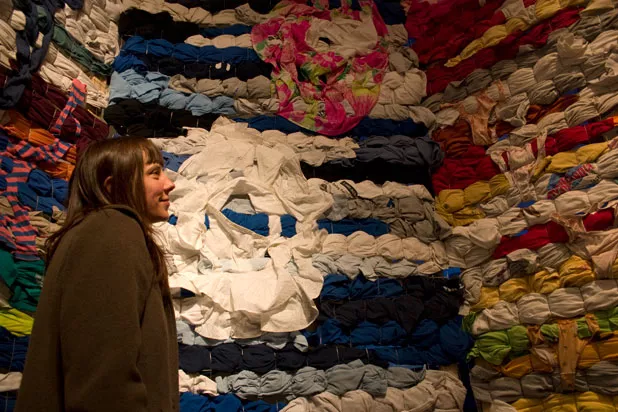 Jennifer Combe checks out an installation by Marcy Pope
Last week's exhibition at the Vermont College of Fine Arts was short and sweet: just four days. But it was long enough for the students graduating from the MFA program in visual art to get their final points across — in video and sheetrock installations, unconventional portraits and manipulated photographs — before returning to the work-a-day world.
The thing is that, unlike so many students, the 13 adults who walked away with diplomas last Saturday never really left the real world anyway. VCFA's low-residency graduate school programs are designed to enable adults with full-time jobs and family responsibilities to integrate their interdisciplinary studies and studio art projects into daily life.
Over a two-year period, students spend five 10-day stints on the Montpelier campus, but they complete their research papers and studio projects at home. The result: a 60-credit MFA that runs about $35,000.
VCFA offers two other graduate programs, an MFA in Writing and an MFA in Writing for Children and Young Adults, and has a current enrollment of 232 students. While the MFA programs have existed for decades (the oldest, the writing school, was established in 1981), the college took its present form just last year. The stately 175-year-old campus in Montpelier has changed hands several times — originally founded as Newbury Seminary, then used to house injured Civil War veterans, it later became a junior college and a satellite of Norwich University. In 2001, Union Institute and University, an Ohio-based distance-learning degree program for adults, bought the 33-acre, 11-building campus. It was sold to VCFA in June 2008.
The institution may be new, but VCFA's low-residency MFA programs operate much as they always have. Students spend brief, intensive stints on campus, just long enough to formulate projects and bond with their peers and teachers. Then they're launched back into the real world, where they must find time for their art amid work and family expectations. Faculty member Michael Minelli says the time commitment is a struggle for most of his students, whose average age is about 40 (the range is mid-twenties to sixties).
Minelli, who hails from Los Angeles and has taught at its Otis College of Art and Design and Art Center College of Design, says he prefers the older artists at VCFA who bring life experience to bear on their work. He believes the Montpelier-based MFA program is more rigorous than most, because students are expected to use independent research and their particular insights and skills to develop unique studio projects. They're also encouraged to experiment with different mediums. You might start as a painter at VCFA and leave as a painter, but you're just as likely to graduate as a videographer, says Minelli.
Jessica Lutz, director of the visual art program, puts it this way: "We don't predict what the results will be. There is no formula for the faculty or the students."
While the faculty provides guidance, support and critiques (electronically during the long off-campus periods), the onus is on students to create a project that reflects a facet of the culture. In addition to the 15 faculty members, VCFA relies on a nationwide network of 1500 approved "artist-teachers" to provide on-the-ground support. Each student chooses a regional mentor who conducts studio visits five times over the course of a six-month semester.
VCFA enjoys student retention rates of 85 to 90 percent, and graduates tend to rely on the network of mentors, faculty and fellow students after they leave the program.
As for material "success" in the art world, Lutz is quick to dismiss the idea that it's all about getting into the Whitney Biennale or a 57th Street studio in Soho. She believes giving artists an opportunity to discover the scope of their intellectual and creative potential is enough.
For a few days, however, the results were on view at the T.W. Wood Gallery, ranging from the sublime (a series of otherworldly photographs by Michelle Hagewood) to the intentionally ridiculous (animated videos of disembodied limbs by Kelly Jones). Regardless of whether the new crop of MFA grads snags dollars and fame, the investigatory depth — and sometimes even beauty — of the artwork were undeniable.