Courtesy Of Shelburne Museum
"Bernard Pliers" by Peter Kirkiles
"It's the end of the world," sculptor Peter Kirkiles joked, speaking to Seven Days last weekend while parked near a cellphone tower in his hometown of Kent, Conn. His house had lost power because of Tropical Storm Isaias the week before; felled trees still blocked the roads, and, of course, the coronavirus pandemic continued to hold everyday life hostage.
"But there's still art," he said.
Specifically, 14 of Kirkiles' outdoor sculptures are on view at the newly reopened Shelburne Museum. Curated by Kory Rogers, "Peter Kirkiles: At Scale" deliberately plays with size. A giant yellow ruler made from mahogany and bronze stands beside the steamship Ticonderoga, while a bronze tabletop Pullman parlor car sits next to the museum's full-size restored one.
Other works in bronze include a replica of writer John O'Hara's dress shoe that's two feet long, a 72-inch carpenter's beading plane fit for a giant's hands, a life-size grandfather clock and a 1946 Studebaker truck that's the size of a large toy.
Scale aside, Kirkiles' sculptures are a pleasure to view simply because their subjects are so ordinary, so meticulously rendered and so defiantly analog. Seeing them in person is something of a relief in the Zoom era.
Kirkiles studied metal fabrication for his MFA at the Cranbrook Academy of Art in Michigan. Today he has a day job at a high-end architectural metal fabricating firm, reserving his art making for weeknights and weekends.
On his website, Kirkiles makes a point of insisting that his work's meaning doesn't go beyond its subject matter.
During the phone call, the artist gave that assertion some context: He has reverence, almost nostalgia, for well-designed, well-used, history-laden objects. He makes his sculptures in an old red barn on his property, Kirkiles said, "So my subject matter is things that would potentially be stored in an old barn that you wouldn't want to throw away — old tools, ceramic jugs, axes — those basic things that connect us all, [...] that are part of the New England vernacular. I'm fascinated by those things.
"Like the folding ruler," he continued. "That's an object in our collective memory that has maintained a certain style and shape and look that isn't readily disposed of. So, in terms of interpretation, the objects I choose to render need no interpretation; their meaning is self-evident."
Kirkiles pays homage to the folding ruler in two sculptural re-creations: "Folding Ruler Star," made from cypress, stainless steel and ink, whose oversize segments — 12 times the size of actual ones — are angled to form a star; and the painted mahogany-and-stainless-steel "Folding Rule No. 21," arranged as a balanced jumble. Both are affixed to high metal stands the artist fabricated.
"This is fully functioning, if you were to take it off [the stand]," Rogers enthused of the latter sculpture during a tour with Seven Days. Viewing "Beading Plane," whose enlarged, streamlined form is perched at a dynamic angle, he commented, "Theoretically, if sharpened, this tool would actually work."
As the museum's chief curator, Rogers rarely handles outdoor sculpture shows, which are normally the domain of associate curator Carolyn Bauer. But when he received a postcard of Kirkiles' New York City show five years ago, Rogers made a studio visit and fell in love with the work.
Kirkiles, who has devoted collectors, sent the card after seeing two of the museum's exhibitions: Maine artist John Bisbee's nail-formed sculptures, which comprised the first contemporary exhibit in the then-brand-new Pizzagalli Center for Art and Education in 2014; and the Kalkin House, a prefab building since removed from the museum grounds. "I was like, Oh, my God, the Shelburne Museum is cool! It's not this stuffy place; it has an exciting aesthetic to it," Kirkiles recalls.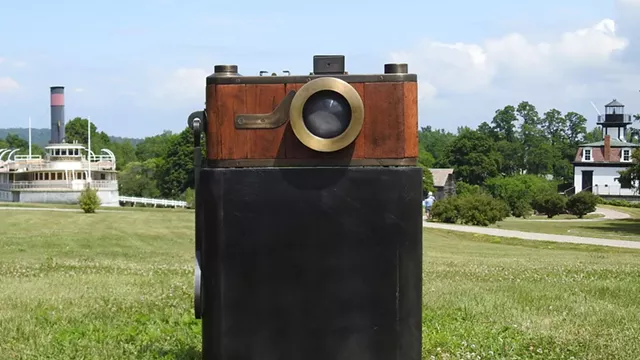 Courtesy Of Shelburne Museum
A sculpture by Peter Kirkiles
Both he and Rogers recognized that Kirkiles' work was uniquely suited to the venue. The artist noted that the museum's collection consists of "150,000 everyday objects," many of the mundane sort that his sculptures literally put on a pedestal.
Rogers further realized that the scale of Kirkiles' pieces often recalls that of 19th-century trade signs, such as large wooden keys that hung outside locksmith shops. The Shelburne Museum has an important collection of such objects.
During a Zoom artist talk with Kirkiles for members a week before the museum reopened, Rogers commented on the affinity between the "whimsical" nature of the museum and Kirkiles' work. The artist agreed.
"There is that 'Mister Rogers train set' kind of feeling [to the Shelburne Museum]," Kirkiles said. "The weird thing about installing my work there is that there is almost a seamlessness" between it, the buildings and the collection.
Kirkiles had Vermont connections before the show. Three years ago, he found a stash of old foundry equipment for sale on eBay and drove to Burlington to collect it. He uses it to make all his pieces by hand. (His materials are scraps collected from his day job.)
About a decade ago, Kirkiles discovered Waltham master woodworker Timothy Clark and hired him for a day to teach him dovetailing and other techniques. "He's the consummate Renaissance maker," Kirkiles said of Clark.
Kirkiles compared his own artistic practice to a farm-to-table restaurant, or "that guy in Middlebury who can make you a custom pair of shoes." (He most likely meant Dan Freeman.)
These days, Kirkiles said, "That's an uncommon thing, to be able to make something that's so straightforward. And that's what we're missing. Nowadays, in this high-tech world of virtual stuff, being a maker is weird.
"People romanticize it, and people put a lot of language to it, but it's still a viable thing to go out into the barn and make something," he concluded. "It's more powerful than any virtual thing."