Nestled deep on some newspapers' obituary pages a few weeks ago was a notice about the passing of 98-year-old Edith Kramer in Vienna, the city of her birth, on February 22. Along with the psychologist Margaret Naumburg, Kramer was one of the founders of and leading figures in the field of art therapy, a treatment that encourages people to use the creative process to work through emotional conflicts.
On her personal website, Kramer wrote in a kind of mission statement: "My therapeutic method is as old as mankind. Since human society has existed, the arts have helped man to reconcile the eternal conflict between the individual's instinctual urges and the demands of society. Thus, all art is therapeutic in the broadest sense of the word." Indeed, one of the great successes of art therapy is that its central ideas no longer seem particularly controversial: Making art can help us work through our emotional difficulties.
As it happens, Edith Kramer had a Vermont connection: She delivered a commencement address at and received an honorary art therapy doctorate from Norwich University in 1996. Her teachings and philosophy live on in, among other places, a show that has just opened at the Farrington Properties' Flynndog gallery in Burlington.
"March Forth" is the punning and appropriate name of the exhibit, which features artworks created by clients and employees of the mental health and substance abuse wing of the HowardCenter. This is the third such gallery show in a little more than a year, each of them organized by Bryant Pugh, 36, head of the HowardCenter Arts Collective.
The show is unusual in its inclusivity. "No art is going to be turned away," says Pugh, a HowardCenter mental health residential counselor, so long as a client or employee of the facility produced it. Each show has been larger than the previous one. While Burlington's S.P.A.C.E. Gallery featured about 60 works last November, "March Forth" has more than 100 — mostly paintings and a few sculptural works.
The collective benefited from donations, as well as a bit of luck. Bren Alvarez, architect with the Burlington firm Smith Alvarez Sienkiewycz Architects and curator of the Flynndog gallery, had a three-week gap in his schedule and donated use of the space during that time to the collective. Alvarez also donated funds to have the show's March 14 reception catered by the on-site Chef's Corner South End.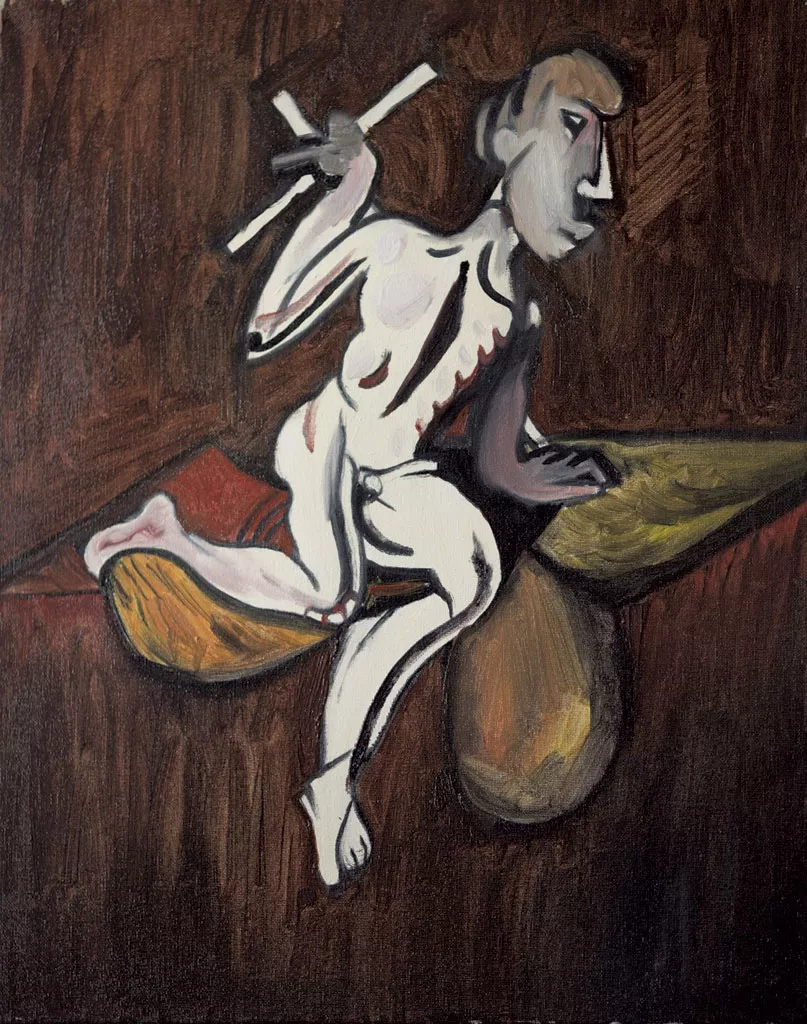 Tim Savard, an intense 28-year-old from Essex Junction, has more formal artistic training than the other artists who meet to talk with Seven Days about this story. He studied art and received awards for his works while a student at Johnson State College. Savard has exhibited his paintings in various venues around Burlington. He isn't specific about what brought him to the HowardCenter — he says he feels "trapped" by societal pressures — but his artworks speak with a strong voice. They're rich in religious imagery and bold colors and, though balanced compositionally, are composed of many discrete fragments.
Less complex but compelling in their hieroglyphic simplicity are the digitally created ink-and-paper compositions of Bonnie Gillespie, 67, of Burlington, who receives treatment at the HowardCenter for schizoaffective disorder. Gillespie's computer-aided drawings look almost like the characters of a lost language. But once she describes the scenes they depict, their shapes take on new meanings: The wiggles become waves, the circles a drowning child.
Gillespie declares, in no uncertain terms, that the process of making art has emotional value to her. "It's therapeutic ... to have that feeling of accomplishment," she says. "It makes you feel good about yourself, like you're worth something."
What Gillespie describes is not far off from Edith Kramer's take on the therapeutic value of art, which she called "a powerful aid in sorting out and mastering experience."
Tom Dunn, 58, of Colchester, has an easygoing attitude about the way art has helped him get control of his life. A tattoo artist for nearly 30 years, Dunn wears the inky totems of his former profession on his arms. A breakdown following a "rough divorce," he says, left him with tremors, a condition that prevented him from doing fine needlework on the bodies of his clients.
Dunn now makes walking sticks and canes, and has drawn and painted works for "March Forth." In those media, he says, the tremors "don't matter too much ... I've got a lot more freedom. Paints are pretty forgiving." Saying he'll now work in whatever medium is at hand, Dunn notes, "Now I'm learning to break all the rules I learned doing tattoos, and I'm having quite a bit of fun."
Comments like this — and the chuckles they elicit from fellow artists — make ebullient organizer Pugh light up even more. He's struggled with mental health issues himself, he says, and sees the arts collective as more than just a group therapy session that turns out artwork; it's also a way to create community. "We don't sit together and do art together," Pugh says, "but we are relying upon each other and getting advice."
The collective, he goes on, allows everyone at the HowardCenter to come together. "What I love about it is that, in the collective, you're not an employee or a client," Pugh says. "You're an artist."
"March Forth," on view at the Flynndog in Burlington through March 21. Reception: Friday, March 14, 5 to 8 p.m. flynndog.net