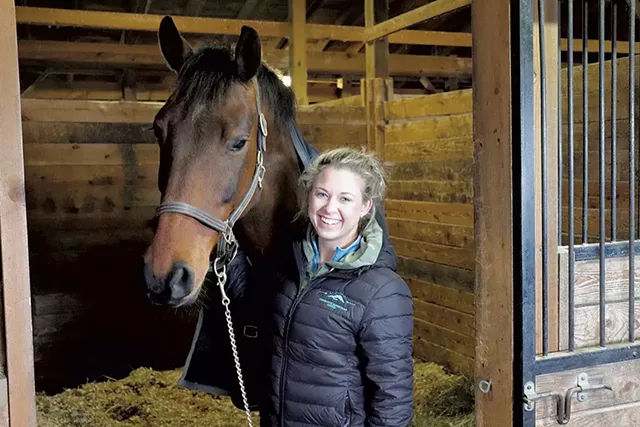 Ashley Meacham has a horseshoe tattoo behind her ear and a ring shaped like a snaffle bit resting above her sparkly pink fingernails. She twisted it around her finger absentmindedly as she walked the grounds of Charlotte Equestrian Center in early March.
Her 42-acre horse farm bustled with activity. In the indoor ring, a trainer worked with a horse. Outside, dogs ran free and a worker removed fence posts. Several veterinarians came in and out in trucks. This summer, after emerging from coronavirus-related shutdowns, the farm has been bustling again.
Meacham bought this place, a horse boarding farm previously known as Steeple Ridge Farm, for nearly $1 million when she was just 21. In the five years since, she's upgraded and added to the operation; she currently has some 50 horses under her watch. At least half of those belong to clients who pay Meacham and her team to board them. Most are working show horses, worth up to $100,000 apiece, that require around-the-clock attention, regular conditioning, and careful tracking of their feed and medicine. Charlotte Equestrian Center also offers lessons, coaching and training, and it facilitates horse sales.
As if that weren't enough to manage, Meacham also has a 2-year-old daughter. Suffice it to say, she's got a lot on her plate. Meacham is often in the barn for 14 hours straight taking care of the horses and giving lessons. Still, she said, "It doesn't even feel like work. I play with horses all day."
In early August, Seven Days checked in with Meacham about how the pandemic has affected her operations. During Gov. Phil Scott's "Stay Home, Stay Safe" order, she said, everything shut down — owners couldn't even visit the horses they were boarding at the farm. But Meacham said her lesson program has actually grown this summer, as kids look for new, socially distanced pastimes. She also plans to offer activities for the days when kids, many of whom are taking part in a hybrid model of schooling this fall, aren't in classes. Horse shows are just starting up again, too, Meacham noted. Her farm will host one August 29 and 30.
Below is Meacham's pre-pandemic conversation with Seven Days about starting a business in her twenties and the work that goes into caring for her equine charges.
SEVEN DAYS: What does a typical day look like for you?
ASHLEY MEACHAM: I get here at 7 a.m. The other night we didn't get out of here until nine o'clock. Each horse has its own file. In the file, it has the medications they need, their emergency contact. It's like a toddler going to school.
These guys are on such a schedule, and they're used to it. If we leave them outside a little bit longer than they're used to, they get wild, pacing the fences. Some of them want to get really hyper. Keeping them on a schedule reduces their stress, which can cause ulcers and colic. Horses are so sensitive.
We had a horse that came in the other night from Florida. She got off the trailer, and my barn manager and I were here to make sure she was OK. It's a stressful trip, being on the trailer for over 24 hours. That's where all the clients are thankful that I live here on the property. During the night, I checked on her every three hours. Thankfully, we were able to make her comfortable quickly.
SD: How did you get started riding?
AM: My uncle runs Thornapple Farm and does a trash route in Bristol and Middlebury with draft horses. My grandmother bought me my first horse and a ton of lessons. I started when I was 3 or 4, and I was competing. It was a childhood dream. I rode here at Steeple Ridge when I was younger, and I bought my first horse here.
SD: How did you decide to buy the farm?
AM: I went to college at Mount Ida, in Massachusetts. I studied equine management and business management. At first, I got a really nice job offer working for a show barn down there during my senior year. I was going to stay in Massachusetts. The horseback riding down there is way more established than here. But I missed my family. I'm such a homebody.
I was renting another facility around here and opened my business, and I outgrew the facility. So I was either going to build or I was going to purchase somewhere.
We called [previous owner Mindy Hinsdale] and said, "We're thinking about building a horse facility. What are the pros and cons to building one?" She was like, "I have grandkids coming. Do you want to just buy this place?"
My college let me do this place as a senior project. So my senior year was back and forth between my classes and Vermont, and meeting with the banks on weekends.
They were like, "Are you sure you want to do this, at 21 years old?" I said, "Yeah, it's my dream."
I presented my business plan to the bank. I worked with a bunch of professors at school. I graduated college in May and, two weeks after, I closed on this place. I still have not had a graduation party, because I've been so busy for five years.
SD: Was there ever a moment when you hesitated and thought, This is a lot to take on?
AM: There was! Right before I was about to close, I was like, "OK, my mortgages are really high." It took eight months to buy this place, because it took eight months to convince the bankers that I could do this. I have loans forever.
SD: What made you want to own a place and be the person in charge? It's so different from just working in a barn.
AM: I like to make my own schedule, and I'm so OCD about making sure everything is made out to a T. It's such a great feeling when you're at a horse show and you see one of your horses go in, and someone's like, "Wow. That horse is gorgeous. That horse looks great." It feels so awesome.
Being the youngest person, you have to build the trust with everyone. I know I take care of these horses. They're super healthy. They're all in show. They all look fantastic.