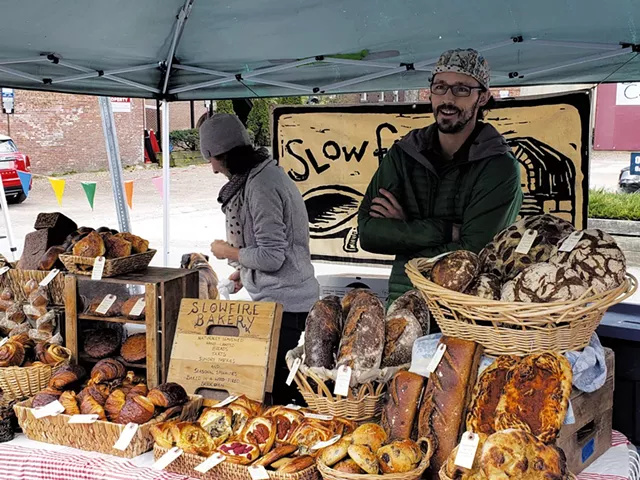 Matthew Roy
Scott Medellin at the Burlington Farmers Market
Scott Medellin of Slowfire Bakery guesses that Vermonters have access to more artisanal bread options per capita than residents of any other state in the nation.
No one seems to track such a number, but that's the Jeffersonville baker's way of acknowledging that he makes a product people can get elsewhere. So why does he bother to bring his loaves to the table?
"I ask myself that all the time," Medellin says with a wry grin.
The answer lies in the array of beautiful brown-crusted baked goods he displays at his booth at the Burlington Farmers Market in both summer and winter. The croissants shine with egg wash. The tarts frame vibrant hues of raspberry, squash and tomato, like little works of art. Baskets hold a bounty of breads, lightly floured and scored and slightly imperfect in shape — the hallmark of any handcrafted edible.
Slowfire Bakery, which Medellin started in 2010, embodies Vermont's culinary craftsmanship. It exemplifies the dedication to regional and organic ingredients, the willingness to devote sweat and hours to producing something special.
This is break-off-the-heel-and-eat-immediately bread; it smells as fresh as the plants that yield its grains, and the crust gives just slightly to the air-pocketed center. These are pastries with the requisite buttery flakiness, but also something extra that adds to their deliciousness: a bit of zest from the naturally leavened dough.
Slowfire offers a little slice of Europe — or many slices, from a variety of regions. There's a taste of Germany in the dense rye breads, a sample of France in the pastries and baguettes, a tribute to Italy in the focaccias and ciabattas. There's even a nod to the American South in the crumbly corn cakes.
Matthew Roy
A variety of Slowfire Bakery's fresh-baked breads
Medellin (like the cartel; his dad has Mexican roots) starts with traditional techniques but kneads in a twist. Most dark rye bread in the German or Russian style, typically pumpernickel, gets its color from the addition of coffee or cocoa, he notes.
Slowfire's version, by contrast, is quintessential Vermont. For his Black Rye, Medellin mixes in a dark malted barley from Andrew Peterson of Peterson Quality Malt in Monkton, who sells malty grains mostly to craft distilleries and breweries. The bread ends up with less of the "char and sugar" flavor of those commercial dark ryes and more nuance than Medellin achieved with any other malted grain.
"It just tastes so much more complex, more like coffee, roasted, toasted, chocolate — all at once," he says. "It's got that bitterness, but it also has a lot of other notes between sweet and bitter. It has notes on all parts of the spectrum."
Slowfire's fans speak in similar terms. They refer to the breads' elements of terroir, to their depths of flavor and to the virtues of their freshness.
"That's a huge factor," says Kyle Doda of 1000 Stone Farm in Brookfield. He trades shallots, mushrooms and other veggies with Medellin in exchange for fresh loaves. "He's up all night baking it."
In addition to bartering with Doda, Medellin uses Green Mountain Blue Cheese from Boucher Family Farm, Windfall Orchards apples and pears, and Bear Roots Farm leeks in the tarts (which he calls "Danishes"). Some are savory and some sweet. Ingredients and suppliers change with the seasons.
"It's always a priority to keep my money as local and regional as I can," Medellin says.
Michael Bisogno of Burlington, who has known Medellin for many years, appreciates that. At the farmers market on a recent Saturday, he bought a loaf of Heirloom Wheat and an Herb Country bread, which is his standard, he says: "It's fresh; it's cheery; it's got a hard crust. It's what I want out of bread."
Medellin is not usually chatty at the market. He rarely cracks a smile, even as a customer gushes over his goodies. He will, though, answer questions and describe his products and process.
One discussion he typically avoids, because it's complicated, is on the subject of sourdough. Most U.S. consumers think of sourdough as a specific variety of bread with an acidic flavor, which often comes from additives in commercially produced versions, Medellin says. People say they either love or hate it. Slowfire has a Country Sourdough bread and other products described as "sourdough" to appeal to customers who want them, Medellin says.
Matthew Roy
A variety of Slowfire Bakery's fresh-baked breads
But, he goes on, sourdough is really a method more than a type of bread. It refers to natural leavening without the addition of commercial yeast. In this sense, all of Slowfire's products are essentially sourdough.
Medellin makes a starter of flour and water and allows it to grow bacteria and natural yeasts and ferment over time. He alters the temperature and time of fermentation to produce different characteristics. Other elements aid fermentation and flavor: He adds a corn "juice," for example, to his polenta bread, and he blended apple cider into the starter for a cider-and-squash loaf last weekend.
Most of Slowfire's whole-grain flours come from Maine Grains, a grist mill in Skowhegan, Maine, that specializes in New England-grown organic heritage grains. Mills in Québec and Kansas supply the organic white wheat flour Medellin uses in pastries and some loaves.
"The products you're using and how they're produced definitely dictate how you're going to bake and what you're going to be able to bake with them," he says.
Medellin, 35, grew up in Lubbock, Texas, and graduated from the College of William & Mary in Virginia with a history degree. Assuming he'd end up in academia, he took the logical next step: working in restaurants. During the day, he delivered for Billy Bread, a beloved bastion of artisan baking in Richmond, Va., where he learned the basics of fermentation.
"This isn't rocket science," he says, "but it is a skill that you have to know about to do it properly."
Eventually, Medellin wanted a change of scenery. He moved to Vermont in 2008 and into a series of restaurant and food-related jobs, including a stint cooking at Starry Night Café in Ferrisburgh. During an earlier gig at Shelburne Orchards, he perfected a system for making cider doughnuts. He was baking, but the fryer was a far cry from the wood-fired oven that he used at Flack Family Farm in Fairfield, where he launched his business. Medellin built Slowfire's first bakery on another friend's farm in Jeffersonville and shifted to the current location nearby in spring 2016.
At the bakery, Medellin's workdays span about 20 hours, beginning around 2 a.m. when he starts mixing the dough. Only last summer did he buy an industrial mixer; before that, he mixed all his loaves by hand.
The mixed dough takes six to 10 hours to ferment, "proof" (or go through a final rise), and be shaped into loaves. Some breads go into Slowfire's brick oven, but most bake in an electric bread oven for consistency and efficiency. The last batch usually comes out of the oven close to midnight.
Medellin grabs a few hours of sleep before starting again. On Tuesdays and Thursdays, he packs up and delivers orders for the Farm Store and Hanley's General Store in Jeffersonville, Jericho Center Country Store, Jericho Market, and Philo Ridge Farm in Charlotte.
Matthew Roy
A variety of Slowfire Bakery's fresh-baked breads
Medellin's biggest push is Friday for the Burlington Farmers Market. During the busiest weekends, he often sells close to 275 loaves of bread, 175 tarts, and 175 croissants and other pastries, he says.
"The baguettes are the most constant thorn in the side," Medellin says. It's not easy to get the nice color, crust and grigne, which is the curl or "ear" that lifts away from the crust during baking. He scores each loaf, making diagonal cuts with a razor blade. "If you get it at the right angle, and if the dough is at the right stage of proofing, hopefully it opens up in that way," he says.
Slowly, methodically, with trial and error, Medellin has fine-tuned his technique. It takes patience and no small amount of perfectionism, plus a pinch of humility.
"I feel like I've barely scratched the surface," he says. "The more I do it, the less I feel like I know."
Medellin doesn't remember exactly how he came up with the bakery's name. It's a fitting reflection, though, of his own pace and process — like the slow-moving, methodical turtle on its logo, breathing fire into an oven.