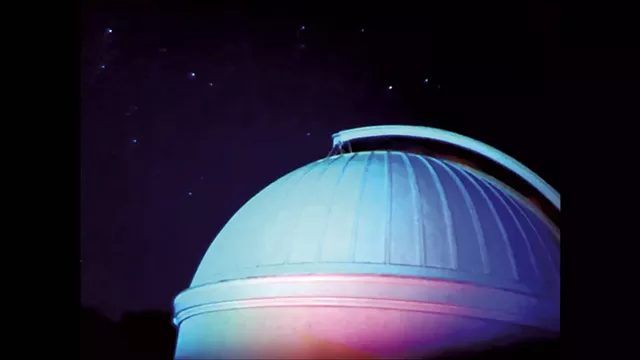 A still from 'Meridian Plain'
Throughout history, humans have gazed up at the night sky and pondered their place in the cosmos. But only since the moon was first photographed in 1840 have scientists been able to use such technology to advance their understanding of the universe.
The study of heavenly bodies has inspired not only knowledge but also art. This week, some astronomy photos will be on view in "A Portal to the Sky: Cinema and Space," an evening of short films by three experimental filmmakers. The event, billed as "an artistic celebration of the sky, space and worlds beyond," features works that use actual stills, archival images and long-exposure photography from space as source material.
The evening is part of the second annual SHIFT festival, 10 days of presentations, performances, classes, workshops, films and discussions at the Hopkins Center for the Arts at Dartmouth College. This year's festival, which runs from June 21 through 30, explores the push and pull between humanity and nature in the current Anthropocene era.
Among the sky-themed films screening on Monday, June 24, is "Meridian Plain" by Buffalo, N.Y., filmmaker Laura Kraning. A frenetic, 18-minute visual exploration of eerie, desertlike landscapes, the 2018 black-and-white avant-garde film was meticulously edited from tens of thousands of archival NASA images, captured from space and on the surface of Mars.
"Observando el Cielo" (which translates to "observing the sky") is a 2007 short by Jeanne Liotta. The 19-minute work, shot on 16mm film, took seven years to make and incorporates sound recordings by Peggy Ahwesh of naturally occurring VLF (very low frequency) radio waves, which are generated by the Earth's magnetosphere. These recordings "allow the universe to speak for itself," notes the filmmaker on her website.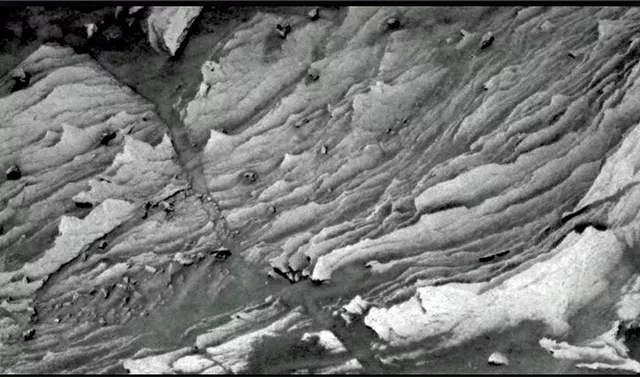 A still from 'Meridian Plain'
"Lunar Almanac" is a 2013 film by Malena Szlam Salazar, a Chilean-born filmmaker now living in Montréal. This four-minute visual diary chronicles the moon as it moves through the sky in ever-changing phases.
The evening will feature two experts from quite disparate academic disciplines: cinema production and computer science. The shorts themselves were chosen by Jodie Mack, an associate professor of film and media studies at Dartmouth College. Joining her is Dan Rockmore, associate dean for the sciences and director of the Neukom Institute for Computational Science at Dartmouth.
Mack, herself an experimental filmmaker and animator, pointed out that these aren't space-themed explanatory documentaries in the traditions of Neil deGrasse Tyson and the late Carl Sagan.
"But I think they're definitely creating bridges between artistic representation and science," Mack said. "They try to represent the soul of the universe."
Rockmore may be familiar to Seven Days readers for his work in launching the Neukom Institute's Turing Tests in Creative Arts. The annual, yearlong competition challenges teams of mathematicians, programmers and computer scientists from around the world to develop algorithms and software that mimic humans' ability to create music, poetry and literature. The competition is named in honor of British computer scientist Alan Turing and the Turing test, an assessment of a machine's capacity to exhibit behaviors that are equivalent to, or indistinguishable from, those of humans.
After the film screenings, attendees will be invited outdoors, weather permitting, for a telescope-assisted stargazing event with Dartmouth associate professor of physics and astronomy Ryan Hickox.