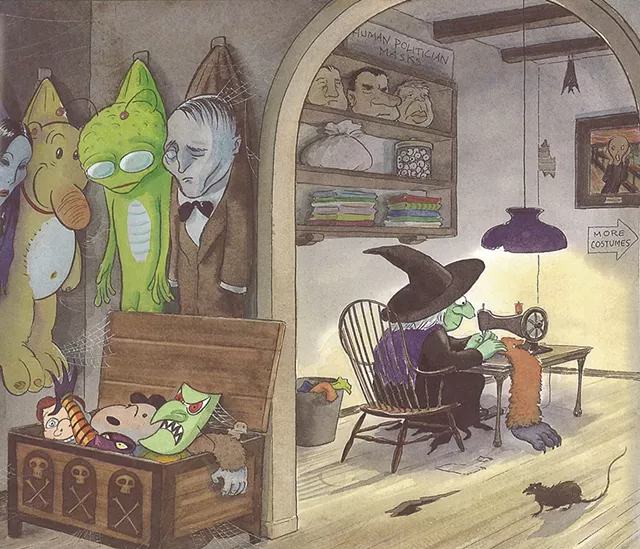 From A Very Brave Witch by Harry Bliss and Alison McGhee
I recently rediscovered a picture book I loved as a child: The Little Mouse, the Red Ripe Strawberry and the Big Hungry Bear by Don Wood. My mother had saved it for my daughter, who is now 3. I hadn't seen the images in at least 30 years. But when I cracked open the book, I swear my mouth watered. Instantly, I was a kid again, wanting so badly to take a bite of that giant, perfect berry that I could almost taste it. Such is the visceral power of a great children's book.
Vermont is home to many artists and illustrators who create quirky, magical and, no doubt, memorable books for kids. Twenty of them contributed artwork and books to the exhibit "Draw Me a Story — Tell Me a Tale: Vermont's Children's Book Illustrators & Authors," currently on view at the Henry Sheldon Museum of Vermont History in Middlebury.
Executive director Bill Brooks says he was surprised to discover how many children's book authors and artists live in Vermont. He doesn't have kids or grandkids to read to, and his nieces and nephews are all grown up, so it's been a long while since he delved into the world of picture books.
Brooks, who remembers loving Robert McCloskey's classic Make Way for Ducklings as a kid, was delighted to find that the current crop of artists is doing incredible work. "I don't think people realize just how competent these artists are," he says.
With the exception of a cool hands-on kids' playroom — complete with historical dress-up, a dollhouse, a tea party table and other antique toys — the Sheldon doesn't really cater to the preschool set. This exhibit provides an opportunity to bring in a different crowd, says associate director Mary Ward Manley. "Definitely a younger generation has been coming in and having fun," she says, "and staying longer than they ever would normally."
Brooks and Manley worked with Middlebury College student intern Olivia Tubio to curate the show. They arranged beanbag chairs and other comfy seating near the featured books and framed artwork, so it's easy to cozy up and enjoy a story.
Instead of a guestbook, this exhibit features an "illustrator book" in which visitors can scribble their thoughts and impressions. One kid drew a pig wearing a dress and holding an ice cream cone and a purple umbrella while balancing a kitten on its head.
The curators invited artists to share some of their process by including preparatory sketches and notes. South Ryegate artist and naturalist Jim Arnosky presents beautiful field notes and sketches to accompany his exquisitely rendered wildlife imagery in Creep and Flutter: The Secret World of Insects and Spiders.
"Jim Arnosky is incredible. He has done 130 books," says Brooks, flipping through one of them to reveal engaging close-up images of grasshoppers. "These are paintings, not photographs," he marvels. "I had no interest as a child in any of this stuff, but I think I would have if I'd read these books."
In her preparatory drawings for Baby Bear Counts One, Ashley Wolff describes her linocut methodology: "I carve away everything that I don't want to print. Think of it like a giant rubber stamp."

From Gravity by Jason Chin
Harry Bliss, best known for his droll New Yorker cartoons and covers, displays engaging artwork from his books A Very Brave Witch (written by Alison McGhee) and Grandma in Blue With Red Hat (written by Scott Menchin). Bliss spoke at the museum on Monday, September 18.
Jason Chin's watercolor paintings are fantastical: One, from Gravity, depicts an astronaut floating in outer space surrounded by everyday items such as an umbrella, a partially peeled banana and a child's shovel. In another, from Coral Reefs, a girl explores an underwater New York Public Library bustling with colorful fish and a sea turtle.
Bethel artist Janet Hayward Burnham, whose whimsical illustrations accompany sweet poems, donated some of her books as prizes for visiting children who complete a playful scavenger hunt through the exhibit. Her poem "Everyday Clothes," which appears in folksy script alongside a drawing of a moose and a pine tree, will resonate with parents of children scared of shadows:
It was only / my own jeans jacket / hanging on my own closet door / that scared me plenty / one dark night... / until Grandpa came / and switched on the light, / and told me how / he himself had been scared / by an old tweed suit / pinned to a clothesline / in a neighbor's dark yard, / when he was nearly eight, / and mostly quite brave. / And he said, / it was really quite common / as far as he knew, / to sometimes be scared, / when the light was just right, / by everyday clothes.
Thacher Hurd, whose father, Clement Hurd, illustrated the timeless bedtime book Goodnight Moon, presents his pastoral watercolors from Tomato Soup and Blackberry Ramble in the show. Phoebe Stone's brightly colored pastel illustration from When the Wind Bears Go Dancing features a girl in a floppy, flowery hat riding on a tiger's back. "Phoebe looks just like that," notes Brooks.
Mary Azarian's woodblock print from A Farmer's Alphabet is perhaps the Vermontiest image in the exhibit: U is for underwear, represented by a child in too-big trapdoor long johns warming up by a hulking woodstove.
From Wind Dragon by Janet Hayward Burnham
Photography is on display, too, such as Jan Reynolds' searing portrait of a 16-year-old Sherpani traveling the Himalayan salt trade route, from her Vanishing Cultures series. Peter Lourie documented his canoe trip from the Adirondacks to the Atlantic Ocean in Hudson River: An Adventure From the Mountains to the Sea. One arresting photo, titled "Paddling to the Mountains of Glass and Steel," shows the author in lower Manhattan, floating in his tiny boat in the shadow of the sparkling, towering World Trade Center.
Book lovers of all ages can find something to engage with in this diverse exhibit. One lush oil painting particularly stood out to me. It's an image from Middlebury artist Deirdre Gill's Outside, the story of a little boy trying to convince his older brother to play with him in the snow. It's one of my favorite books to read with my daughter. While his brother stares idly at screens indoors, the little boy embarks on an adventure, building a majestic snow palace with the help of a kindly snow giant and then catching a ride with a fiery dragon.
When we read it together, Joni always lingers over that image: The boy in his winter coat and mittens clinging to the dragon's back as it soars silently over his snow-covered house at sunset. It's easy to imagine her soaring back onto that dragon when she sees the book again, years from now.