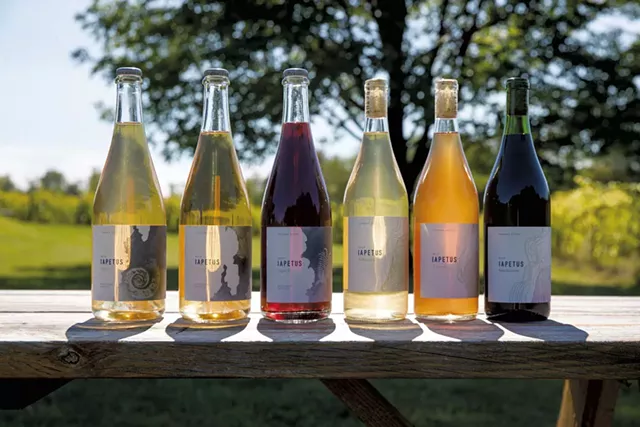 James Buck
Iapetus wines at Shelburne Vineyard
Shelburne Vineyard winegrower Ethan Joseph stood at the back of the winery at the end of a long harvest day. Wearing green Carhartts, rubber boots and a less-than-clean button-down shirt, the bushy-bearded redhead twisted a corkscrew into a bottle of wine, popped the cork and poured three glasses.
Pale salmon in color and a little cloudy — similar in hue to a high-autumn grain field at sunset — the wine was pressed from hybrid La Crescent grapes, which Joseph fermented with their skins in a steel tank for 55 days last fall. A spin of the glass released the fragrance of nectarines and ripening peaches; a sip conjured citrus and pepper.
A second tip of the glass brought on white cherries and a little wet-wood funk, absorbed during the wine's many months in neutral oak barrels. By the third sip, I struggled to identify what, exactly, I was tasting.
The enigmatic orange wine — called Tectonic — is one of several ferments produced at the vineyard under the Iapetus label. Joseph crushed the first grapes for his natural wine project in 2016; its first vintages went public in late 2017.
Tectonic isn't the kind of wine you'd expect from Shelburne Vineyard, where founder Kenneth Albert planted some of Vermont's first wine grapes in 1998. For most of its 20-year history, the vineyard has produced clean-drinking, straightforward wines that most tourists rolling in off Route 7 could appreciate.
Over the years, Albert, along with partners Scott Prom and Sam Coppola, increased the farm's plantings to 16 acres spread across three sites in Shelburne and Charlotte.
In 2008, the company opened an expansive winery and tasting room just south of Shelburne village. Soon thereafter, Joseph, a central New Jersey native, left an environmental science career at the University of Vermont and joined the winery full time.
Iapetus takes its name from an ancient ocean, the floor of which rose to form New England and Appalachia some 500 million years ago. Sediment from the sea provided the raw materials for our region's bedrock.
In geologic time, humans fermented the world's first wines mere moments ago. Thinking in those terms, Vermont's 20-year winemaking history is immeasurably brief. But Joseph places his work on an ancestral continuum. "You commit your whole life to making wine," he said, "and then other people carry it onward."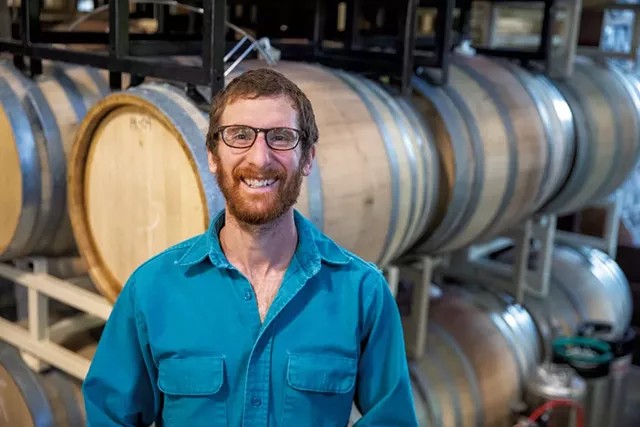 James Buck
Ethan Joseph
Natural vintners manage their plots using techniques developed long before chemical pesticides and fertilizers existed. They gently process the grapes, often by hand — or foot stomping — and leave the juice to ferment by virtue of the ambient yeast on the fruit. These methods fell out of favor as wine production industrialized over the past couple of centuries. What's old is new again.
Albert credits the project entirely to Joseph and his team, which include assistant winegrowers CJ Buzzy and Josh Stecker, vineyard and cellar hand Tyler Mackelvey, events manager and marketing specialist Sam Rheaume, and tasting room and wine club manager Tory Walters. All of them range in age from mid-twenties to mid-thirties.
Iapetus also represents a return to the vineyard's organic roots. "We were probably one of a handful of wineries east of the Rockies that had formal organic certification," Albert said of the early years.
But Vermont's cool, wet climate got the better of the grapes. "We watched the quality of the [wine] decline as more and more disease found its way to the vines," he continued. The winemaker abandoned organic cultivation.
Over time, the vineyard added acres of cold-climate hybrid grapes better adapted to Vermont weather. And the farmers learned to manage the vines in ways that diminished their reliance on synthetic chemicals. Fruit quality improved.
"That gives you a chance to do things in a natural way," Albert said. "So it's sort of a manifestation of what we tried to do in the beginning."
When Joseph fermented the first Iapetus wines, the market was already trending au naturel. "[Considering] the national and worldwide movement of natural wines," Albert noted, "it's a logical way for us to go."
The new wines have already broadened the vineyard's reach. "It's the magic kind of wine you need to sell out of state," Albert said, referencing the growing number of restaurants and bars clamoring for small-batch, artisan ferments.
In Stowe, Cork Wine Bar & Market built its business around selling natural wines. Assistant wine manager Emily Belanger parsed the wines' appeal in fresh-juice terms. "Think of drinking a bottle of Welch's grape juice versus a bottle of apple cider from an orchard you went to," she said. "The cider might be hazy, slightly fizzy; it might have leftover sediment at the bottom."
Similarly, Belanger continued, natural wines retain traces of the winemaking process. "The wine might have a little earthy funk to it," she said. "It might taste of beeswax or honeydew melon or have these unexpected flavors. They haven't been filtered to the extent of being inert."
At $25 to $30 per bottle, Iapetus wines are pricier than most of Shelburne Vineyard's main-label offerings. But they're on par with other brands on the natural wine spectrum.
James Buck
Grapes on the vine at Shelburne Vineyard
"I didn't want to price myself out," Joseph said. "Wine-drinking demographics are shifting. Millennials drink wine differently. At our scale, our target market [for Iapetus] is people who are ready to try something new and more personal."
Younger drinkers, he added, are often willing to pay a little more for something unique and surprising. They're more likely to embrace unusual flavors and to value the story of the wine. Plus, the state's quality food-and-beverage reputation gives its natural wines a stamp of desirability.
That interest is new. Until lately, Joseph said, "people would try Vermont wines once and not revisit them." But in recent years, Barnard-based winemakers Deirdre Heekin and Caleb Barber of La Garagista have gained national attention for their rustic homegrown vintages. That's opened oenophiles' minds to the idea that Vermont can produce nuanced, interesting and delicious wines.
At Cork, Belanger said that the wine nerds who frequent the shop are often thrilled with the local selections. "They totally geek out about La Garagista," she said. "Then we offer them Ethan's wines, and they're just excited. These wines have total street cred."
Back in Shelburne, Joseph stood near a steel tank filled with what will become 2018's effervescent Figure 1 pét-nat. The grape, L'Acadie blanc, formed the basis of Nova Scotia's wine industry back in the 1970s, he said, but Shelburne Vineyard is the first commercial vineyard to grow it stateside.
"I had to petition the [federal Tax and Trade Bureau] to recognize the variety," he said, so he could name it on the label.
Nearby, another tank bubbled with Itasca, a University of Minnesota-bred grape that's so new, "nobody has made wine with it outside an [academic] setting," Joseph remarked.
Where does a winemaker begin when working with a totally untested fruit?
"You just have to start somewhere," he said.
When Marquette — Vermont's most widely planted red grape — entered the scene in the mid-2000s, no one knew how to work with it. Albert and other local vintners took some cues from traditional treatments for pinot noir, one of the grape's genetic parents. But even now, Joseph said, "We'll be learning [how to make Marquette] for the next 20 years."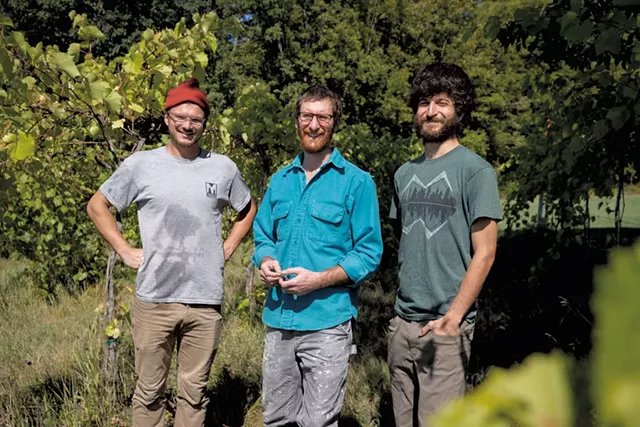 James Buck
Winemaker Ethan Joseph (center) with assistants CJ Buzzy and Josh Stecker
With Itasca, Joseph and his crew hedged their bets on a few different approaches. They placed whole, de-stemmed grapes in a barrel to ferment; they crushed and pressed others and fermented the juice; they placed some of that juice in another barrel with the grapes' skins.
Which will work best? The winemakers will take note as the wines reveal themselves over the next 12 months or longer. Then they'll try again when the 2019 harvest comes in.
"Wine growing is a long-term pursuit," Joseph said later, pouring a glass of Figure 2 La Crescent pét-nat. "That's one of my favorite things about it."
Figure 2 smelled of honeyed grapefruit and fresh spring air; on the tongue, tiny bubbles popped with flavors of pear and straw and bake-y qualities reminiscent of a lemon muffin.
Joseph learned a concise, measured approach to winemaking while working under Albert, and his wines fall on the cleaner end of the natural realm. Other Vermont-made wines might present a more rustic, ragged funk; Joseph said the state's evolving status as a wine producer gives its makers a sense of freedom.
"We are all in this to figure it out," he said. "Everyone who's here wants to be doing this here. I have very little interest in going off and continuing my career elsewhere. I want to be on the edge of developing a new wine region.
"We're bringing the world an entirely new thing!" Joseph continued. "When you step back and think about that, few people have that opportunity in their lifetime."
Outside the winery door, a tall old ash at the edge of the vineyard cast shade on the grass. Trellised rows of grapes stretched south, their leaves tinged yellow with late-afternoon light. The vines, bare of fruit, waved languidly in the breeze.
During the madness of harvest, Joseph said, he likes to soak in the stillness after everyone goes home, listening to the bubbles percolating through the tanks as early fermentations begin.
"In September and October, I could just live here," he said. "I miss my wife, but this is why we do everything else for the other 10 months."