James Buck
Nick Cowles
On a rainy October morning, under the metal roof of the farm stand at Shelburne Orchards, the falling water sounds like a percussionist playing overhead: a steady beat, the ping, the patter, the rolling crescendo of a downpour.
Elsewhere on the property on the same morning, rain thrums on a different roof, the thick dirt and grass one that covers a brandy cellar — and below the sod is silence. In the cellar where 3,000 gallons of apple brandy are aging in wooden barrels, the voice of Nick Cowles breaks the spell of quiet.
"I talk to these barrels," Cowles says. "I tell them that I'm very, very excited that they're here and part of my life. And they've got a job to do out in the world."
Cowles, 67, owner of Shelburne Orchards, distills apple brandy from hard cider. He makes the cider from apples he raises on the land where he grew up, where 60 of the 100 acres are in apple production. The endeavor turns the fruits of fall into a specialty spirit that grows in flavor and value over time.
This fall, visitors to Shelburne Orchards can sample (and purchase) Dead Bird Brandy, which is ready for market after seven years of aging. Cowles offered his first "tease" of the product in 2011, not long after it had begun to age; in a one-day holiday release last December, the orchard sold 300 bottles, Cowles says.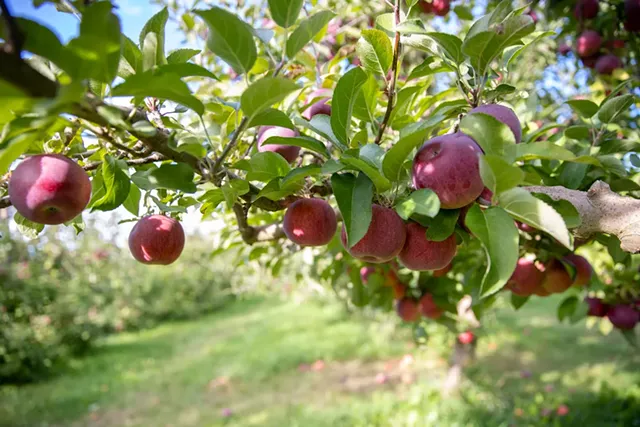 James Buck
Shelburne Orchards apples
In preparation for the official release of the brandy, which is for sale only at Shelburne Orchards, Cowles has transformed a storage area at the property's pie and doughnut house into a small tasting room. He built a bar from old apple bins and installed windows, including one that looks west to the lake. A walkway will connect the tasting room to a porch for outdoor sipping.
The label on each bottle of Dead Bird Brandy is signed by Cowles and marked with the date it was distilled and the number of years it aged in his cellar, which is just an apple toss from the pie house. Obscured by its sod-covered roof, the cellar is behind a gate set in a wooden archway and inlaid with artwork depicting an apple tree. Flanking the gate are two crab apple trees growing fruit for the spirits. The variety, called Hewes Crab, was used by George Washington and Thomas Jefferson to make hard cider, says Cowles.
"I guard this space with my life," Cowles says of his cellar. "I have 3,000 gallons of brandy in here. What can go wrong?"
The room is intoxicating, with its smells of alcohol, oak, earth "and time," Cowles suggests. Small barrels of experimental brandy, mixed with vanilla beans, cherry cordial or ginger, age in the rafters. Pots of melted wax for sealing the bottles stand on a work bench. Cowles' approach to craftsmanship and construction — a mix of practical know-how and artistry — is evident in the cellar's earthen roof. He didn't need an engineer to test its strength, he says. If it can hold the bucket loader and the dirt he used to make it, it should be OK.
Distilling booze has roots in Cowles' youth, when he made brandy with a Shelburne farmer who had a hidden still on his farm. The drink was terrible, he says, but he learned "the mechanics" of distilling. As Cowles describes it, it's an endeavor that looks toward the future, promising a better product yet to come. The varieties of apples he's grafting now for making brandy won't be ready for 10 years. After that, the spirits will need to age for another decade or so.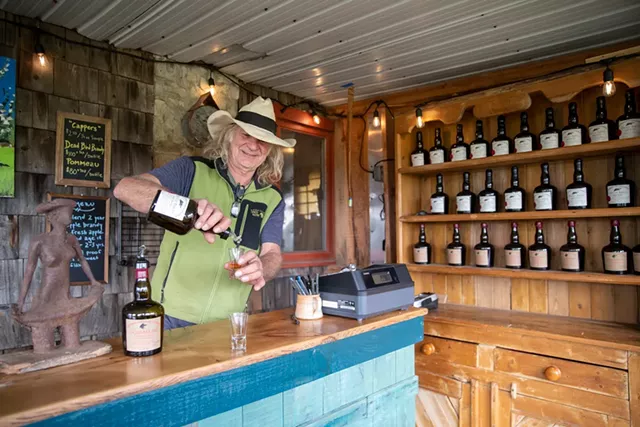 James Buck
Nick Cowles
"I think that you don't learn to make good brandy in one generation," Cowles says. "It's the next generation that's really gonna get the golden years of this whole thing. And I love that."
By turning his apples into this value-added product, Cowles can mitigate the vagaries associated with agriculture — "the whims of the weather gods," in his words. "I'll pass it on to my daughter," he says. "We'll have a product that we can sell that doesn't depend on the crop. It will be income-producing in hail or if a hurricane comes through."
In the present, making brandy is a vital piece of Cowles' work at the orchard — an effort that fascinates and intrigues him. He liberated himself to pursue a new project about 15 years ago by moving the packing and storing operation out of his cider house. Before then, the winter months were spent sorting and packing apples into three-pound bags for sale at area grocery stores.
"It was boring slave labor, and we were getting bad money," Cowles says.
By placing the emphasis on getting people into the 6,000-tree orchard for apple picking and other events, Cowles and his crew were able to shift their business model to one focused on pick-your-own and retail sales at the orchard store. (In addition to apples, the store sells peaches, pears and plums raised at the orchard, as well as cider, gourds, vinegar, doughnuts, pies and more.)
When Cowles got rid of his packing line, space opened up in the cider house, a place that turned out to be just right for a little distillery. He bought a copper still in 2009, hand-hammered by a still maker in Portugal, and set it on a brick foundation he made. On top of the still, he placed the "spirit of spirits" — a copper figure he sculpted 20 years ago. "I had no idea I was making the hood ornament for my still," Cowles says. "She's perfect up there."
When the fall season winds down at the cider house, Cowles starts distilling brandy from the cider he's fermented — an evaporation process that turns the liquid from 5 percent to 60 percent alcohol. The cider is made from sweet eating apples raised at the orchard and tart, high-tannin varieties Cowles grows specifically for his brandy, including Golden Russet, Ashmead's Kernel, Cox's Orange Pippin and Dabinett.
On snowy mornings, Cowles likes to sit on the couch by his still hours before the sun comes up, playing mandolin, watching the temperature gauges and feeling the steam in the room.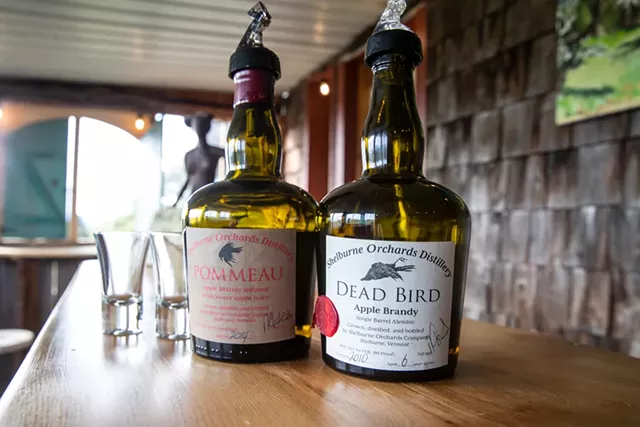 James Buck
Shelburne Orchards Brandy
Every few days, he trucks brandy down the hill to the cellar. There, he sits atop an oak barrel and pours booze from a five-gallon stainless steel milk can into the wooden vessel where it will age. He moves from barrel to barrel, filling each.
"It's so satisfying," he says. "You fill the barrel up. Then you put the bung on the top and whack it with a wooden hammer, a bung whacker."
On the first day of spring, Cowles will open the doors of the cellar and play a recording of Antonio Vivaldi's "Spring" from The Four Seasons for the barrels "resting" inside.
"The brandy absorbs all kinds of energy," he says. "I really believe that a big part of what you get when you drink the brandy is the story of [its] time here in this room."
Cowles filled his first barrel of brandy on December 6, 2009, the day his grandson, Nicholas, was born. He plans to crack that barrel on December 6, 2030, Nicholas' 21st birthday.
Cowles will be 80.
"When I go to buy a bottle of brandy, I look for the 20-year bottle," Cowles says. "I'm 67 right now, and I'm looking at my watch and I'm thinking, I better start right now if I want to taste the 20-year-old bottle."