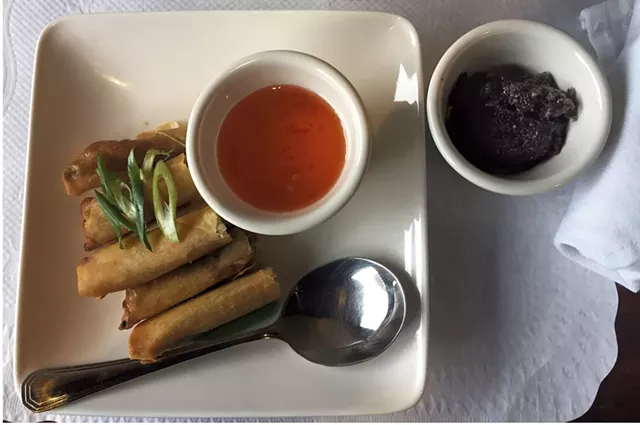 Hannah Palmer Egan
Lumpiang Shanghai
In a Scholastic Aptitude Test analogy, pica pica would be to the Philippines what tapas are to Spain. The term — which describes small plates made for sharing, most often in groups, and for eating alongside beverages — is also the name of newish St. Johnsbury restaurant Pica-Pica Filipino Cuisine, which opened last September on Main Street.
The name also reflects owner and Manila native George Sales' dual mission to bring people together around food and to share his home country's culture and cuisine with his adopted community.
Toward that end, Sales has enlisted as his collaborator David Hale, the chef at the Hilltopper Restaurant, a teaching kitchen for St. Johnsbury Academy's culinary program, he told Seven Days. Sales also hires students from the school's special education program to work part time rolling silverware and wiping down menus. Most of the service staff are academy students and Hilltopper alumni.
During service, the youth chat easily about the ingredients, preparation and cultural significance of this or that menu item, as well as about Filipino culinary culture as a whole.
"I make it a point of making sure the [students] really know the country and the culture, the [character of the] people inside out," Sales said. "That's really your ticket into a country's food." And, he added, "I emphasize that working here is not just putting food on the table — it's providing the experience."
The Pica-Pica experience — that is, the restaurant and its namesake style of food — Sales said, is less about a specific dish or series of dishes than context. "It's about a warm setting," he described. "It's relaxed; it's comfort foods. And it's always shared with friends or family."
Sales left Manila for Washington, D.C., in 1986 at the age of 17 — his mom's family was already there, so he and his family followed. Later, Sales and his partner, who's from Barre, worked as corporate consultants. But in 2013, they traded the urban "rat race" for a more relaxed lifestyle in Vermont.
Hannah Palmer Egan
Tokwa't baboy
In the Philippines, Sales said, eating and leisure time go hand in hand. "Food is pretty much center, left and right all around the country," he explained. "That's what the culture is all about. Everyone just revolves around the kitchen table or the dining table."
While individual plates tend to vary among the nation's 7,000-plus islands — along with the language and local customs — they often embody an amalgamation of influences. That's due in part to more than 400 years of Spanish rule and a long history as a Southeast Asian trading hub and stopover.
So, a plate of crisp Lumpiang Shanghai, or finger-size spring rolls stuffed with ground pork, minced shrimp, veggies and spices and fried to a delicate crisp, would have fit right in at a Chinese or Thai spot. And a bowl of traditional kare-kare (oxtail stew), with its creamy sauce and stewed bok choy, resembled an Indian curry at first glance. But a bite revealed that it's richened with peanuts and shrimp paste — ingredients that again nod to Thailand and China.
Regardless of the plate's provenance, it's excellent with a glass of crystal-clear, straw-colored San Miguel pilsner — the Philippines' best-selling brew. In plate after plate during an early solo dinner last week, I marveled at how nearly every bite paired beautifully with beer.
Nowhere was this more apparent than in a dish of allium-scented Tokwa't baboy (fried pork and tofu), served cool with a scattering of mandolined green onions. Generous hunks of pork belly, steeped in stock and vinegar and salty with soy, seem to scream for a beer chaser.
"This is often served to accompany gatherings," Sales said later by phone. "People are usually drinking beer and hanging out after work. So it's not uncommon to find a group of friends in a corner restaurant ordering baboy while they're chatting and laughing."
Even on a cool March afternoon in Vermont, in a quiet restaurant with only myself for company, it was an easy scene to imagine. The bright flavors of the meat and the cool, malty wash of the beer were enough to take me there.