Glenn Russell
Philo Ridge Farm in Charlotte
On a mid-August morning at Philo Ridge Farm in Charlotte, sheep were grazing the paddock near the one-acre market garden as a straggler from the cow herd moved out to fresh pasture across Mount Philo Road. A group of 15 visitors sampled farm-grown zucchini sticks and mint leaves offered by tour guides who led them past rows of leafy greens shrouded under white fabric to protect them from pests.
Among the vegetables, perennials such as elderberries, highbush cranberries and hazelbert trees (a hazelnut and filbert cross) had been planted to attract pollinators and other beneficial wildlife, as well as to provide a windbreak for the ridgetop garden, detailed Francine Stephens, Philo Ridge's food and farm director.
All the farm's animals, including laying chickens and meat birds, she said, are moved regularly through the fields. This method, called intensive rotational grazing, is optimal for livestock, soil health and overall ecosystem resilience.
Philo Ridge's approach falls under the category of "regenerative agriculture," Stephens said, offering what she called a "super-simplistic" definition: "We're trying really hard to put more nutrients into the soil than we're taking out."
The tour was the third of 10 scheduled at Philo Ridge during Vermont Open Farm Week, August 13 to 19. It was one of dozens of farms around the state that welcomed visitors for a behind-the-scenes view into diverse agricultural operations. Attendance at the tours was good, even "a little overwhelming," said Stephens.
It's not surprising that interest in Philo Ridge Farm is high. As farm co-owner Diana McCargo noted during the tour, the former five-generation dairy farm, which is anchored by a historic red brick farmhouse at the junction of Mount Philo and Hinesburg roads, "had always been an iconic cornerstone of Charlotte."
Longtime neighbors of the property, McCargo, 60, and her husband, Peter Swift, 70, decided to buy it in 2012 when it was at risk for development. The couple would have preferred to stay under the radar, but that was nearly impossible given the farm's high-profile location and their ambitious mission to reinvent a worn-out dairy farm as a model of environmental and financial sustainability.
After they became farm owners, McCargo told the tour group, "We asked ourselves, 'What do we do to keep all this land in active agriculture?'" She and Swift knew the traditional dairy model was not working very well anymore. "Vermont's long been an agricultural state, but it's hurting right now," she said. "We want to be part of the new thinking."
Neither had any farming background, although McCargo is a lifelong avid gardener and involved with the local historical society. Swift is a retired physician.
These are not people who retire to a golf-course condo in Florida. "We're really spending our retirement years trying to do something creative, something good," McCargo said later. "This is important to us on many different levels. It is our neighborhood; it is our community. It's giving back to the community, preserving this historic landscape."
On top of the $1 million purchase of the farm, McCargo and Swift have since put significant time and money into rebuilding the farm's infrastructure and restoring ecosystem balance to about 400 acres of pastures and woods. They are collaborating closely with University of Vermont Extension agronomy researchers to measure and share results.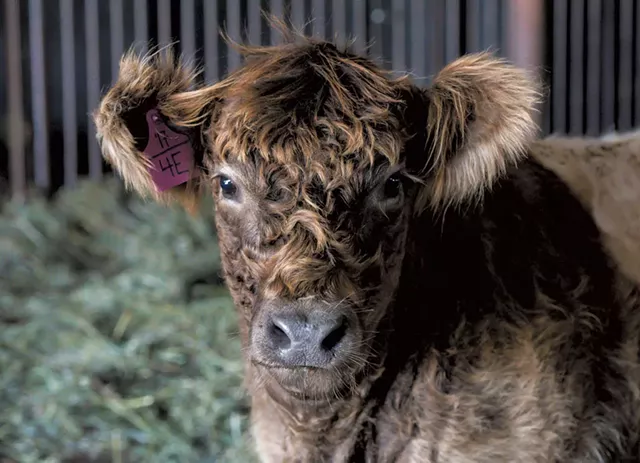 Glenn Russell
Belted Galloway cow at Philo Ridge Farm
On July 4, Philo Ridge's owners took a major step by opening their farm market in a beautiful new barn-style building designed as the community heart of the property.
This is not your standard Vermont farmstand. The market and deli offer a menu of prepared foods made on-site with farm-raised meats and vegetables, freshly baked pastries and breads featuring local flour, a range of fresh and frozen Philo Ridge products, and other local and gourmet foods.
Customers can order at the counter and then enjoy slices of excellent, chewy-crusted pizza, roasted farm chicken and farm-fresh salads on an outdoor deck with a view of some of the 1,000 recently planted trees. There's also a spacious indoor dining area with a window into the gleaming professional kitchen with its hanging rack of copper cookware.
The goal is to sell all farm products directly on-site and cut out the distribution step, thus delivering more of the revenue to the farm itself, Stephens explained. "We want to bring people to the farm [and] to our new market to buy our products."
The farm's executive chef is Stephens' husband, Andrew Feinberg; they previously owned a groundbreaking Italian restaurant in Brooklyn called Franny's. The New Yorker called it "as close to perfect as a restaurant can get." But, after a 13-year run, the couple unexpectedly closed it last summer. They had decided to relocate their family to Vermont, where Stephens had attended UVM, even before the opportunity at Philo Ridge came to their attention.
McCargo and Swift prefer not to disclose their total financial contribution to date, but Philo Ridge's impressive operation includes several large, new, historically appropriate buildings and 18 full-time staff, plus extra seasonal help. This scale of invesment could reasonably prompt farmers lacking deep pockets to raise an eyebrow: How extensible a model can Philo Ridge be?
"We've had to spend a lot, but this is a unique situation with the historic preservation of the old buildings and the heavy lifting required to put the land back into production," Swift explained. "Once we have a model, we hope people can take pieces of it."
On the soil-research side, UVM Extension research associate Juan Alvez noted that Philo Ridge has provided a unique opportunity to closely monitor the transition of fields from conventional dairy to a regenerative, diversified approach. He's been working for several years with the farm's livestock and land-management teams to implement and evaluate studies and has already presented promising early research results.
"It's widely applicable and replicable," Alvez said, "regardless of the [farm's] size and the capital they have access to."
Bruce Hennessey, farmer and co-owner of Maple Wind Farm in Huntington, brought his cattle over in the early days to get grazing animals back on the land; Maple Wind now processes Philo Ridge chickens. As a practitioner of rotational grazing since 1999, Hennessey acknowledged there is a "real lack of research on the benefits. Lots of farmers are doing this; we just haven't been able to do serious research to prove our own anecdotal experience that it works to build nutrients as well as carbon and water-holding capacity in soil."
"They're doing a lot of work to improve the soil, doing it the right way," said Tom Kenyon, longtime farmer-owner of Aurora Farms and Nitty Gritty Grain Company. He cultivates organic corn and wheat in Charlotte and Shelburne and sells some of it to the Philo Ridge farm market. "They seem to be putting their money where their mouth is," Kenyon said.
McCargo and Swift have another tool in their arsenal that they hope will help make their investment and experience leverageable by other farmers.
During a conversation following the August tour, the couple was joined by McCargo's daughter, Meriwether Hardie, 31, who grew up next to Philo Ridge Farm but now lives in Denver, Colo. She works for Bio-Logical Capital, which was founded by her uncle, Grant McCargo, who serves as managing director and CEO. The company's goal, Hardie explained, is to envision and support new models for "how we grow food, how we produce energy, how we protect land, how we build and protect habitat for wildlife and for humans."
Through Bio-Logical Capital, she is supporting Philo Ridge with planning, human resources and financial management, and she will develop business models to share. The family specifically decided against establishing Philo Ridge as a nonprofit, Hardie explained: "We believe the way to protect land forever is to create a business model that will support it."
That said, the family also recognizes that many farmers have limited financial capacity to ride out a new approach with an inherently longer return on investment. Bio-Logical Capital works with many investors willing to consider slower payback for projects that contribute to healthy environmental and social systems.
"We need models as examples to show it can work," Hardie said.
"This is a big experiment. It's hard. It's daunting," conceded McCargo. "It takes a tremendous amount of brainpower and resources." But, she added, "it's exciting and inspirational at this time of geopolitical uncertainty to work locally and in your own community with such a team of experts towards a common goal."