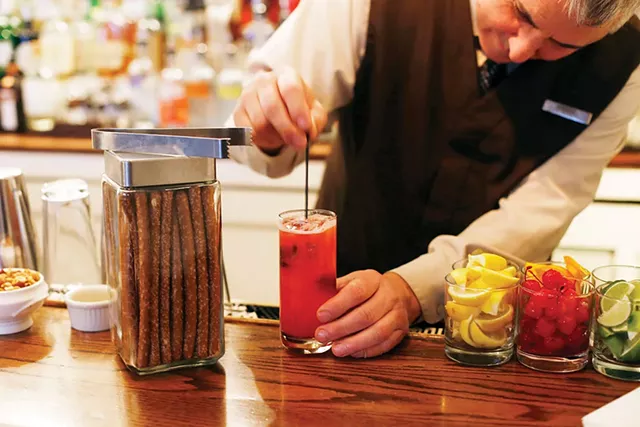 Sarah Priestap
Crafting a cocktail
Spending time at the Equinox Golf Resort & Spa in Manchester Village is like stepping back in American history. Over the years, the esteemed guests at the New England landmark have included U.S. presidents William Howard Taft, Ulysses S. Grant and Theodore Roosevelt.
Within the carefully restored Equinox House, established in 1853, the Falcon Bar allows guests to live in the lap of luxury, if only for a night.
Sarah Priestap
Cheese plate
The bar has a small menu — focused on booze, cheese and chocolate — but a big, glorious view of the Taconic Mountains, which can be enjoyed year-round from the back deck. As the sun sets, dozens of gas jets in a stone pit spring to life, sending up tiny tongues of fire. Watching the flames flicker with a smoky, peaty 12-year Caol Ila Scotch in hand is a peak sipping experience.
Inside the Falcon, a large black-and-white photograph of its namesake in flight covers one wall. The space is outfitted with dark wood paneling and wall sconces. Guests dress in everything from suits to T-shirts and baseball caps.
3567 Main St.
Manchester/Bennington
Manchester, VT
800-362-4747
Bar
Like the diners, the menu has a mix-and-match quality. Scotches run anywhere from $12 to $25 a pour, while cocktails made with top-shelf liquor ring up at $11. These include the Chop House Mary, a classic Bloody with a dash of homemade steak sauce. More than 25 wines are available by the glass.
Sarah Priestap
Scotch by the fire
The all-Vermont cheese list includes Cobb Hill's nutty, golden Ascutney Mountain, made with raw Jersey cow milk, and Vermont Creamery's rich, spreadable Cremont. Served with grainy bread, crackers, dates, Marcona almonds and a dollop of deep-pink quince paste, wedges are available in sets of three, five or eight.
Ditto the custom-made imported chocolate truffles. Each has a woman's name: The Amalie — gooseberry jam in Venezuelan chocolate — is tangy and sweet in perfect proportion; the Kelly is a dark blend with strawberry-lemon-thyme ganache. The smooth and sexy Wenna is like a chocolate-robed Manhattan.
If the Falcon Bar is lacking anything, it's cigars. This place begs for a Cuban out on the deck. You may want to BYO.